The 82nd Annual NFL Draft kicks off Thursday evening at 5:00 p.m. PT in Philadelphia.
The three-day event marks the culmination of a lengthy journey for the prospects in the 2017 Draft Class, and teams will use the seven rounds to collectively bulk up the talent on the roster.
As of now, the Silver and Black currently hold eight selections in this year's draft, which you can see below.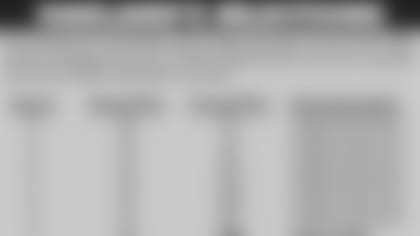 The 24th overall pick is the latest pick the Raiders have had in the first round since 2003, when the Silver and Black selected cornerback Nnamdi Asomugha No. 31 overall.
The Raiders have selected No. 24 four times in the organization's history, with the most-recent selection being quarterback Todd Marinovich in 1991.
The other three players the Silver and Black took at No. 24 overall are tight end Raymond Chester (1970), defensive back Neal Colzie (1975), and defensive end Bob Buczkowski (1986).
Other notable players who have been selected 24th overall, are Dez Bryant (2010), Chris Johnson (2008), Ed Reed (2002), and Aaron Rodgers (2005).
The Cincinnati Bengals selected No. 24 overall in last year's draft, and picked Houston cornerback William Jackson III.
General Manager Reggie McKenzie and Head Coach Jack Del Rio will be available throughout draft weekend; their scheduled times to speak are as follows:
McKenzie and Del Rio will be available following the team's first-round selection, Thursday, April 27.
Del Riowill be available following the conclusion of the third round, Friday, April 28.
McKenziewill be available following the conclusion of the draft, Saturday, April 29.
Additionally, subject to timing and availability, each of the team's selections will be available via conference call following the pick.
Televised on ESPN, ESPN 2 and NFL Network; Round 1 of the 2017 NFL Draft kicks off Thursday evening at 5:00 p.m. PT.