Second-year WR Darrius Heyward-Bey participates in the first official work-out of the off-season program. Photo by Tony Gonzales.

The Oakland Raiders off-season work-out program got underway today at the team's Alameda, Calif., facility under the direction of strength and conditioning coach Brad Roll. Although today is the first day of the program, preparation began several weeks ago. Some players decided to get a jumpstart and came in early.
Raiders equipment manager Bobby Romanski said that the goal is to make sure that each player has everything he needs. "They need their running shoes, their cleated shoes , and a pair of shower shoes and that kind of thing," Romanski said. "Our [staff] makes sure they have their practice jerseys and the clothing is all there, and when they walk in today everything is waiting for them ready to go."
For players new to the Raiders Romanski says that beyond the initial issue of gear, a player's previous team may be contacted as well. "Usually we start with clothing, obviously sweats and workout clothing, because [the player] needs to get out there and working out right away," Romanski said. Then after that, we will work on getting his other equipment fitted up. We will call the other team where he was and find out what he liked and what he wore. Sometimes the team ships us some of his stuff, if not we will get him new stuff."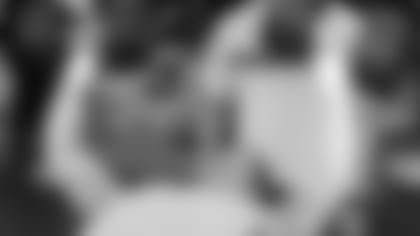 Defensive back Jerome Boyd gets in some dumbell bench presses. Photo by Tony Gonzales.
T Mario Henderson got a jump start on his off-season program approximately three weeks ago. The fourth-year offensive lineman out of Florida State said that getting in early is helping him work on problem his areas.
"I just wanted to get a head start and there are a couple of things I needed to work on from last year in forms of knee bends and getting my hips down," Henderson said. "I felt if I came early I could get that stuff done while nobody was here."
According to Henderson, starting early has helped with the first official work-out of the program. "It's going good for me because I've been here for three weeks doing circuits," Henderson said. "Actually, it was harder for me the last couple weeks than it was today. So I think that coming in early really helped me out today."
Henderson added that his objectives are to improve his play from a year ago and help the offense be productive. "[My goals are] to improve our run game and pass blocking, and my overall game. The other thing is [to improve] my overall strength which is what I am doing a really good job of."
The voluntary program continues through the third week of June.