Offensive coordinator Bill Musgrave called Taiwan Jones this offseason, and Jones is big enough to admit that he wasn't ecstatic when he got off the phone with the new Raiders offensive coordinator.
Jones was on vacation in Florida, visiting friend and former teammate Tyvon Branch, when Musgrave told him that he would be changing positions – again.
"I actually got a call from Musgrave," said Jones. "We talked about how he felt I would fit in his offensive scheme better. After we chatted, I spoke briefly with [Head Coach] [Jack] Del Rio and he just said he thought I could help the team better on offense than I could on defense. At first I was kind of like, 'dang, here we go again.  I'm switching positions again,' but after I thought about it, at the end of the day, if they're going to play me there, I'm down."
Considering Jones' career, not just as a Raider, but as a football player in general, it's easy to understand his frustration.
In many senses, he's been a football enigma his entire career– a player who boasts otherworldly speed and agility, but even dating back to his college days, someone who coaches couldn't figure out what exactly to do with.
It began at Eastern Washington, where he was recruited to play cornerback after playing running back during his prep days at Deer Valley High School in Antioch, Calif.
However, after Jones arrived in Cheney, Wash., it seemed apparent to the coaching staff that he would be better served on the offensive side of the football.
"When I first came to Eastern, I was a corner, so they would ask me to play running back to give our defense a look," Jones recalled. "They couldn't help but notice how well I did with the scout team offense, and I remember when they asked me to play running back, I was excited."
And the speedster from Antioch started his career as a collegiate running back with a bang, taking his first handoff 87 yards for an Eagles touchdown.
"That first run, I'll never forget it," Jones said. "It was an inside zone run, I bounced outside and once I got to the sideline, there was nothing but daylight."
When all was said and done at Eastern Washington, Jones ranked fourth in school history with 2,995 rushing yards on 383 carries, scoring 29 touchdowns in the process.
After his junior campaign as an Eagle, Jones declared for the 2011 NFL Draft. He was subsequently selected by the Oakland Raiders in the fourth round (No. 125 overall) and the carousal of position changes was on hold – at least for a while.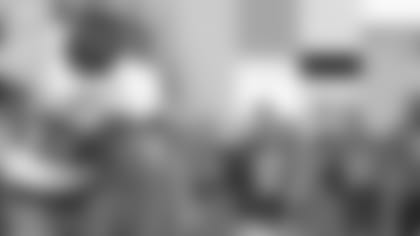 When Jones arrived in Oakland, he was a young rusher who was just 22 years old. He played sparingly during his rookie year, appearing in 10 games, but rushing the ball just 16 times for 73 yards.
Year Two proved to be much of the same for Jones as he ran the ball just 6 times; but it was then that he established himself as an elite special teams player – something to this day he takes extreme pride in.
"I think it was a blessing in disguise, when I first got here – we had a guy named Rock Cartwright. He was one of the running backs, but he was a core special teams guy who made his career playing special teams," Jones recounted. "I remember my rookie year he told me, 'hey, if you're not a starter in this league you're going to want to do your part on special teams. That's what's going to keep you in this league.'"
Naturally though, the young running back had different ideas when he heard the veteran back's advice.
"Of course, coming in as a rookie, I think I'm a running back," Jones said. "I'm going to be a running back. That's what I'm going to do, but hearing his side – he definitely helped mold my mindset. I just have to do whatever I can to help the team and to make the team, which has been special teams for me."
However, his stint as an NFL running back was coming to a close, as he was shifted back to the defensive side of the ball heading into his third season in Silver and Black.
Jones missed nearly all of 2014 due to a foot injury and was preparing to return in 2015 as an improved cornerback and special teams stalwart – at least that was before Head Coach Jack Del Rio and offensive coordinator Bill Musgrave got a hold of him.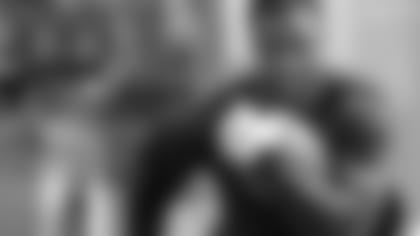 Jones is no stranger to coaching changes – he's currently on his fourth head coach since being drafted, but regardless of who's calling plays in the fall, his mindset going into the season remains consistent.
"Each year I look at it the same as if I were a rookie, so us getting new coaches it just helps put me back in that mindset of being a rookie and having to prove yourself over again," Jones explained. "It keeps me hungry so I don't mind it too much, and I can't really control that."
Although his approach stayed the same, Jones did admit to some understandable concern about his role under the new regime – especially when he was told about the position change.
"You get nervous just because you know you're not their guy," Jones said. "It's new coaches. I haven't met them yet. I was just so focused on getting my training done and being a corner – I felt like I was starting to understand and become a decent corner in this league, so to get that phone call and hear, 'alright, you're switching positions,' I was like, 'oh man, here we go again.'"
However, after taking some time to reflect about the change, Jones bought in and broke the news to teammate Marcel Reece.
"He [Jones] didn't tell me initially," Reece said. "He kind of kept it to himself, probably because of the uncertainty. He didn't tell me at first, but after a while I guess he felt like he had to say something and then he said, 'D-Mac [Darren McFadden] is gone, but I'm back in the room with you.'"
Reece continued, "I thought he was joking at first and he says, 'no, I'm back in the room with you.' He handled it with the utmost professionalism."
And since he arrived in Oakland four seasons ago, Jones has continued to be the consummate professional and good teammate.
He's dedicated himself to his craft on the field, working with renowned MMA trainer Jay Glazer in Los Angeles, putting on 25 pounds of muscle during the offseason. Not only that, but he's also been a fixture in the community for the Silver and Black, taking part in numerous endeavors to benefit the surrounding area.
However, his greatest quality as a teammate might be his continued flexibility when it comes to his position, and his willingness to do whatever is asked of him to help the team win on Sundays.
"I'm proud of Taiwan," Reece said. "It's definitely not easy switching positions, let alone switching positions on the other side of the ball. I'm most proud of him for his mental strength. He's withstood so much, with being yo-yoed around from here to there, all while learning to be a special teams player. He's grown so much as a player and a person. His football IQ is high and he's learning the game. He's a student of the game. If you tell him something, he'll listen to you, he'll soak it up and he'll come back to you and ask more questions."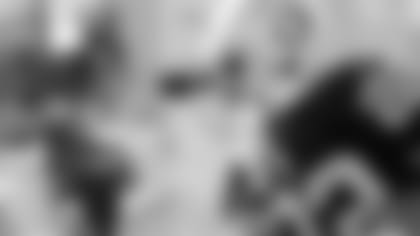 Throughout the offseason program and into training camp, Coach Musgrave raved about Jones, saying that he possessed a rare skillset and had the ability to be a special type of offensive weapon akin to Percy Harvin when the pair was together in Minnesota.
Naturally when Jones was told about Musgrave's vision for him in the revamped Raiders offense, he was excited, but he tempered his expectations, as these were things he had heard from coaches in the past.
"It's always nice to hear that, but more so, it's another thing that he's doing is actually doing it," Jones said. "A lot of the other coaches that were here before, they had good things to say about me, but my role still didn't grow."
However, Musgrave has been true to his word, and in his first game back from injury last Sunday against the Chargers, he carried the ball 3 times for 35 yards (at one point converting a key 3rd and 2), and also hauled in 2 passes from Derek Carr for 17 yards in a 37-29 win for the Raiders at Qualcomm Stadium.
"To see Musgrave come and have the trust to put me out there and give me a chance to prove myself and take advantage of the opportunity, that's something I'm really thankful for," Jones said. "As long as I get the opportunity, I can't be mad."
"When you have that much speed bottled up in a person and you know he's going to make the first guy miss, just about every time, you have to figure out ways to get that guy the ball in space," running backs coach Bernie Parmalee added. "For him to come on over, you're talking about a change of pace guy. We have a good group of guys, but then you have that fast guy. So how are you going to play him? Are you going to play him like he's a receiver or like he's a running back?"
In tandem with Latavius Murray, who serves as the de facto bell cow back for the Raiders, Jones does present some interesting challenges for opposing defenses and provides another wrinkle in Musgrave's ever-expanding offense.
For Jones though, he's just happy to finally have a shot to put his skills on display and for once, feel a sense of permanence in where he'll be lining up during the game.
That being said, there's only one thing that matters for the Bay Area-native: helping the Raiders turn the corner and tally wins on Sundays.
"I definitely feel like the coaches, as well as myself, have a pretty good idea of how I can help this team," Jones said. "I just like competing."
Fortunately for Jones, it looks like he'll have a plethora of opportunities on the horizon.