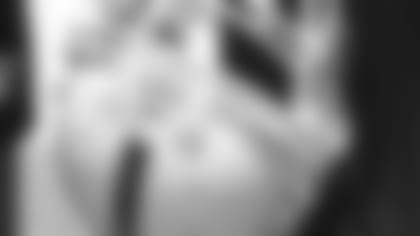 Photo by Tony Gonzales
The Oakland Raiders 6th round pick in the 2012 NFL Draft, DT Christo Bilukidi, has only been playing football for five years. He was playing basketball in high school in Ottawa, Canada, when one of his best friends asked if he wanted to try football his senior year. Bilukidi thought, 'why not, I need to stay in shape,' and discovered the sport that would go on to be his career.
Bilukidi is one of several foreign-born players on the Raiders. "Started in Angola, I was born there and left there really young," said Bilukidi. "We lived in France for about two years, lived in Brazil , and then from Brazil we ended up in Canada. Then my parents split up and we ended up staying and got our citizenship because we were going to school there, so we ended up living in Canada."
Living all over the world has given Bilukidi a different perspective. "It opened my eyes if you want to say it like that," explained Bilukidi. "All my friends are from different parts of the world, from Haiti, African countries, Canadians, Americans, so I'm not just one-minded. I know a whole bunch of cultures. Language isn't a burden for me. If somebody speaks to me, I'm not saying I know all the languages, but if I take the time to learn something, I'll learn it if it's from a different culture. So definitely living around the world just opened my eyes and my mind, too."
This open mind, as well as scholarship offers, helped Bilukidi make the decision to stick with football and attend college in the United States. "I was getting scholarships from U.S. schools and everybody says come play football to the U.S., it's a big thing," said Bilukidi. "Also the education, for my mom, that was a big thing. I was planning on going to school in Canada, but ended up wanting to get a scholarship to come to school here."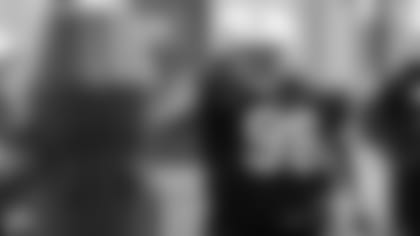 DT Christo Bilukidi during the Raiders off-season program. Photo by Tony Gonzales
The 6'4", 311-pound, defensive tackle, attended Georgia State, a small school with a brand new football program founded in 2010. "The good thing about playing at Georgia State was I got to play in every single conference because we were an independent school for two years," said Bilukidi. "So we played from Division 1-A, the top Division 1-A schools, to NAIA schools, so we got to experience every single conference out there so that was really good."
Bilukidi was the first player drafted out of Georgia State. "It was real good for the school," said Bilukidi. "We're a building program. We just keep on building. We built new practice facilities, got new jerseys, got sponsored by Nike, so everything was climbing up. Me getting drafted opens doors for other athletes that are going into their senior year or some freshman that are coming in because they see that Georgia State, even for a small school and a new school, has athletes and is able to compete at the highest level."
Making it to the NFL, drafted 189th overall, made his family, friends, and school proud. "They were so proud of me," said Bilukidi. "They knew I had just started playing football senior year of high school. They're like, 'wow, you getting drafted only playing five years of football is actually a really big deal. Just shows how much work and effort that you put in when you get into a sport or anything that you do in your life…' Especially my mom, she was very proud of me because she knows we've been through a lot."
He hopes to continue to make his mom proud as he heads into his first NFL training camp and tries to earn a spot on the Raiders 53-man roster. "Now I get to go back home and get to study the playbook and study all the errors that I've done throughout the whole process of off-season and come back for this training camp and get better," said Bilukidi.
Just as the Raider Nation comes from all across the globe, so do the players that don the Silver and Black.