The Raiders didn't have to wait long to make their first pick in the 2014 NFL Draft and they were pretty excited when University of Buffalo LB Khalil Mack was still available. The versatile 6'3", 252-pound defender is the NCAA's reigning all-time leader with 16 forced fumbles during his college career.

Photo by Tony Gonzales
Mack played in and started 48 games at Buffalo and recorded 327 tackles (186 solos), 28.5 sacks, 75 tackles for loss, three fumble recoveries, four interceptions, 21 passes defensed and 31 quarterback pressures, in addition to those 16 forced fumbles. That's a nice stat line for the college graduate and a talent the Raiders wanted to add to their roster.
Although some would argue that those stats are less impressive because they were acquired at a smaller football program, Mack would argue that his time at Buffalo more than prepared him for his chance in the NFL. "My time at Buffalo prepared me, especially mentally. Being a linebacker, being a complete linebacker under [Buffalo defensive coordinator] Coach Lou Tepper, he had me playing the same role from pass rushing to dropping back in coverage to anything you could think of on the defensive line. I was playing it all so that part of it pretty much prepared me from a mental approach, knowing different schemes and knowing how to play in different positions."
Mack was prepared for the rigors of the playing field, but he didn't anticipate the spotlight of being a first-round selection. His experience in New York City on the red carpet of Radio City Music Hall was memorable, exciting and overwhelming for the rookie.
He says he's a chill, relaxed, behind-the-scenes type of guy, so this attention is somewhat new. "It's different, it's very different, but that's part of being a professional," said Mack. "You have to know how to balance both and learn how to play your role."
Despite the bright lights, Mack enjoyed the opportunity of spending draft day in NYC with his family. "That was very fun. It was a great experience, especially to walk the red carpet with your mother and be there with your family and friends and everybody that you love," Mack explained. "Them getting to see me go through this experience is a blessing."
All of the emotions of draft day came to a head when he received the phone call from the Raiders draft room. "That phone call was a dream come true," said Mack. "I'm glad to be here, especially in Oakland with a great staff and a great group of veteran players. I'm blessed."
Since that day, Mack's NFL experience has been a whirlwind. He arrived at the Raiders facility the day after he was selected and was introduced to the media. He met with the coaches and then returned home. A few weeks later, he was back in Alameda for Rookie Mini-Camp and then sent to Los Angeles for the NFLPA Rookie Premiere. He then rejoined his new teammates for Organized Team Activities and the Mandatory Mini-Camp. He finished off his offseason with a trip to Ohio for the Rookie Symposium. All of those activities stacked on top of a young player learning a brand-new system, terminology, new teammates, coaches, and home. It may seem daunting, but Mack is embracing every moment. "The first time I put on the jersey for real it was surreal knowing that I was a part of an NFL organization and that I'm now a professional. I have a job that I love," said Mack.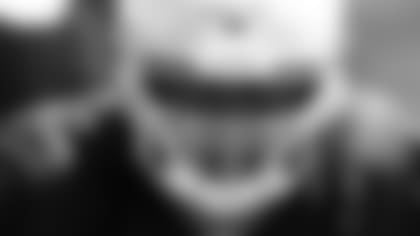 Mack is able to learn from accomplished veteran defenders on a daily basis. "I almost feel like I'm spoiled that I can get coaching from the best in the game," he said. "I keep my ears open to everybody from Justin Tuck to LaMarr [Woodley] to Sio [Moore] to Nick Roach and all those guys. I listen to all of them and get their feedback as well as [Linebackers] Coach Bob [Sanders] and [Defensive Coordinator Coach JT [Jason Tarver]."
He has the support system in place to make the shift from college football to the professional level. "The transition has been pretty intriguing especially from a mental approach and the coaching that you get from Coach Bob and Coach T [Terrell Williams] and Coach JT," said Mack. "It's interesting. Knowing the level of detail they put into it and knowing the level of detail you have to play with, it's very different from college because there's certain techniques you can play with and get away with but on this level you have to be exact on everything. That's what I'm learning now is to be very exact with everything, every play."
As he learns the ins and outs of the Raiders defense, Mack hopes his style of play can make a difference for the 2014 season. "My style of play on the field is I try to be aggressive in every aspect and then try to put myself in position to make plays whether it's behind the line of scrimmage or whether it's making a play down the field and taking the ball, stripping somebody or intercepting the ball," said Mack. "I like to be in position where I can make plays."
His style of play, and immense talent, has not gone unnoticed in his first bout with the offseason program. Mack has made quite an impression on the coaches and veterans on both sides of the ball.
"He's an athlete," said DT Pat Sims. "He's a freak. We just have to put him in the right situations and he's going to be hell."
"You can see the impact that he can create," added QB Matt Schaub. "You can see his physical gifts and his ability to shed blockers and be able to disrupt the passer and the timing of the route. You can really see the progression and development."
Mack has wowed veteran T Donald Penn. "Khalil is a special athlete. I can tell by watching some of his movements, and the way that he can put his foots in the ground and change direction, for him to be doing that as a defensive end, he looks like he's a defensive back," said Penn. "For a guy that size to be doing that, I think he's going to get a lot of sacks late in the down because he has a motor on him that's relentless."
Coach Tarver is excited about Mack's potential to create havoc for opposing offenses. "What's nice about Khalil is he has size and athletic ability, so that he can do some things on the edges of your defense, both in the run game and in the pass game, with his power, his length and his ability to bend and move," said Coach Tarver. "Those are traits that you want as many players as you can have on your defense, as many of those as we can get, the happier a coordinator is."* *
Head Coach Dennis Allen knows the Raiders acquired an impact player on the first day of the 2014 NFL Draft. "When we started this process, we were totally clear on the fact that we wanted to add some impact players to our football team," said Coach Allen. "This is an impact player. This guy will have an impact on our football team for the 2014 season – there is no question about that."
While Mack has already begun to earn the respect of his coaches and teammates, he knows he has a lot of work to do to be ready for game day. He's taking the time now, as the offseason winds down, to prepare for his training camp. "My goal going into training camp is to come in and, knowing the kind of shape you have to be, I have to come in and be able to rush the passer as well as drop back in coverage 50 yards deep. So I want to be prepared in that aspect as well as mentally, knowing all the plays and knowing the scheme they have here now and getting different techniques down."
Eventually, sooner rather than later, Mack hopes to earn the respect of Raider Nation. "The Raider Nation – we have the best fans in football. It seems like everywhere I go, you've got someone that knows who I am and it's crazy," said Mack. "When you talk to them, they're all so excited – 'I can't wait 'til you come to the Black Hole.' It's kind of like, 'wow, I can't wait either.'"
If he hasn't earned Raider Nation's respect just yet, his attitude should do the trick. "I'm all about winning," said Mack. "I keep saying that and I keep quoting Al Davis, 'Just win, baby.'"
RAIDERS.COM SUGGESTS:________