LB Miles Burris participates in individual drills during mandatory mini-camp. Photo by Tony Gonzales

The Oakland Raiders selected LB Miles Burris out of San Diego State University in the 4th round (129th overall) of the 2012 NFL Draft. Burris, a native of Roseville, Calif., grew up watching the Bay Area teams and attending Raiders games. "I definitely liked watching," said Burris. "I was a fan and liked coming to the games."
The Raiders rookie started playing football in fifth grade and immediately loved the game. "Right away, I knew I wanted to play in the NFL and play as long as I could until somebody told me I couldn't," said Burris. "It was an immediate dream and I loved it right away."
As a high school junior and senior at Granite Bay High School, Burris was awarded defensive player of the year. He was a two-time all-Metropolitan League Selection and ranked as the nation's 30th-best inside linebacker by Rivals.com. After a successful high school career, Burris decided to take his talents to San Diego State University.
Burris redshirted his first year at SDSU, but began to contribute in 2008 and help turn around a struggling program. "We came in, it was a little rocky," said Burris of the SDSU football program. "We weren't winning as much as I would have liked, but came in with the mindset to turn it around and it was just a great time to be able to do that. And the last two years we did turn it around and went to a couple bowl games and had winning records and that was a really rewarding experience."
Although a smaller football school, his college team did not lack competition. "It was a lot better than most people think playing in the Mountain West," explained Burris. "There's a lot of strong competition. There was TCU, BYU, Utah at some points, and Boise State was there last year. There's a lot more competition in there than people think and it was a lot of fun to play at a high level."
Burris had always dreamed he would play in the NFL, but saw it as a realistic opportunity after his junior season. "I always had a hope for it, that's what I always worked for and worked towards, but I felt like it was a realistic possibility after my junior football season," said Burris. That season, Burris was named first-team All-Mountain West, after leading the conference in sacks and tackles for loss and finishing second in forced fumbles.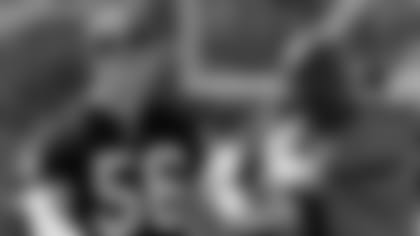 LB Miles Burris listens closely to linebackers coach Johnny Holland. Photo by Tony Gonzales
His dream came true when he was selected by the Silver and Black with the Raiders second pick of the 2012 Draft. "It felt great, especially because my family can come to the games," said Burris. "They can drive two hours and come watch me and visit me and I can still be close to family and be around them and that was a big part of it for me."
Family has played a large role in Burris' life. His dad, who played college football at Oregon State, was an important teacher for the Raiders rookie. "My father…he was a great football player as well and he helped me to play at a high level and taught me a lot but never really forced me into the sport," said Burris.
Now, the positive influences from his father, as well as his college head coach Brady Hoke and strength coach Aaron Wellman, have paid off for Burris. Having completed his first NFL off-season program, he will fight for a roster spot during the Raiders 2012 Training Camp in Napa, Calif., at the end of July. "Miles Burris has done a nice job," said Head Coach Dennis Allen. "I've been pleased with the way he's progressing."
"It means the world; It's my childhood dream," said Burris. "It's everything I've worked for and I'm right on the fringe of achieving that dream. I haven't taken the mindset that I've arrived yet, but just taking the mindset to get better every day and make it come final cuts."
Burris wants to show the coaching staff and Raider Nation his "all out, relentless" style of play. "I'm going to give the team everything I've got to help them win," said Burris.