QB Jay Schroeder fires a pass during the Raiders 1990 preseason game against the New Orleans Saints in London. AP Photo.
The NFL's announcement that the Oakland Raiders will play in 2014 in the United Kingdom means that the Silver and Black will return to the location of their first game ever outside the United States.  Next year's game will take place at the historic Wembley Stadium in London, the same site where the Raiders faced the New Orleans Saints on August 5, 1990, in a preseason American Bowl contest. New Wembley opened in 2007.
This time, the Raiders will be playing a game that counts in the standings as the Silver and Black will be the home team for one of three regular season games that the NFL will stage in London next year.
After making their inaugural journey outside the U.S. in 1990, the Raiders are now making their fifth international appearance, having spanned four countries. The Raiders faced the Miami Dolphins in an American Bowl preseason match-up in Japan August 4, 1991, in the Tokyo Dome, affectionately known as "The Big Egg."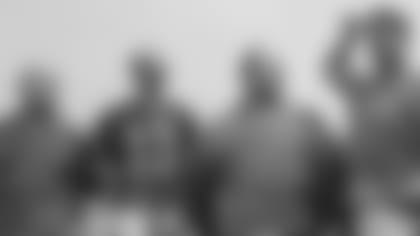 Raiders QB Jay Schroeder shares a laugh with Miami Dolphins QB Dan Marino in Tokyo. AP Photo.
The Raiders played in yet another historic facility July 31, 1994, when they took on the Denver Broncos in Barcelona, Spain, at Montjuic Stadium - site of opening and closing ceremonies for the 1992 Summer Olympics. Two members of that year's Raiders squad returned to the site of previous glory—wide receiver James Jett and defensive back James Trapp were on the 1992 U.S. Olympic track and field team as sprinters on the relay team.
The Silver and Black's last trip out of the United States was to Mexico City, when they played the Dallas Cowboys August 27, 2001, in yet another historic venue—the 100,000-seat Azteca Stadium.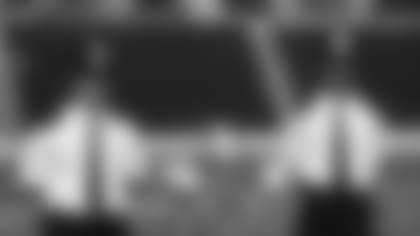 Two players in the team's current roster, defensive lineman Jack Crawford and offensive lineman Menelik Watson, have roots in the United Kingdom. Crawford was born in London and grew up there before moving to the United States while in high school. Watson hails from Manchester, England, and moved to the United States to play college basketball. Also, Raiders Senior Offensive Assistant Al Saunders was born in London before his family moved to Northern California when he was a child.
The Raiders have long been involved in global outreach as the team's merchandise has annually been one of the NFL's top sellers. In addition, the Silver and Black maintains a global presence and communicates with the worldwide Raider Nation through the team's official web properties which feature original and translated content in six different languages - Tagalog, Japanese, German, Chinese, Spanish and English.