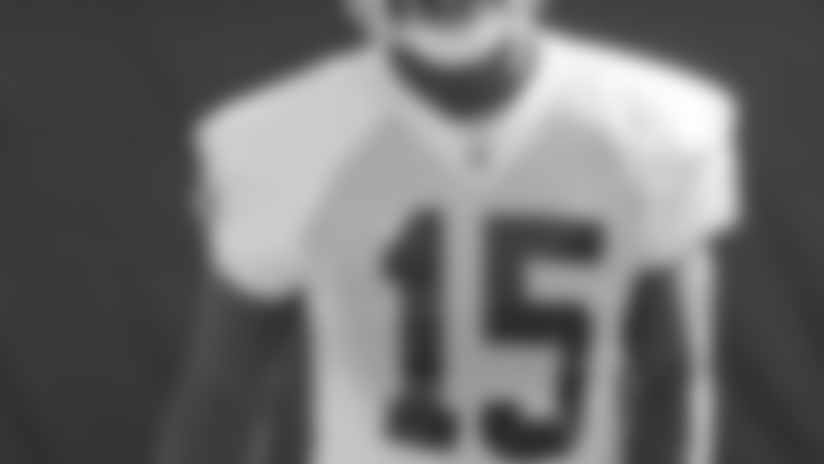 WR Johnnie Lee Higgins returned three punts for touchdowns last season. - *Tony Gonzales*
Day 3 of Raiders Training Camp is in the books at the Napa Valley Training Facility.  Two-a-days continued as the team participated in a cool morning practice followed by warmer afternoon session after the clouds burned off.  Saturday's practices focused primarily on getting repetitions in red zone situations.
While only a third-year player, Johnnie Lee Higgins has the third-most NFL experience in the receiving corps, behind only Javon Walker and Sammie Parker.  As one of the veterans of the young group, Higgins is now taking time to help some of the rookie receivers during practice.
"If I see a rookie is having problems with a play, I'll go over and ask coach for them.  When we get out on the field, I just go out there and explain them up a little bit because sometimes you get more understanding coming from a player than a coach," Higgins explained.
One of the reasons Higgins might be so helpful to his rookie receivers is that he remembers the challenge of his first training camp and the help he received from a veteran wide receiver. "[My first camp] was so hard because I was playing the Z and then [the coach] wanted me to do a little of the X, and it was just chaos.  It was too much for me. [My roommate] Alvis Whitted, he just broke it down to me and that's what made it easy."
Wide receiver Chaz Schilens is starting his second season with the Raiders after getting the starting nod in six games as a rookie.  Schilens sees a positive difference in the offensive scheme this season in its ability to respond to different coverages.  "I feel like we have a lot better third-down plays and a lot more mixture to keep the defense on their toes," Schilens said.  "We'll be practicing against our defense and mainly they play man a lot, so that will be something we'll get used to.  But we'll be ready for everything—all the defenses we'll be seeing this year."
Ricky Brown, a fourth-year linebacker out of Boston College, has been getting to try out a few different positions during camp.  "[I'm] basically just going one play on Mike (middle), one play on Sam (strong).  The best thing about it is, it's helping me being so interchangeable and it's really churning my mind to just work fast," Brown stated.
The constant movement does not bother Brown at all.  "I'm actually really enjoying just kind of the challenge because you get in for a couple of training camps and you don't want to think the same old thing. It's really keeping me on the go," Brown explained.
As of now, Brown isn't sure where he'll end up by the time the regular season starts in September, "Whatever they tell me to do, I'm going to do.  We'll see what happens."
The Silver and Black will be back on the field at the Napa Valley Training Facility on Sunday for two more practices.  On Monday, the team will put on pads for the first time this summer for full-contact drills.