Q: Did they call you "Schaubby" back in Houston?**
Schaub:"Yeah, no, that's been a long time running, that nickname, going back to high school, college. It's kind of always stuck because it's easy."
Q: How does it keep following you?
Schaub:"I think wherever you go, you kind of run into some of the same people. [Head] Coach [Dennis] Allen was in Atlanta when I was there and that's what a lot of people call – he calls me that, so a lot of coaches do. Guys you were around in your past just start going by nicknames and then other people pick it up. That's just the way it works."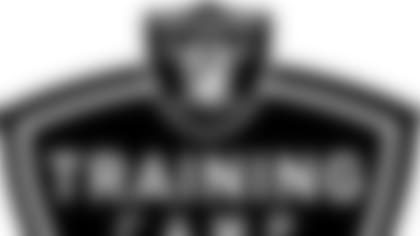 Q: Where are you in the process of learning everybody and being able to push the buttons and who you can push and prod and all that?
Schaub:"Yeah, that's an ongoing process. We're getting close. We're getting close to having everyone figure it out, so to speak. It's a never-ending process. The more we go through training camp, the more things get hard. The more install that we have put in, the hotter it gets, the longer the days, the more you find out about guys. It's a never-ending process but we're getting close."
Q: Now that you've played with Marcel Reece for an offseason, is there a weapon quite like him in this league now that he's dropped about 15 pounds?
Schaub:"Yeah, he's a special player. At his position, the mismatches that he can create. In my time, there's been very, very few players like him. It's a unique skillset that he has to be able to, you know, play everywhere on the field, run all the routes, block the way he does, run the football. So you can do so much personnel-wise and that really puts stress on a defense, when you can line him up out wide and he can run wide receiver routes."
Q: In these padded practices, has it felt crisp to you? From the outside, it looks like you're pretty locked in.
Schaub:"Yeah, it feels pretty crisp, but there's always stuff you can clean up, things we can get a little better at. We're always striving for perfection out here, so we're not there yet. It's some good quality work we're getting in and it's a good defense that we're facing on a day-to-day basis. We're just competing well and we're trying to make each other better. There's some good things going on." ](http://www.pntra.com/t/R0BKRkpMSEBKTERGSEBISEtERw)Q: On that last drive where you scored a touchdown, you were able to go to a check-down. Does the playbook seem like it's becoming a little bit more second-nature?
Schaub:"Yeah, it's coming around. It's our second or third time going through the installations since I've been a Raider and things start to become second-nature, and especially the more you do them and you understand where your guys are and where they're going to be and how they run their routes. I'm becoming much more comfortable at things."
Q: What has surprised you most about this team so far?
Schaub:"I don't know if it's surprise. I think the thing that's been most impressive is with all the additions and this turnover in the roster, how quickly we've come together as a team and have one heartbeat and mindset. We understand what our goal is and everyone's doing the right things to take the proper steps towards our goal. Having enough guys coming from other places, young guys added to the mix, you usually don't find that this quickly. I think that we're all heading in the right directions and we understand how to get there."
Q: You mention that you're finding the chemistry building quickly. It seems like you and James Jones have been connecting on the field. Have you felt that chemistry?
Schaub:"I would say that's accurate. I would say that for a lot of our receivers, just with the amount of work we got in at OTAs and mini-camp and throughout the summer and already here at training camp. Our guys run really good routes. It's great to see. They don't fool you as a quarterback. They run quarterback-friendly routes, as we like to call them, and they come back to attack the football. James is one of those guys. He's done it for a number of years, so he understands where he's supposed to be and when he's supposed to be there, and obviously, he's good at finishing the plays."
Q: Your level of confidence has been a frequent topic of conversation. Do you kind of chuckle at things like that?
Schaub:"I do, just like I got a little smirk on my face now. Yeah, because you can't make it anywhere in this game without having confidence through the roof. You're going to go through ups and downs as a player. It's how you bounce back from it. It's how you move forward. You've got to put everything behind you whether it's good or bad. It's about the next thing in front. I'm just excited about this training camp and to get going with the regular season here shortly."
Q: What is your goal this season?
Schaub:"Well, I think 32 teams and 32 quarterbacks would say our goal is to go win a championship. That's the ultimate goal. I think for this team, to get there there's a lot of steps we've got to go through. Right now, we've got to concentrate on what we've got to do to beat the New York Jets Week 1. But obviously, winning our division puts us in a position to make the playoffs and make some noise. But there's a lot of stuff that we've got to get better at as a football team and myself as a player for us to be in that position."
Q: What are some of those steps?
Schaub:"I think, obviously, we've got to get in the playoffs to win a championship. We've got to win our first game. We've got to get to 1-0. We've got to be conscious of what it takes to win: be good on third down, take care of the football – you know, all those little things – red zone percentage. Those are things that win you games."
Q: A guy who's known you a long time, Antonio Smith, said you've got your mojo back. How do you respond to that?
Schaub:"I'm right in line. I mean, Antonio – it says a lot. That's a great compliment, coming from a teammate. I've known Antonio now six, seven years. For him to say that, it's one of my guys. We've been together through thick and thin. You know, I've never lost it. It never went anywhere. But for him to notice that, we're heading in the right direction."
Q: How do you feel about the run game so far? Schaub:"It's going great. The thing about it is we added a couple pieces to the offensive line and you know, from watching it last year, there was a lot of injuries. Something about that group, you've got to have some continuity and cohesiveness. They've really gelled together with some of the new pieces, the more they get reps here, the more they play, the more they understand the different looks and how to make calls on the fly. But things are looking good. The running backs are running well. The receivers block. Our tight ends are doing a good job on the end. So the more we work through it, the better it will be. It's only going to make our team better because then we'll be able to run our play action."