The Raiders named Greg Olson their new offensive coordinator January 19. Raiders.com had the opportunity to catch up with him for a Q&A.
*Raiders.com: What did you know about the history of the Raiders and was that a factor in you coming to coach with the Silver and Black?  *
Coach Olson: Interesting story – when I was just graduating high school, a long time ago, that was 1981, I had some friends that got a scholarship to the University of Hawaii and went over to visit them and I just happened to be walking the beach and I looked up and saw Al Davis on the beach in Hawaii. I walked up to him and introduced myself at the time because I was a big Raiders fan growing up in the state of Washington. I'll never forget, he asked me the same question, 'what do you like most about the Raiders? Why are you a Raiders fan?' I said, 'Coach, it's just the intimidation factor that you guys present when you step on the field.' And I'll never forget that conversation. He asked me to sit down. We spoke for about 30 minutes and it really had an impact on me that the owner of the Oakland Raiders would ask me to sit down. But I'll never forget that question when he asked me, 'what is it about the Raiders that you like?' I just felt like at that time for me, growing up there in the '70s and early '80s, that's who they were. The Silver and Black, they were a team that was going to intimidate you in their style of play. So I've always known about the history of the Raiders.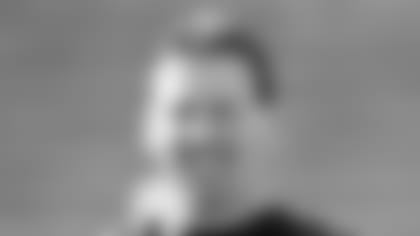 *Raiders.com: So it means something to you to put on the Silver and Black and wear that Shield…  *
Coach Olson: Oh yeah, and after that I'd gone back and Mr. Davis had sent me a box of Raider gear and he autographed a book on the Raiders that he sent to me. I'll never forget that, but I look at the history of the Raiders and the players that have played in this organization, the Matuzaks, the Alzados and Willie Brown, just so many, a list of players in my era especially that you look back on and they just had some real special teams. So the history of the Raiders certainly played a part in me wanting to come here.
*Raiders.com: How do you approach coaching and what's your favorite thing about being a coach in the National Football League?  *
Coach Olson: To me, it's about teaching. I think I'm a teacher at heart. I think most players, most coaches, most management that have been around me say he's a teacher first. And really, I got into coaching thinking I was going to be a teacher. My father was a high school coach and a teacher for 37 years. I have a brother that's a high school coach and a teacher. So I got into coaching thinking I'd be in the teaching field. After dabbling a little bit as a graduate assistant, I kind of got the bug to coach at a higher level. I never had real aspirations initially to coach at this level. I thought it was too far out of reach, but with each success I had at each level of football, I was able to get to the next level. I feel fortunate and blessed that I'm able to coach in the National Football League. I think it's an honor to be at this level and to coach at the highest level, but I didn't start out as a 15-year-old kid thinking, 'I'm going to set a goal to coach in the National Football League.' I think once I got started in the coaching field, especially at the collegiate level, I would set goals – this is what I'd like to be doing. That's what I tell people often, some of my fondest memories are coaching at the NAIA level. I've had some great experiences in the National Football League and coaching on some good teams and I've coached a number of good players, but I've always said whether I was coaching a backup quarterback at Central Washington or the starting quarterback for the Oakland Raiders, to me it's all about teaching and developing players.
The first player I ever recruited and I coached for four years was Jon Kitna and he just retired last summer and I spoke at his retirement. He had a retirement party, his wife put on a surprise retirement party in Tacoma, Washington. I went back and spoke and it was amazing to me, it was 1991 when I recruited Jon out of high school. Again, the memories I have in coaching him and the development and watching him develop from a 16-year old high school kid to a 21-year-old adult was very gratifying to me and to be able to maintain that relationship and friendship through the years. We both kind of chuckled at who would have thought that two guys coming out of Ellensburg, Washington, would be in the National Football League and spend the amount of time that he did certainly, had a tremendous career, and then for me to be in coaching, it's special.
*Raiders.com: What is the most important thing for you as offensive coordinator of the Oakland Raiders to accomplish during the off-season and also Greg Olson as a new coach of the Raiders to accomplish in the off-season? *
Coach Olson: First and foremost, we've got to identify and gather players. Identify the specific skill set of players that we have so that we can put the in the position to be successful. Whatever skill set that the players on this team currently have and then certainly as we look into the draft and free agency as we're acquiring talent, is identifying skill set of the players we have so we can mold our offense to that unique set of skills that they possess. So to me that's what it's been about in the first couple of weeks here in Oakland is watching a lot of tape, not only from this past season, but the seasons before, to again find out what we think our players do best and to be able to put them in position to be successful.
*Raiders.com: What are you most excited about for this coming 2013 season? *
Coach Olson: To me it's about being part of turning it around I think will be the most exciting thing. I'm here because of a 4-12 season. That's why I'm here so I think there's a great challenge for me to come in and trying to be a part of turning the record around to win games here with the offensive players that we have acquired and the team we will acquire. To me it's a tremendous challenge and a tremendous opportunity.
Raiders.com: What does the Raider Nation need to know about Greg Olson?
Coach Olson: I think, number one, I'm a very competitive person. I'm a person that was not a silver-spoon fed; I've gotten here based on my merits, based on my hard work and preparation and I think they'll know that they'll get that from me – a lot of hard work. The team is going to be well prepared to play in the National Football League. The team is going to be a tough team, both physically and mentally tough, I stand for that. They're going to get a teacher and someone who is going to put the players on the Raiders team in a position to be successful and develop their unique set of skills, whatever that may be.