Taiwan Jones is set to begin his fourth season wearing the Silver and Black, but this year something is different.
"That was something I told my parents and people when they ask," said Jones. "I truly believe that it's different here."
The Antioch, Calif., native is right - something is different. During the offseason General Manager Reggie McKenzie retooled Oakland's roster, adding a wealth of veteran players who still have something they want to prove to the rest of the league.
Jones believes that this veteran presence has added a new dimension to the team, and that this group of veterans, highlighted by Justin Tuck and LaMarr Woodley, bring a championship pedigree to Oakland.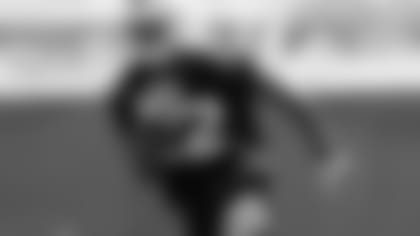 Photo by Tony Gonzales
"When you have veterans that have been in the game a long time and that have been able to accomplish the goals that we're trying to accomplish this year, it definitely feels good because you get to see and hear advice from those guys and hear them say that we're close and that it's possible," said Jones. "It makes you want to work that much harder. You see how hard they're working and it just carries on. It's a ripple effect for everyone."
One area in particular where the cornerback has seen a difference this year is in the weight room.
"There's a lot of guys staying and doing extra; putting in extra work and watching extra film," he said. "Doing the things that they don't have to do, but things that you expect from a championship team."
While the Raiders as a collective unit have big plans for 2014, Jones individually has some areas where he would like to improve.
Originally drafted as a running back out of Eastern Washington, he is now preparing for his second year playing cornerback in Defensive Coordinator Jason Tarver's defense, and he is using every day as a learning experience.
"At this position, you can never work on anything too much," he said. "I'm just watching film and getting in the playbooks and learning from the veterans out there, and even the rookies. A lot of these guys have been in this position, so you can learn something from everybody."
While he hopes to see more snaps on the defensive side of the ball, he also realizes that his main contribution to the team in 2014 will be on special teams.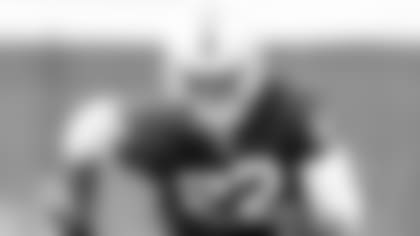 Last season, Jones led the team with 14 special teams tackles, which in large part contributed to him being offered a three-year extension this offseason by the organization. "Special teams is definitely my niche," he said. "It's what helped me get my extension, but of course whatever position is tagged in front of my name, I definitely want to help there."
As impressive as his special teams effort was in 2013, Jones was not rewarded with a spot on the AFC Pro-Bowl roster, and uses his exclusion as motivation.
When asked if it's something that he still thinks about, Jones said, "Most definitely. That definitely was on my mind, even last year, but this year more so because I have my coaches backing me up. I have to back their word up. I have to work that much harder at practice and prove it out on the field, so it's definitely on my mind."
Jones is happy to be back in Oakland this season, and excited to contribute to the team in whatever way is asked of him. One thing is certain - no matter where he lines up on the football field, he will be motivated and ready to work in 2014.