Katie Walters was born and raised in Northern California, but currently resides in Bozeman, Montana. She tells her story of the Raiders 59-14 victory over the Denver Broncos on October 24, 2010.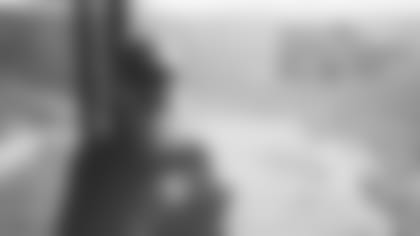 Last Sunday was a glorious day.
And one that was hand-delivered by the football Gods.
My Raiders beat the Denver Broncos, 59-14.
59 points, a new franchise record = Cloud 59.
When I did a Google search for "the significance of number 59" this is what showed up,
In sports
Nascar Driver Marcos Ambrose drives car #59
Satchel Paige became the oldest major league baseball player at age 59
59 is a the lowest golf score in a single round on the PGA Tour
Lowest score recorded at MGC invitational in Branson, MO
59 is the franchise high score by the Oakland Raiders as set against the Denver Broncos on October 24, 2010 at Invesco Field at Mile High in Denver, CO.
It had already made the news.
How did my love affair with football begin?
Let me take you back. Way back.
I was probably 6 or 7 years old. I remember clearly, it was a Sunday morning and I wanted to watch cartoons. Back then, we only had one television (imagine!) and my dad was watching football. My sister and I begged him to let us watch our show.
He said sternly, "You watch television all week. Sunday is my day."
I pouted, arms crossed, chin down, yet I sat there and watched football with my dad. I asked questions, and he taught me the game of football.
I remember this Sunday in January 2001 very clearly. While I went to the first round playoff game (and spent the second half of the game in the luxury box owned by the Oakland A's where I looked through the glass window to the suite next door, and saw Jim Plunkett!!!). My husband went house shopping.
And we bought a new house. The one my husband picked.
Talk about role-reversal. I came home and told my husband, "Today, was one of the best days of my life." Thank goodness he wasn't offended.
2001 was the year we lost the AFC Championship game to the Baltimore Ravens, at home. Talk about painful.
2002 was the year we lost the Super Bowl to the likes of Jon Gruden's Bucs. It was more painful than childbirth.
As a Raider fan, I have seen the best of times.
And over the past 8 years, I have seen the worst of times.
Yet, I have faith that one day, we will Return to Glory with a renewed Commitment to Excellence, and perhaps once again bring the Lombardi trophy home to Oakland.
Especially after the last 59 minutes of football I just witnessed.
---