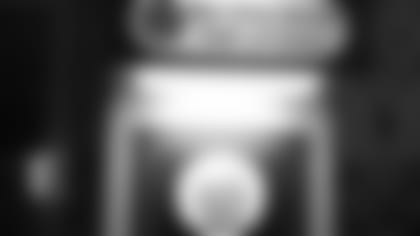 Tim Brown's BASHOF plaque.
Raiders Legend WR Tim Brown was inducted into the Bay Area Sports Hall of Fame (BASHOF) in a ceremony yesterday evening. Brown joins Raiders Super Bowl-winning head coach Tom Flores, who was inducted last year, Fred Biletnikoff, George Blanda, Willie Brown, Dave Casper, Al Davis, Ray Guy, Ted Hendricks, Ronnie Lott, John Madden, Jim Otto, Jim Plunkett, Jerry Rice, Art Shell, and Ken Stabler in the BASHOF.
Raiders Legends and members of the Raiders organization were on hand to celebrate Brown's induction, including Carol Davis, Marge Albo, GM Reggie McKenzie, Clem Daniels, Jim and Sally Otto, Virginia Madden, Willie Brown, Jim and Geri Plunkett, Cliff Branch, Raymond Chester, and Morris and Debbie Bradshaw.
Brown was presented by Pro Football Hall of Fame receiver Biletnikoff. "Watching Tim play for all those years was amazing," said Biletnikoff. "I could never be so proud."
Brown played 16 seasons for the Silver and Black after being selected by the Raiders in the 1st round (6th overall) of the 1988 draft. Brown set Raiders franchise records for receptions, receiving yards and punt return yards. When he retired, Brown had 14,934 receiving yards, 1,094 receptions, 100 touchdown catches, 3,320 punt return yards, 1,235 kickoff return yards and was voted to the Pro Bowl nine times.
His legendary career won over Raider Nation and earned him a spot in BASHOF. "I appreciate this honor; this is super special to me," said Brown. "To the Raider organization here in full support, I say thank you. To Raider Nation, thanks again."