Q: How's camp been for you so far?**
Carrie:"Camp has been good. It's been good. It's a very exciting time just to get acclimated to the system and getting into the routine of things. It's definitely a different atmosphere than college. The intensity is higher, the skill of the athletes are definitely, as we know, bigger, faster, stronger. Getting into that adjustment within the first couple of days, it kind of takes you a while to get used to that motor of how things go."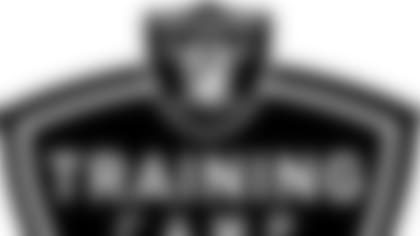 ](http://www.raiders.com/news/training-camp.html)Q: Talking to Coach Allen after practice, he sounded like this isn't too big for you. Sometimes a guy comes in, a late round draft pick and maybe it takes you a while to get going. But it seems like you're making a play a day.
Carrie:"Well definitely, that's what he's always preaching is being a pro. In order to be a pro you have to come in and get acclimated to the system pretty fast, and that's from the mental, the physical part of it, and really understanding all the aspects and keys of the game. So the adjustment is based on how you approach the situation, and I think I definitely have tried to approach it in a pro manner."
Q: What do you think about playing inside, in the slot? Do you have any experience there?
Carrie:"Yeah, I actually played slot my true freshman and sophomore year in college, and I played a little my senior year. I think the slot is a lot more versatile of a position. I like it personally because you get to do a lot more than on the outside, you get to blitz more, you're in the heart of the battle a majority of the time. You kind of get a little more leeway as far as help in certain situations, coverages are played off the nickel position or inside position to help them. So you get to cheat a little bit more in the inside position, which is something that I like. I like to take a little bit of risk."
Q: Have you interacted with the veteran players and how have they been in terms of showing you pointers?
Carrie:"Oh man, it's been good. Knowing a couple of vet players coming in already it was easier for the transition to come in, for me personally. I can't speak for every other rookie but knowing them and getting adjusted to them, they showed me the ropes early on in OTAs and in the offseason. So I got to adjust to the system a lot quicker than normal for what's expected for a rookie, which is something I like. Now I'm more comfortable around the vets."
Q: When you have a guy like Charles Woodson who's on your team, who's 17 years in, who seems to have a wealth of information for you, do you utilize that resource a lot?
Carrie:"All the time, every day. Every day, it's a different question, trying to get different notes, trying to get a different perspective of the game. Because when you're talking about a vet who has played the game that long, he sees the game in a different light than coming in as a rookie or a fifth year guy, sixth year guy. He's been in the game so long that he sees the unnatural, the unnormal that we might not see. So I definitely try and pick his brain and get a lot of information that I might not pick up until my third or fourth year. So being able to have him there I can pick up things a lot faster."
Q: You mentioned you know a couple guys - Taiwan Jones. Who else do you know?
Carrie:"[Maurice] Jones-Drew. Same high school. I'm definitely familiar with the family. He's kind of taken me under his wing as far as in the meeting rooms. What typically you see is offensive guys stay with offensive guys, defensive guys stay with defensive guys. But he's really taken me under his wing and showed me the ropes on how I should be attacking the game each and every day, playbook standpoint, punt return standpoint, keep working and what I need to be doing to take care of my body. So that really gives me an edge on a lot of other people."
Q: Did you come in with an expectation of what your rookie year would be like?
Carrie:"No, not really. I think the main goal coming in as rookie is to make the team, and that part of making the team is to try and help the team in all ways possible. For me, I think I can be utilized on the special teams and the inside position as well. But coming in to every day knowing that I haven't earned anything and knowing that I have something to prove every day is what keeps me motivated and going."
Q: When you came out of college, most of your accolades were as a return man. You played well at corner as well, but even Dennis Allen when they drafted you said, "We're looking at him as a return man." Could you have foreseen that so early on that he was going to be talking about you in such a light as a corner?
Carrie:"Well I definitely tried to harp myself on playing a cornerback position. I think the beauty of the college experience is that you get coaches who like to push you in a direction that you might not have thought you can go. That's what my head coach did, Frank Solich, - he pushed me into being a return man. I had a chance to excel at that as well. It kind of overshadowed my cornerback abilities. I definitely have the return abilities but I think that it has overshadowed my corner abilities, so I try to do both."
Q: Have you heard anything about the De La Salle movie yet?
Carrie:"I did. I definitely did hear about the movie. I'm excited to see actually who they have playing the roles in the movie. It will be a memorable moment to bring back some of the experiences that I lived through and to see it in a movie. I'd definitely get a kick out of that."
Q: So is the part they picked out was that the year that you were playing?
Carrie:"Well I don't necessarily think it was when I was playing. But my older brother actually went there before Maurice Jones-Drew. I'm already familiar with how the movie was seen from being able to watch my brother play, and Maurice Jones-Drew play, and some of the other guys that went there. So I kind of have a gist of what I think it should seem like in a sense."