Todd Downing is in his first season as the Oakland Raiders quarterbacks coach.
Todd Downing is no stranger to tutoring a burgeoning star quarterback. Downing was the Detroit Lions quarterbacks coach as Matthew Stafford was setting the NFL on fire with 4,600-yard passing seasons. Now, Downing has a new protégé, Oakland Raiders second-year signal-caller Derek Carr.
Downing is looking forward to returning to Detroit this weekend as the Raiders take on the Lions in Week 11 action at Ford Field. "I have very fond memories of my time in Detroit, so it's fun to be going back there," Downing said.
Downing enjoyed his time working with Stafford as the Georgia-product became one of the NFL's more productive passers.
"Matthew is a pleasure to work with and be in the room with every day, he's a really hard worker, someone that cares a lot about football, cares about being great for his teammates," Downing said. "His preparation is excellent, he's just a well-rounded young man and I'm excited to see him.
Downing, who spent last year with the Buffalo Bills, said that Stafford and Carr share many similar traits.
"The competitiveness certainly carries over between the two of them, they have that tenacity for winning, they want to do whatever it takes," Downing said. "The preparation is unparalleled, the two of them both work extremely hard, they're both physically gifted quarterbacks with very talented arms…you know they've got a little bit of that gunslinger in them which makes it so fun to watch them."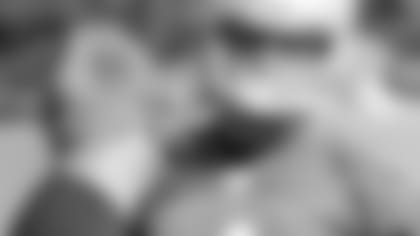 The Eden Prairie, Minn.,-native says he very much enjoys his relationship with Carr and that the former Fresno State standout is highly competitive and loves to learn.
"We've bonded really well over the last several months since I got here," Downing said. "He's a sponge, he wants as much knowledge as he can get, he's a very coachable kid, and he's a pleasure to be around each day. I think you have to have a lot of trust between the quarterback and the quarterback coach to be able to grow in the areas you need to grow, and be able to deal with some of the pressures that come along with the position."
Carr credits Downing and offensive coordinator Bill Musgrave for his maturation as a quarterback this season.
"I'm just trying to play smart and efficient football. Coach Downing and Coach Musgrave drilled in my head so many situations, so many things to do," said Carr after the Raiders win in Cleveland. "All these kinds of things they said over and over. Sometimes they repeat themselves, but I'm thankful that they do because in certain situations it's just second nature now. I'm definitely more comfortable with just playing the football game how it's supposed to be played."
Downing, who has previous working experience with Raiders offensive line coach Mike Tice, enjoys working with offensive coordinator Bill Musgrave.
"He's just a wealth of knowledge, he knows so many different systems, this system is such a creative blend of the ones he's been a part of, he's open to suggestions and new ideas, he wants to stay on the cutting edge," Downing said. "It's a very discussion oriented room which is good, gives everybody a voice, once we leave that room we're on the same page and committed to implementing that game plan. He's been fantastic."
He assists Coach Musgrave and Carr on game day by analyzing drives and pointing out what the opposing defense is doing from a coverage standpoint.
"I'm out there with Derek doing drive reviews, trying to help as much as I can on the sideline with adjustments that need to be done," Downing said. "Bill does such a great job getting in rhythm as a playcaller that sometimes you're just making sure the screws are tightened and all the fine details are covered."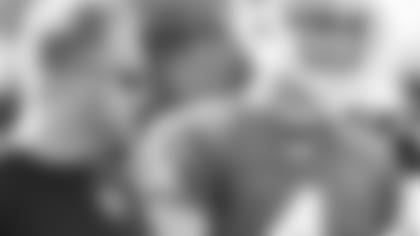 Coach Musgrave says Downing, who worked his way up from a systems analyst with the Minnesota Vikings to quality control with the St. Louis Rams and Detroit Lions to quarterbacks coach with the Lions, Bills, and now Raiders, has been a valuable addition to the Raiders coaching staff.
"It's been working out great. Todd has a ton of experience," Coach Musgrave said. "He's going back to one of his former employers this weekend where he was with Matthew Stafford. Lot of experience, really been trained under Coach Tice and Scott Linehan over the years. So got a wealth of experience and knowledge. I've enjoyed it."
As much as Carr set Raiders rookie passing records a year ago, he has played even better this season. Downing says the sky is the limit for the Raiders offensive leader.
"He can be outstanding. As good as he wants to be, he'll be and he wants to be great, so I think he's on his way," Downing said.
The Raiders first-year quarterbacks coach and his pupil will be on their way to Detroit this weekend to take on Downing's former pupil. If the numbers these two quarterbacks are capable of are any indication, it should be quite the showdown in Motown.