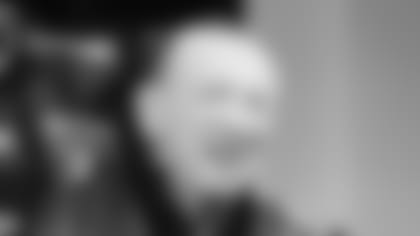 Oakland Raiders Besitzer Al Davis stellte Tom Cable als neuen Head Coach der "Silver and Black" vor. -Tony Gonzales
Am Mittwoch, den 4. Februar 2009 stellten die Oakland Raiders in einer Pressekonferenz Tom Cable offiziell als neuen Head Coach vor. Al Davis, Besitzer der Raiders, hatte Cable am 30. September 2008 zum Interimstrainer ernannt. Diese Position füllte Cable für zwölf Spiele aus.
Nach einigen Worten zur Eröffnung der Pressekonferenz sagte Al Davis: "Ich möchte Ihnen nun den neuen Head Coach der Raiders vorstellen. Er ist nicht länger der Interimscoach und ich sage dies mit Stolz: Tom Cable."
"Ich bin geehrt, das Privileg und die Verantwortung zu haben, der Head Coach der Oakland Raiders zu sein," erklärte Coach Cable. "Ich freue mich darauf, mit der Arbeit zu beginnen und hart dafür zu arbeiten, wieder eine Meisterschaft nach Oaklanf zu bringen. Das ist etwas, das uns allen am Herzen liegt, der Stadt am Herzen liegt und es ist etwas, womit wir nun beginnen werden."
Cable kam 2007 als Offensive Line Coach zu den Raiders und trainierte die Line für die ersten vier Spiele in 2008, bevor er zum Interims Head Coach befördert wurde.
Unter Cable lieferten die Raiders ein starkes Saisonfinish ab und gewannen ihre lezten zwei Spiele. In diesen Spielen erzielten sie im Durchschnitt 29 Punkte und 350 Yards Total Offense, 165 Yards davon mit ihrem Laufspiel.
2007 trainierte Cable eine Raiders Offensive Line, die dazu beitrug, dass die "Silver and Black" den sechstbesten Laufangriff der NFL hatten und ebenfalls die sechstbeste Touchdown-Rate erzielten, wenn sie sich innerhalb der 20-Yard Linie des Gegners befanden.
Der 44-jährige Cable verbrachte die Saison 2006 als Offensive Line Coach der Atlanta Falcons. Dort trainierte er eine Gruppe, die die treibende Kraft hinter dem besten Laufangriff der NFL war.
Von 2004 bis 2005 war Cable sowohl Offensive Coordinator als auch Offensive Line Coach an der UCLA, wo er dazu beitrug, einen der produktivsten Angriffe des Landes zu entwickeln.
2005 erzielte die von Cable geleitete UCLA-Offensive im Schnitt 431 Yards pro Spiel, gewann zehn Spiele und nahm an einem Bowl teil. 2004 erzielte die Offense der Bruins unter Cable mehr als 1.000 Yards mehr als im Vorjahr. Im Schnitt machten die Bruins 410 Yards pro Spiel.
Von 2001 bis 2003 war Cable Head Coach der University of Idaho. Während seiner Zeit dort erzielten seine Teams durchschnittlich 424,1 Yards pro Spiel.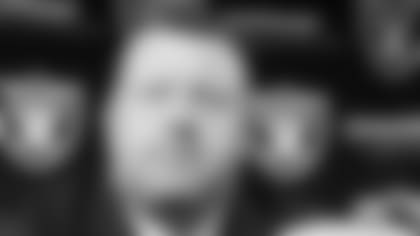 Oakland Raiders Head Coach Tom Cable sprach in der Geschäftsstelle der Raiders in Alameda, Kalifornien, zu den Medien. -Tony Gonzales
Zuvor arbeitete er zwei Jahre für die University of Colorado. Dort war er 1998 Offensive Line Coach. Im darauffolgenden Jahr wurde er zum Offensive Coordinator befördert. Unter seiner Führung wurde die Offense der Buffaloes 1999 mit durchschnittlich 424,9 Yards pro Spiel landesweit auf Rang 14 geführt.
Cable verbrachte sechs Spielzeiten (1992-97) als Offensive Line Coach an der University of California, wo er vier Spieler trainierte, die ins erste Team der All-Pac-10-Auswahl gewählt wurden.
Cable begann seine Trainerlaufbahn an seiner Alma Mater Idaho. Dort arbeitete er von 1987-88 als Graduate Assistant. 1989 war er Graduate Assistant an der San Diego State, 1990 Defensive Line Coach an der Cal State Fullerton und 1991 Offensive Line Coach an der UNLV.
Der in Merced, Kalifornien, geborene Cable spielte vier Jahre für Idaho, drei davon als Starting Guard. Bevor er zu coachen begann, verbrachte er eine Saison bei den Indianapolis Colts.
Zur Cable-Familie gehören seine Tochter Amanda und die Söhne Alexander und Zachery.