FS Michael Huff chats it up with RB Michael Bush and Head Coach Hue Jackson. Photo by Tony Gonzales.
Okay, so I woke up today and had pretty much the same breakfast I had the other day, but the best part of the day was that as soon as I walked down the stairs I saw Mr. Bush. He finally made an appearance at camp; I give him a hard time on Twitter all the time, so we finally got him out here. But he told me the reason why he was holding out, it's because the first day he was supposed to come back we were supposed to have live goal line, and last year when we had goal line I met him in the hole and he went back and fumbled the ball, so he said this year he wouldn't come until after we finished goal line. So that's the reason he held out this year.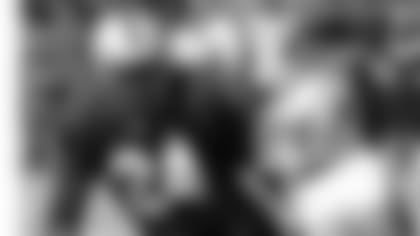 Lunch was pretty much the same. I tried to go watch Maury again today, but some random guy named Tyvon Branch came into my room and he wanted to sleep while I wanted to watch Maury. He was snoring…I don't know what he was dreaming about.
But he really did come into my room, and I couldn't watch Maury because he was laying there. So I don't know why he came in my room, and I see him enough at practice. He tried to use the Internet but it didn't work, so he just laid there and went to sleep while I was lying down and studying my playbook. He usually studies with me.
After lunch we had a great practice. Tyvon had a great pick, he broke to the post and the throw was to the sideline so he had to speed turn and had a great one-handed over-the shoulder, so I definitely give Tyvon props about that. I'm glad to welcome Bush back to the team today.
I'm about to go get some Chinese food, probably a little shrimp noodles. And I just found out Shane Lechler is my next door neighbor, and he is loud, annoying, and gets on my nerves; but he's my teammate so I have to deal with it.
Oh yeah, Rolando [McClain] practiced today, I was glad he came back today, he looked good. He was healthy, fresh legs, downhill. He brought the spark we needed today, we dominated the offense today. Today was just our day. We had live goal line today and I came up with the stop to win the game. And Rolando McClain is buying me dinner tonight.
This is the end of Michael Huff's blog and I want to thank the special guests for coming out today, we had another great day and we are getting better and better each and every day. I love talking to you all. Go Raider Nation.
---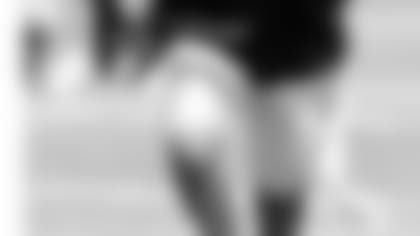 Okay, I want to start off by saying that during camp, the schedule is pretty much the same every day so the majority of what I did yesterday is exactly what I did today. But the one change is that before practice I watched Maury, the best show on TV during daytime television. I watch Maury because of the part where he says, "you are NOT the father," and then the guy gets up and starts dancing. So I'm working on my end zone dance for when I get a pick six. I get my inspiration for my touchdown dances from Maury. Just thought I would let you all know.
Anyway, today I had pretty much the same breakfast and I had the same lunch. But I'll have Subway for dinner, Subway and Jamba Juice.  I'm about to go pick that up right now.
Before and after practice we have meetings. The easiest part about staying focused in meetings is we have the rookies go get snacks, so during meetings we get to chew on snacks. My personal favorites are jolly ranchers, ding dongs, and some honey buns. That's what I eat during meetings while we are learning about defense. During these two- or three-hour meetings you need little snacks to keep you motivated.
Practice was wonderful. I got a chance to field some punts. Oh boy, I was nice back there. The first one doesn't count because Shane punted it, and Shane is like the best punter in the history of the NFL so that one doesn't count. But after that I was good and I caught all of those and I was working on my wiggle moves. So if the punt returner goes down, you all will see me back there this year. And I will bring it out from anywhere, if they punt it 10 yards deep in the end zone ill put my heels on the back line, catch it, and bring it out.
We had a lot more fans out here at practice today; we had the season ticket holders.  I thank the season ticket holders for being out here and coming to practice. They make practice livelier and I love seeing them because we appreciate them. We wouldn't be us without them; we do this for them so I appreciate them coming out today.
I stay connected to fans through twitter (@Huffy247). It means a lot, it's the only way I can relate to the fans and answer some of their questions, and let them know what goes on in the daily life. I don't tweet everything like "I'm eating a cinnabon." I don't get that detailed, but I try to keep them up to date about what's going on during the day like how we are getting better in practice and who's looking good and whose butt I'm kicking at practice, just to show them that we are ready to win.
---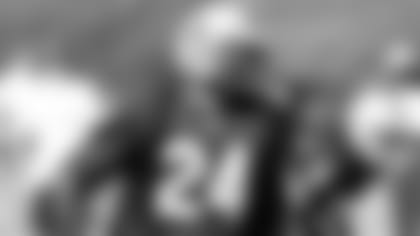 FS Michael Huff practices for the first time since re-signing with the Raiders and the ratification of the CBA. Photo by Tony Gonzales.
With tongue planted firmly in cheek, FS Michael Huff kicks off three days of blogging from Training Camp 2011 in Napa, Calif. Huff hit the practice field with his teammates Thursday for the first time since re-signing with the Silver and Black.
I woke up at 6:30, because wakeup call was at 7:00. I got my playbook, because I knew today would be my first day on the field and I wanted to study a little extra, so I studied from 6:30 to 7:00. At 7:00 I went to eat breakfast. I had an omelet, ham and cheese…ham, egg, and cheese omelet, then I got some grits and poured it on top of the omelet, and then I chopped it all up and added some salt and pepper, and ate it all up. I had that with cranberry and orange juice.
Then we came over here and had walk-through, but I still didn't know if I could practice yet. So during the walk-through I stood around the whole time paying attention even though I couldn't do anything. After that we came in, and we had some nice meetings, we got a lot of things done. Then I went to lunch, and I had a turkey burger sandwich, some French fries, some fruit with cranberry juice. I had bananas, apples, all kinds of fruit because I like to eat healthy.
After lunch, we had about an hour and a half break and I found out I would be able to practice today. Then I studied my playbook again because I have to be a smart guy. I studied my playbook for about 30 minutes, and then I took an hour nap. Then I came over here, got stretched and worked with the JUGS machine and caught some balls; because a DB has to know how to catch; then I went on the bike, did some curls before practice because I knew they would be taking pictures of me…so I did some curls and did some lightweight bench press.
Then I went out for practice. We practiced some details and went through some individuals; which was tough because it was my first time going through it with coach Rod [Woodson], and [RB] Rock [Cartwright]. They tried to kill me because I was kind of the new guy out there, but it was good for me. After individuals, they did some goal line but I couldn't do it because it was my first day back. They were scared I would hurt somebody so they made me sit that out. After that we did some team run sessions, which started off shaky but we picked it up as we went along. Then 7 on 7, they completed a few balls but we made our plays. We finished with some blitz period, so that was fun because anytime the defense gets to blitz, it's fun. We dominated the blitzes on third down, that's what we do.
I think Tyvon Branch and I led the NFL in sacks for safeties last year and we want to keep building on that; hopefully double digits this year. We each want to get about six, well I want 15 and Tyvon can try to get six. I think 15 sacks and 12 picks would be a good year for me. You've got to shoot for the sky.
I love [new defensive coordinator Chuck Bresnahan] because he is fiery and intense, kind of a spitting image of [Head Coach] Hue Jackson]. He is in your face and tells you what he wants. He is very straight forward and that's something I respect in a coach, he says what he feels and I love it.
I want to thank the fans for reading my blog, I'm about to go eat dinner now and then get back in my playbook. I almost forgot to say that after practice I did some curls, abs, triceps, dips and a little bench press again. Just wanted to let the fans know I'm working on my body, so I thank the fans for reading my blog and there will be plenty, plenty, plenty, plenty, like 70 times plenty more to come.