Raiders defensive line coach Mike Waufle speaks to the USA Football Coaching School participants. Photo by Tony Gonzales.

Recently, The Oakland Raiders hosted a USA Football Coaching School at Laney College in Oakland, Calif. Youth football coaches had the opportunity to learn best practices specific to their team's age group throughout the day. Raiders defensive line coach Mike Waufle was the keynote speaker and shared his passion for football and teaching youth with the coaches.
"It's a USA Coaching School for youth coaches and I wanted to be able to teach the youth coaches how to teach the kids in American society," said Coach Waufle. "I focused on leadership skills and I also talked about some of the simplistic ways to be able to teach football."
"We're running our 4th annual Oakland Raiders coaching school," explained USA Football Regional Manager Bassel Faltas. "We're bringing in youth football and high school football coaches. We have tremendous clinicians here that are sharing their knowledge in an effort to implement best practices for football from youth all the way up to high school. It's a special day and we thank the Raiders for having us and being part of USA Football. [Having Coach Waufle speak] was special. He's definitely very charismatic, very passionate about the game, loves to give back to the youth. It was nice having him here today. He really got the day started right, very energetic so that got us going this morning."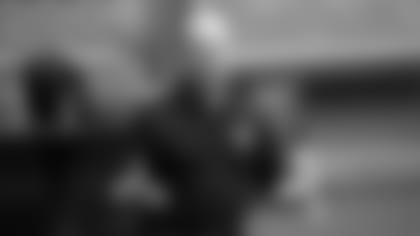 Coach Waufle was the keynote speaker at the USA Coaching School.Photo by Tony Gonzales.
The coaching clinic is intended to inspire and teach the youth football coaches how to best develop the kids' abilities and habits on the field. Coach Waufle was able to help start the learning process with an energetic talk. "We wanted to inspire and teach the next generation of coaches to work with our youth, who we think are the most important people on our planet right now, to do safe football," said John Beam, Laney College Athletic Director. "Wauf is unbelievable. I love hearing him speak all the time. He wakes you up and inspires you to do the right thing every day. I hope they learn his enthusiasm and heard the message he said that they're doing the most valuable job, which is working with our youth of today."
Coach Waufle dove into the most important topics for the coaches to focus on throughout the youth football season. "I preach to my kids and I think you need to do the same thing when you're working with your football group is that you need to be a leader and develop leadership qualities," said Coach Waufle to the attentive crowd. "And that's what I want to talk to you about today. I want to talk about how you can really make an affect on these kids of America because that to me is the most important part of your job. The X's and O's will come but you can make an affect on these kids."
Coach Waufle broke down leadership into parts. The first element was setting an example. "Set the example – here's the important part of your job – your character – how you conduct yourself, how you handle yourself, how you talk. When you deal with these youth it's important that the character is there and part of your character is being an example, being on time, being early."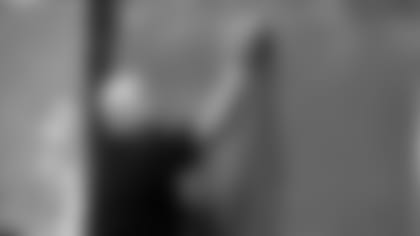 Coach Waufle writes the key points on the chalkboard. Photo by Tony Gonzales.
The second element he touched on was discipline. "We have to teach these kids discipline," explained Coach Waufle. "Discipline is something I hammer in that meeting room because discipline in the United States Marine Corps is the difference between life and death. Discipline in the National Football League is the difference between victory and defeat. And discipline in life and in business is the difference between success and failure. If you're going to have success with these kids and you're going to get them to where they need to go, you're going to have to teach elements and forms of discipline."
Coach Waufle encouraged the youth coaches to show their enthusiasm. "You have to have ENTHUSIASM, JUICE, ENERGY," he said. "You express it. You have to feel it. If you have that, it's contagious. You can wake these kids up. It's fun. Let it come out. Let it come out of you."
Coach Waufle explained the need to teach the players courage – both physically and morally. Additionally, he told them to encourage their team. "Encourage them, praise them. I spend so much time praising them," said Coach Waufle. "If they do something wrong, just correct them. Teach them what they're doing wrong. You don't have to call them out. You have to develop cooperative thinking with these kids. You have to drive out the selfishness. You have to teach them how to work together and how to get along. The most destructive thing in all of football for a team is selfishness and where does selfishness come from? Insecurities."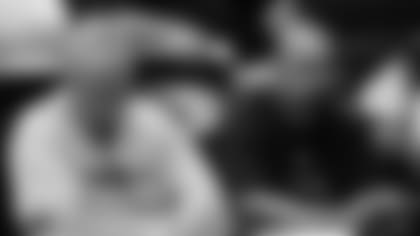 Youth football coaches listen intently to Coach Waufle. Photo by Tony Gonzales.
He finished his talk by teaching the coaches some of the ways they can break down football in a simplistic, but effective manner. He explained that the coaches will be able to impact young football players if they have the knowledge and confidence to do so. "Know your stuff," said Coach Waufle. "Knowledge is powerful. When you know your stuff, you can think clearer. And when you think clearer you'll have a confidence. Instill in those kids that 'I can do that, but we can do this.' We CAN DO this.' Instill that in them. Get them fired up about it. Get them to think about that part of it. You have to be a teacher. That's all we are, is teachers."
As Coach Waufle finished his keynote speech, the event participants were alert and ready to take on the next phase of the coaching school. The spent the rest of the morning learning best communication practices and then continued on to practice planning and tactical development. The coaches finished out the day on the field with technical development. With football season around the corner, the youth football coaches gathered knowledge from Coach Waufle and the other coaches at the Oakland Raiders Coaching School to take back to their respective teams around the Bay Area.