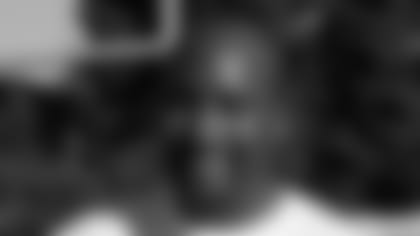 What an incredible week it was!
This week I have learned so much. Not only about professional football and what comes along with it, but also about myself as a coach. So much has happened over the past few days: I've stood on the sideline during a game, experienced a tailgate, sat on the players bus with police escort (twice!), have gotten interviewd by television networks. The thing, outside of the gained football knowledge, that I'll cherish most will be the warmth and love that's within the Raiders organization. The bond between people with this great passion for what they are doing apparently leaves room for an international guest coach. I've been feeling like a Raider and will go home holding on to that feeling... delightful!
Obviously I want to keep developing as a coach and as a person. This experience has contributed to that and I'm more than grateful.
Everybody who in the past week has responded to the blogs on Facebook, thank you for that. Also the people who have been so nice in their approach towards me on the streets, It all added to this very nice experience.
It was very nice to meet new people who share the love for Raiders football.
I will leave you with those two words that I've heard a lot on the street this past week:
Go Raiders!
Wayne Neijhorst
---
How sweet it is to be loved by you…

Those words run through my mind as the bus arrives at downtown Oakland. The fans that came out have this amazing, passionate love for the Raiders and aren't affraid to show it.
In return, I've seen the level of energy rise amongst the people at the office making sure that the fans got the best possible experience at the Raider Nation Celebration.
I'm not pretending that I've seen everything they do but from what I've seen, the love is mutual and that, for me as an international guest, is a beautiful sight.
In the afternoon leading up to the fan fest I've spend some time riding around the Bay Area. Alameda, Oakland, Clawson and even Emeryville were visited by Edgar and myself.
Because I'm not used to being in the spotlight, I didn't bother changing clothes between the morning team activity and the fan fest in the afternoon.
This propped a wide range of reactions from the people in the street. You would think that I would have learned from the experiences in Napa not too long ago. Hmmm, I wonder what Freud would have said about this case of memory loss.
Travelling a lot, I get to learn words in various languages, which helps me get around in whatever country I am in. Today I have encountered two words in the American language that are so powerful in this community. Bonding people from the Bay, with for insance people in South America, Europe and the rest of the world.
These two words, that I've often heard today, at and outside of the fan fest, I want to share with you today…Go Raiders!
---
The continuous flow of impulses keeps my mind busy as I try to write down both all that is new as well as the things I'm familiar with.
As I get back from the morning walkthrough, the news reaches me that one of my varsity players back home is in intensive care with a spinal injury. The mail I'm reading informs me that he appears to be stable and will be flown to Amsterdam from Serbia where he was playing within a short period of time.
While I read the mail, my mind goes back to the days of when this very talented young man started his football career. He stated, at age 13 that he would play every game like his life depended on it. Honestly, he has been one of the more intense players for the 6 years he's played for me.
I've sat still for a while, hoping and praying that he'll recover completely before I decide that the best thing for me to do is to keep moving forward with this football adventure. What better way to do justice to this football enthusiast. So, I continue out on the field where practice starts.
Perhaps because of the mail I recognize an attitude with these players that I've not noticed before. It's an attitude of willing to do whatever it takes. Especially the defensive unit that I've been watching closely displays an eagerness to make a play. They do so with the same fire I saw in Dylan when he came in for practice over the years.
After practice is over I gladly help Nnamdi Asomugha (I've checked pronunciation and got it right!) work on covering various routes. While Kyle Boller throws the football I get to pretend to be an NFL wide receiver for a few minutes and decide that I'm better at coaching football than being a "scout team player" at this level. When the guys are done, I spend a few minutes talking to Nnamdi about Soccer, the Netherlands and Nigeria and I notice what a nice guy this ferocious defensive player really is.
So it is with mixed feelings that I write this blog up. I'll leave you with something our team has strived for over the years: "You take the bad with the good, focus on getting the little things right and have faith that you'll get better as you go along".
Let's win the Battle of the Bay!
Wayne Neijhorst
---
As a Dutch coach this all is first and foremost a great honor. For the first time in history a Dutch coach is present at a NFL training camp.
After a long flight to LA and having spent a couple of days in that region, I arrived at the Oakland International Airport. Here I'm driven to the hotel to meet my fellow "internationals." We hit it off right away, ate breakfast together and we were ready to report at the Raiders facility in Alameda.
After a tour through Oakland and San Francisco we got ready to head out to training camp.
Once we got there, it's a very busy affair. A gigantic amount of people appear to move in choreographed precision making the whole feel quite overwhelming.
After a couple of hours those feelings subsided somewhat. We have start to get somewhat of a grip on the who, what and where around the place. Players, trainers, staff and even the head coach are more than friendly with us and the speed of even the walkthrough is high. With great pleasure I've been able to watch the practices recognizing some of the drills we run as Amsterdam coaches back in the Netherlands. That realization is a nice compliment to the path we're on with the program but the emphasis obviously lies on the things we don't do but could help us.
There are many new things, big and small in drills, techniques and operational procedures that I can take back home. I'm as such walking around the compound with a pen and a pad writing everything down.
We've experienced how, besides the walkthroughs, an actual practice is held with the Raiders. Despite the 103 degrees, the players, being closely watched by invited visitors, passionately work to make themselves, the others and the team as a whole, better. If a player lets his intensity drop for just a little bit, the fellow players and coaches immediately mention it to get it to rise back up.
Speaking of intensity. There is no lack thereof with the fans. Not only with the ones that have shown up at practice but also outside of the facility. When we as guest coaches walked outside to a convenience store to pick up a few items people were waving at us from passing cars, people addressed us and we were asked for our autographs.
In an attempt to display modesty we've explained that we're here as guests in the international guest coaches program and as such weren't the typical coach they're looking for exciting the group even further: "so you're INTERNATIONAL Raiders coaches!" As you'll understand, we happily signed the items and after shaking of hands and pleasant conversation went on our way with the items we've picked up.
Very noticeable for me is how much of an international affair football is. We speak the same language and the love for the sport binds the international amateurs amongst them as much as it does with all involved at the highest (professional) level.
This week everybody is getting ready for the game against San Francisco. Which, despite being a non-conference and pre-season game, has high emotional value as the "Battle of the Bay" rivalry renews. Comparable perhaps with various sports at all levels worldwide were two teams have their home base in close proximity of each other. Besides the win, the honor is also at stake.
I notice that, even though over the years I haven't spent more than a week [at a time] in the Bay area, I get sucked in with the enthusiasm of my environment.
We are working hard at everything and I will keep you posted as we progress.
Met vriendelijke groet (Kind regards),
Wayne Neijhorst
Amsterdam, the Netherlands