The Honeybee Trio is a group of three young women; Sarah, Natalie, and Karli singing classics from the 1930s and beyond in tight, three part harmony, with an emphasis on the 1930s and 40s swing era. These young women have performed over 100 times to enthusiastic audiences throughout California.  Due to the nature of the songs in their repertoire, they have formed a close association with Travis Air Force Base and the historic USS Hornet where they have performed on numerous occasions. The group just completed their first CD and is currently working on a second.
National Anthem: USAF Band of the Golden West
The USAF Band of the Golden West Ceremonial Marching Band from Travis AFB, CA participates in official military ceremonies, military and civilian parades, and patriotic events for the general public. It's stirring renditions of military and patriotic music, as well as traditional marches, complements its impressive precision marching style. Among its many appearances the band's recent highlights include patriotic game openings for the San Francisco Giants and Oakland Athletics, as well as leading the Pasadena Tournament of Roses Parade - an honor accorded them three times and viewed worldwide by millions in January of 2003, in 2000, ushering in the new millennium, and in January 1997, marking the beginning of the United States Air Force's 50th anniversary year.  The ceremonial band is under the command of Captain Haley Armstrong and under the direction of Drum Major Master Sergeant Dodd Martin.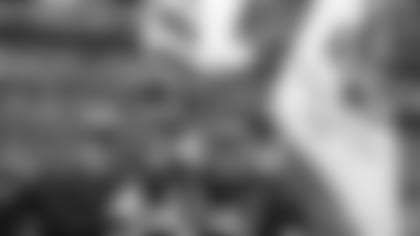 Honor Guard: US Coast Guard**
Coast Guard Training Center Petaluma's Honor Guard is one of three training center Honor Guards.  Training Center Petaluma's Honor Guard is comprised of 13 Coast Guardsmen and women who serve various roles in the service but volunteer and dedicate their time to be a part of a designated team to escort and present our nation's colors.  These members are highly professional and dedicated to performing with perfection. The Honor Guard participates in official government functions, funerals, parades, and local civil events.
Central Coast Pop Warner: Central Coast Pop Warner is based out of Watsonville is in the first year of existence in the Pop Warner Peninsula Conference. Central Coast has over 30 kids in the program under consideration for scholastic awards, based on academic achievements.  The whole Central Coast Pop Warner family would like to express how appreciative it is of The Oakland Raiders.
Manteca Cowboys: The Manteca Cowboys "starter" division is comprised of 32 youth players ranging from ages five to eight. They are the Central Valleys' premier youth football group. As defending 2010 Super Bowl Champions, these kids have a lot to be proud of. They are looking forward to matching that title in this year's 2011 Super Bowl. For now, they have already earned the bragging rights of being named the NorCal Youth Football League NFC Division Champions!