For a total of 100 days, we'll take a look at the men who have played for the Raiders jersey number by jersey number. This series will highlight some of the greatest players in NFL history. In some cases, the player and jersey number are synonymous. In other cases, the jersey number represents sustained greatness at a particular position. Some players are superstitious about their jersey number. Whatever the case may be, jersey numbers are an important part of the fabric of professional football.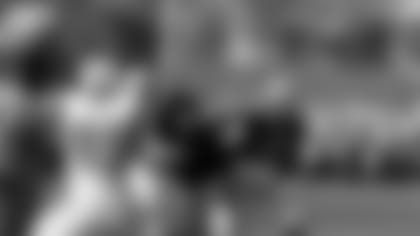 Tom Flores (15) looks downfield for a receiver in a 1963 game against the Boston Patriots.
An eclectic group of men have worn jersey No. 15. From a quarterback who became a Super Bowl-winning coach to an electric punt returner – No. 15 has enjoyed some great moments throughout Raiders history.
Tom Flores – QB – 1960-61, 1963-66
Tom Flores is the first player to wear 15 for the Raiders and he started the very first Raiders game at quarterback. He appeared in 84 games with 64 starts and completed 810 of 1,640 pass attempts for 11,635 yards, 92 TDs and 83 INTs. He is the 6th leading passer in team history. Flores was part of the trade that brought QB Daryle Lamonica to Oakland from Buffalo. He won his first Super Bowl title as a member of the Kansas City Chiefs as a backup QB in 1969. Flores led the Silver and Black to two Super Bowl wins as head coach – Super Bowl XV over Philadelphia and Super Bowl XVIII over Washington. He was a member of John Madden's staff and was an assistant coach during the Raiders Super Bowl XI victory. Flores won 83 games as head coach of the Raiders from 1980-87. He is currently Greg Papa's partner on the Raiders Radio Network.
Rae was Kenny Stabler's back-up for two seasons. He was traded to Tampa Bay in 1978 for a 5th round pick in the 1980 Draft and a 5th round pick in the 1981 Draft. He appeared in 17 games with 3 starts and completed 50 of 95 pass attempts for 579 yards, 7 TDs and 5 INTs.
Ware joined the Raiders for the 1989 season after playing two years with the San Diego Chargers. He saw action in 13 games and returned 4 kickoffs for 86 yards.
Jeff Hostetler – QB – 1993-96
Hostetler signed with the Raiders in 1993 after seven seasons with the New York Giants and promptly led the Raiders to the playoffs in his first year in Silver and Black. He started 55 games and completed 913 of 1,562 pass attempts for 11,122 yards, 69 TDs and 49 INTs. He is the 7th leading passer in team history. He finished his NFL career with one season in Washington.
Stone wore No. 15 in 2004 after wearing No. 86 in 2003. He appeared in a total of 5 games in 2 years and caught 3 passes for 80 yards (all in No. 15). He also returned 1 kickoff for 20 yards.
Johnnie Lee Higgins – WR – 2007-10
Higgins was selected in the 3rd round of the 2007 NFL Draft out of UTEP. This electrifying return man appeared in 60 games with 11 starts and returned 115 punts for 973 yards and 3 TDs. Two of those punt return TDs came in back-to-back weeks in 2008 and qualify for the 2nd and 3rd longest in Raiders history. He caught 57 passes for 779 yards and 4 TDs and he rushed 7 times for 58 yards.
Flynn was acquired in a trade with Seattle in April 2013. He appeared in 2 games with 1 start and completed 22 of 34 pass attempts for 246 yards, 1 TD and 1 INT, before he was released.