For a total of 100 days, we'll take a look at the men who have played for the Raiders jersey number by jersey number. This series will highlight some of the greatest players in NFL history. In some cases, the player and jersey number are synonymous. In other cases, the jersey number represents sustained greatness at a particular position. Some players are superstitious about their jersey number. Whatever the case may be, jersey numbers are an important part of the fabric of professional football.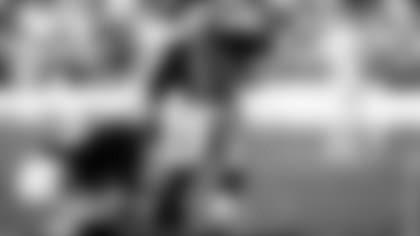 K Jeff Jaeger is the 4th leading scorer in Raiders history.
Jersey No. 18 was made memorable by one particular player for the Raiders, another player wore it during a memorable game and the current player in No. 18 is trying to make a name for himself.
Wood spent 1 year of his 5-year AFL career with the Raiders. He saw action in 14 games with 3 starts and completed 69 of 157 pass attempts for 1,003 yards for 8 TDs and 6 INTs. He also played for Denver, San Diego, the New York Jets and Miami.
Jeff Jaeger – K – 1989-95**
Jaeger had the most success in No. 18. His 7 years in Silver and Black were highlighted by memorable game-winning field goals in some incredible games. He appeared in 107 regular season games and made 152 of 204 field goal attempts and 211 of 216 extra point attempts for a total of 667 points. He is the 4th all-time leading scorer in Raiders history.
Randy Moss – WR – 2005-06
Moss was acquired in a trade with the Minnesota Vikings. He played in 29 games with 28 starts with the Raiders and caught 102 passes for 1,558 yards and 11 TDs. He is the last Raider to record a 1,000-yard receiving season – 1,005 in 2005.
Louis Murphy – WR – 2009-11
Murphy was originally selected in the 4th round of 2009 NFL Draft out of Florida. He appeared in 41 games with 19 starts and caught 90 passes for 1,371 yards and 6 TDs. He is best remembered for his performance against the Pittsburgh Steelers in 2009. He caught 4 passes for 128 yards and 2 fourth-quarter TDs, including a 75-yard catch and run and the game-winner, an 11-yard pass from QB Bruce Gradkowski, with 9 seconds left.
Andre Holmes – WR – 2013-present
Holmes was claimed off waivers in May of 2013. He saw action in 10 games with 4 starts and caught 25 passes for 431 yards and 1 TD. He also set up a touchdown when he recovered and returned a fumble on the opening kickoff against the New York Giants. in 2014, Holmes caught 47 passes for 693 yards and 4 TDs.