For a total of 100 days, we'll take a look at the men who have played for the Raiders jersey number by jersey number. This series will highlight some of the greatest players in NFL history. In some cases, the player and jersey number are synonymous. In other cases, the jersey number represents sustained greatness at a particular position. Some players are superstitious about their jersey number. Whatever the case may be, jersey numbers are an important part of the fabric of professional football.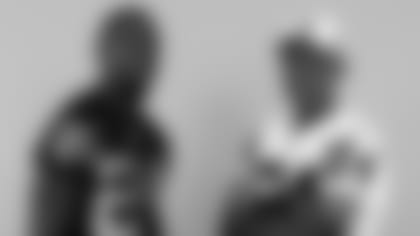 Charles Wodson and Willie Brown. Photo by Tony Gonzales.
No. 24 is one of the most, if not the most, storied numbers in Raiders history. It has been worn by a Hall of Fame cornerback, a future Hall of Fame defensive back and a "Hammer" known more for his acting.
Keyes played in 4 games and carried the ball once for 7 yards and caught 1 pass for 19 yards. He also returned 1 punt for 5 yards.
Fred Williamson – DB – 1961-64
The Hammer. After playing for Pittsburgh in 1960, Williamson played in 56 games for the Raiders. He intercepted 25 passes (8th in team history) for 293 yards and 1 TD. His 75-yard fumble return for a TD in 1961 is the 4th longest in Raiders history. He spent the last three seasons of his career with the Kansas City Chiefs. He has appeared in countless films and also directs and produces.
Willie Brown – CB – 1967-78
Acquired in a trade with the Denver Broncos, Brown was inducted into the Pro Football Hall of Fame on July 28, 1984. His mark of 39 interceptions is tied for the most in franchise history.  He was named All-Pro seven times, and he played in five AFL All-Star Games and four NFL Pro Bowls. He set a then-record with a 75-yard interception return for a touchdown in Super Bowl XI. Brown is widely considered the progenitor of the "bump-and-run" style of man-to-man pass coverage.
Harkey saw action in 2 games and returned 2 punts for 17 yards and 1 kickoff for 20 yards.
The former Rams wide receiver converted to defensive back and played one season for the Raiders. He played in 16 games and returned 30 kickoffs for 575 yards. He finished his career with one season with the Rams.
Patrick Bates – DB – 1994
Bates was selected in the first round of the 1993 NFL Draft. He wore No. 27 in his rookie season with the Raiders and switched to No. 24 in 1994. In all, Bates played in 29 games with 9 starts and recorded 1 interception. He played one season with the Atlanta Falcons in 1996.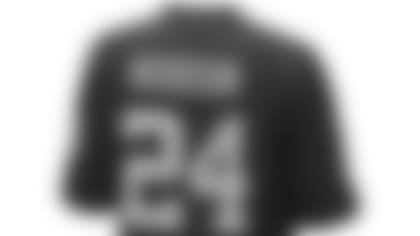 ](http://www.raiderimage.com/4027130801.html)
Larry Brown – CB – 1996-97
The former Super Bowl MVP for the Cowboys joined the Raiders as a free agent in 1996 after 5 years in Dallas. He played in 12 games with 1 start and recorded 1 interception. He finished his career with 1 more season with the Cowboys.
Charles Woodson – DB – 1998-05, 2013-present
Woodson was originally selected by the Raiders in the first round of the 1998 NFL Draft after winning the Heisman trophy at the University of Michigan. He re-joined the Raiders in 2013 after 7 seasons with the Green Bay Packers. He has played in 138 games with 134 starts as a Raider and has recorded 22 interceptions for 376 yards and 2 TDs. He is tied for the NFL record with 13 defensive touchdowns. He is the first player in NFL history to record 60 interceptions and 20 sacks.
Michael Huff – FS – 2006-12
Huff was originally selected in the first round of the 2006 NFL Draft out of the University of Texas. He played in 107 games with 93 starts and intercepted 11 passes for 75 yards, including the INT to seal the win in a memorable game in Houston in 2011 after the passing of Al Davis. He also recorded 2 fumble recoveries and was credited with a safety.