For a total of 100 days, we'll take a look at the men who have played for the Raiders jersey number by jersey number. This series will highlight some of the greatest players in NFL history. In some cases, the player and jersey number are synonymous. In other cases, the jersey number represents sustained greatness at a particular position. Some players are superstitious about their jersey number. Whatever the case may be, jersey numbers are an important part of the fabric of professional football.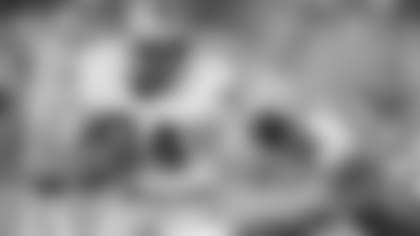 RB Bo Jackson recorded two of the longest runs in Raiders history. AP Photo.
When Raiders fans think of No. 34, usually one name comes to mind – Bo Jackson. In fact, an interesting, talented group of players have worn the number.
The first player to wear No. 34 was actually a linebacker. Otto played in 102 games with 95 starts. He recorded 6 interceptions for 135 yards and 2 TDs and recovered 4 fumbles.
Terry Kunz – RB – 1976-77
The Raiders selected Kunz in the 8th round of the 1976 NFL Draft. He played in 7 games during the 1976 season and gained 33 yards on 4 carries.
Harold Hart – RB – 1974-75, 1978
Hart played for the Raiders from 1974-75 and 1978. He wore No. 34 from 1974-75, and No. 23 in 1978. He played in a total of 29 games with 4 starts, and carried the ball 114 times for 485 yards and 5 TDs. He caught 8 passes for 32 yards. He also returned 46 kickoffs for 1,236 yards (15th in team history) and 1 TD. In 1978, in No. 23, he played in seven games and rushed 7 times for 44 yards and returned 11 kickoffs for 252 yards. His 102-yard kickoff return in 1975 against Miami is the 2nd longest in team history.
Booker Russell – RB – 1978-79
Russell played in 32 games and gained 255 yards on 44 carries with 4 TDs. He also caught 6 passes for 79 yards and returned 5 kickoffs for 18 yards. He went on to play one season each for the Chargers and Eagles.
Greg Pruitt – RB – 1982-84
Pruitt joined the Raiders after nine years with the Cleveland Browns. He played in 40 games for the Silver and Black and gained 176 yards on 38 carries with 2 TDs. Pruitt also caught 5 passes for 47 yards and 1 TD. He returned 138 punts for 1,348 yards and 1 TD and 48 kickoffs for 991 yards. He was a member of the Raiders Super Bowl XVIII championship team.
Napoleon McCallum – 1986, 1990-94 **
The Raiders selected McCallum in the 4th round of the 1986 NFL Draft out of the United States Naval Academy. He wore Nos. 34 (1986) and 41 (1990-94) in two stints with the Raiders. In all, he played in 74 games with 6 starts and gained 790 yards on 223 carries with 6 TDs. He caught 17 passes for 121 yards. His career was cut short by a devastating injury.
Bo Jackson – RB – 1987-90
The ultimate two-sport star, Jackson split time between the Raiders and Major League Baseball's Kansas City Royals. In the NFL, he played in 38 games with 23 starts and gained 2,782 yards with 16 TDs and caught 40 passes for 352 yards and 2 scores. He recorded two of the longest runs in team history, 92 yards in 1989 and 91 yards in 1987. His 221-yard rushing performance against Seattle in 1987 is the second-best in team history. His career ended with a hip injury sustained in the 1990 playoffs.
Derrick Fenner – RB 1995-97
Fenner joined the Raiders after three years with Seattle and three years with Cincinnati. As a Raider, he played in 41 games with 28 starts and gained 379 yards on 113 carries with 4 TDs. He also caught 80 passes for 596 yards and 7 TDs.
Jermaine Williams – RB – 1998-99, 2001 **
Williams played in 26 games in two stints with the Raiders. He caught 1 pass for 20 yards. He also spent time with Jacksonville and Kansas City.
Hasty played in one game for the Raiders after spending seven years with the Jets and six with the Chiefs.
Buchanan joined the Raiders after four seasons with the Colts and seven with the Falcons. He played in 16 games with 16 starts and recorded one interception for 27 yards and forced one fumble.
LaMont Jordan – RB – 2005-07
Jordan joined the Raiders after four years with the New York Jets. He played in 35 games with 29 starts and gained 2,008 yards on 530 carries with 14 TDs. He also caught 108 passes for 884 yards and 2 TDs. He rushed for more than 1,000 yards in the 2005 season. He went on to play one year with New England and one with Denver.
Davis appeared in one game for the Raiders in 2008. He also spent time with Chicago and Cleveland.
Mike Mitchell – S – 2009-12
The Raiders selected Mitchell in the 2nd round of the 2009 NFL Draft out of Ohio University. He played in 61 games with 9 starts and he grabbed 2 interceptions, forced 1 fumble and recovered 4 fumbles. He is currently a member of the Carolina Panthers.
Latavius Murray – RB – 2013
The Raiders selected Murray in the 6th round of the 2013 NFL Draft out of Central Florida. He spent his entire rookie season on injured reserve. He switched to No. 28 prior to the start of the 2014 season.
George Atkinson, III - RB - 2014
Atkinson, III, an undrafted free agent out of Notre Dame and the son of famed safety George Atkinson, spent most of 2014 on the practice squad. He saw action in 5 games and returned 7 kickoffs for 134 yards.