For a total of 100 days, we'll take a look at the men who have played for the Raiders jersey number by jersey number. This series will highlight some of the greatest players in NFL history. In some cases, the player and jersey number are synonymous. In other cases, the jersey number represents sustained greatness at a particular position. Some players are superstitious about their jersey number. Whatever the case may be, jersey numbers are an important part of the fabric of professional football.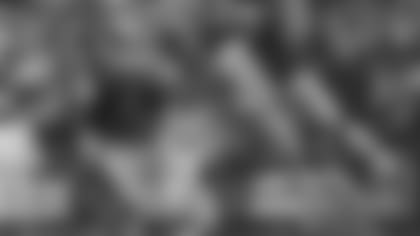 George Atkinson was known as the Hit Man.
Eight players have worn No. 43 in Raiders history, including a member of the famed Soul Patrol secondary of the 1970s and a record-setting return man.
Bob Coolbaugh – WR – 1961
Coolbaugh played in 14 games and caught 32 passes for 435 yards and 4 TDs. He also returned 1 kickoff for 15 yards.
George Atkinson – DB – 1968-77
Known as the "Hit Man" as part of the famed Soul Patrol, Atkinson played in 138 games with 126 starts. He returned 148 punts for 1,247 yards and 3 TDs and 76 kickoffs for 1,893 yards. Atkinson recorded 30 interceptions for 448 yards and 2 TDs, forced 12 fumbles and recovered 13, returning 2 for TDs. He was a key member of the Raiders Super Bowl XI championship team. He is the 3rd leading punt returner, 7th leading kickoff returner and 5th leading interceptor in team history.
Ira Matthews – RB/WR – 1979-81
The Raiders selected Matthews in the 6th round of the 1979 NFL Draft. He played in 37 games and returned 95 punts for 678 yards and 71 kickoffs for 1,602 yards including a team-record 104-yarder in 1979 against San Diego. Matthews also rushed 7 times for 14 yards and caught 3 passes for 33 yards. He was a member of the Raiders 1980 Super Bowl championship team.
Selected in the 3rd round of the 1984 NFL Draft out of Pitt, McCall played in 3 games for the Raiders and carried the ball once for 3 yards.  
Sam Seale – WR/DB – 1985-87 (1984-87, 1992)
Seale wore three different numbers in two stints with the Raiders. He wore No. 88 in 1984, No. 43 from 1985-87 and No. 23 in 1992. In all he played in 61 games with 10 starts for the Raiders and intercepted 5 passes for 40 yards and 1 TD and recovered 2 fumbles. He also returned 23 kickoffs for 482 yards.
Elvis Patterson – DB – 1990-93
Patterson joined the Raiders after four seasons with the Giants and three with the Chargers. He played in 50 games with 1 start for the Raiders and recovered 3 fumbles, returning 1 for a touchdown. In 1991, Patterson caught a pass for 34 yards. He was acquired by Dallas during the 1993 season.
Lorenzo Lynch – DB – 1996-97
Lynch joined the Raiders after three years with the Bears and six years with the Cardinals. He played in 31 games with 16 starts for the Raiders and intercepted 5 passes for 81 yards, recorded 1 sack and forced 1 fumble.
Selected by the Raiders in 7th round of the 2001 NFL Draft out of Ohio State, Combs played in 4 games during the 2002 season and returned 5 kickoffs for 71 yards. He went on to play in 8 games for Green Bay in 2003.