For a total of 100 days, we'll take a look at the men who have played for the Raiders jersey number by jersey number. This series will highlight some of the greatest players in NFL history. In some cases, the player and jersey number are synonymous. In other cases, the jersey number represents sustained greatness at a particular position. Some players are superstitious about their jersey number. Whatever the case may be, jersey numbers are an important part of the fabric of professional football.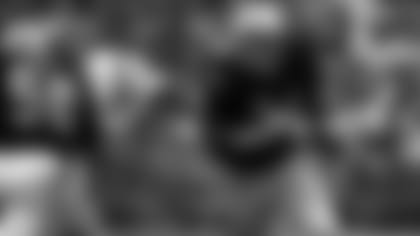 Marv Hubbard is the 5th leading rusher in Raiders history.
Eleven players have worn No. 44 in Raiders history, including one of the best runners to wear the Silver and Black, and some hard-hitting pave-the-way fullbacks.
After playing in 6 games with San Diego in 1963, Gillett appeared in 3 games for the Raiders in 1964.
Marv Hubbard – RB – 1970-75
The Raiders selected Hubbard in the 11th round of the 1968 NFL Draft. He wore No. 39 for one season before switching to No. 44. In all, Hubbard played in 90 games with 58 starts and gained 4,394 yards on 913 carries with 22 touchdowns, and caught 79 passes for 592 yards and 1 TD. He also returned 5 kickoffs for 87 yards. He is the 5th leading rusher in team history.
Burgess Owens – DB – 1980-82
Owens joined the Raiders after seven years with the Jets. He played in 40 games with 40 starts and intercepted 9 passes for 145 yards and 2 TDs. He also recovered 2 fumbles for 22 yards. Owens was a member of the Raiders Super Bowl XV championship squad.
Stefon Adams – DB – 1986-89
The Raiders selected Adams in the 3rd round of the 1985 NFL Draft out of East Carolina. He played in 53 games and returned 30 punts for 240 yards and 60 kickoffs for 1,191 yards. Adams recorded 2 interceptions for 40 yards and 6 fumble recoveries. He finished his career with the Browns and Dolphins.
Waymer joined the Raiders after 10 years with the Saints and two with the 49ers and played in 16 games for Los Angeles in 1992.
Rathman joined the Raiders after eight years in San Francisco. He played in 16 games with 16 starts and gained 118 yards on 28 carries and caught 26 passes for 194 yards in 1994.
Jones played two years for the Raiders. He wore No. 27 in 1994, and No. 44 in 1995. He played in 15 games total and carried the ball 27 times for 112 yards and caught 2 passes for 6 yards. He also returned 5 kickoffs for 92 yards.
Chris Hetherington – FB – 2003-04
Hetherington joined the Raiders after three years with the Colts, three with the Panthers and one with the Rams. He played in 19 games with 3 starts and caught 5 passes for 51 yards and gained 4 yards on 1 carry. He finished his career with two years with the 49ers.
Luke Lawton – FB – 2008-09
Lawton joined the Raiders after a year with the Jets and a season with the Colts. He played in 29 games with 10 starts and caught 13 passes for 61 yards and returned 3 kickoffs for 46 yards.
Chinedum Ndukwe – DB – 2011
Ndukwe joined the Raiders after four seasons in Cincinnati and played in two games in 2011 and grabbed one interception.
The "Runaway Beer Truck" rumbled to Oakland after two years with Seattle and two with Philadelphia. He played in 13 games with 4 starts and gained 1 yard on 2 carries.