For a total of 100 days, we'll take a look at the men who have played for the Raiders jersey number by jersey number. This series will highlight some of the greatest players in NFL history. In some cases, the player and jersey number are synonymous. In other cases, the jersey number represents sustained greatness at a particular position. Some players are superstitious about their jersey number. Whatever the case may be, jersey numbers are an important part of the fabric of professional football.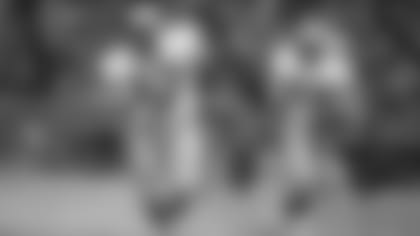 Gene Upshaw was inducted into the Pro Football Hall of Fame in 1987.
Seven players have worn No. 63 in Raiders history including a Hall of Fame guard who played in three Super Bowls.
Willie Smith – G/T – 1961
Originally drafted by the Chicago Bears in 1959, Smith joined the Raiders in 1961 after a year with the Broncos. He played in 14 regular season games for the Raiders.
Spencer was originally drafted by the Detroit Lions in 1953. He joined the Raiders after two stints with the Lions and two years with the Green Bay Packers. He played in 14 games for the Raiders.
Gene Upshaw – G – 1967-81
"Highway 63" was selected by the Raiders in the 1st round of the 1967 NFL Draft out of Texas A&I (now Texas A&M – Kingsville). One of the greatest players in NFL history, Upshaw was inducted into the Pro Football Hall of Fame in 1987 after playing in 217 regular season games with 207 starts, 24 playoff games and three Super Bowls (II, XI, XV). Upshaw was named to seven All-Star Games/Pro Bowls, and named 1st Team All-Pro five times. He went on to become the executive director of the NFL Players Association, a post he held until his death in 2008.
The Raiders selected Gesek in the 10th round of the 1987 NFL Draft out of Sacramento State. He played in 31 games with 23 starts. He went on to play for Dallas and Washington.
Pyles played in two games for the Raiders during the 1987 season.
Barret Robbins – C – 1995-03
The Raiders selected Robbins in the 2nd round of the 1995 NFL Draft out of TCU. He played in 121 regular season games with 105 starts. The Raiders led the NFL in rushing in 2000 and in total offense in 2002.
Lamar Mady – G – 2013-present
Mady joined the Raiders as an undrafted free agent out of Youngstown State in 2013. He suited up for seven games in 2014.