For a total of 100 days, we'll take a look at the men who have played for the Raiders jersey number by jersey number. This series will highlight some of the greatest players in NFL history. In some cases, the player and jersey number are synonymous. In other cases, the jersey number represents sustained greatness at a particular position. Some players are superstitious about their jersey number. Whatever the case may be, jersey numbers are an important part of the fabric of professional football.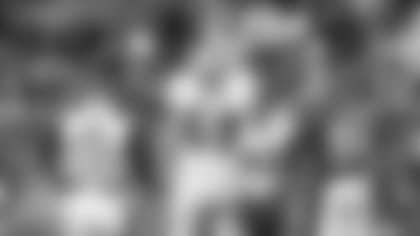 Offensive lineman Khalif Barnes recently re-signed with the Raiders Photo by Tony Gonzales.
Only four players have worn jersey No. 69 in Raiders history, including a versatile offensive lineman who is entering his seventh year with the team.
Ficca was originally drafted by the San Diego Chargers and Philadelphia Eagles in 1961. He joined the Raiders and played in 14 games in 1962. He went on to play four years with the New York Jets.
Zogg played in one game for the Raiders in 1987.
Marten was originally drafted by the Dallas Cowboys in 2007 after playing college football at Boston College. He played in one game for the Raiders in 2008.
Khalif Barnes – G/T – 2009-present
Barnes joined the Raiders after four years in Jacksonville. He has played in 77 games with 59 starts.