For a total of 100 days, we'll take a look at the men who have played for the Raiders jersey number by jersey number. This series will highlight some of the greatest players in NFL history. In some cases, the player and jersey number are synonymous. In other cases, the jersey number represents sustained greatness at a particular position. Some players are superstitious about their jersey number. Whatever the case may be, jersey numbers are an important part of the fabric of professional football. **
WR Juron Criner vs the Saints in 2012. Photo by Tony Gonzales.
Fifteen players have worn jersey No. 84 in Raiders history, including several talented tight ends and wide receivers.
Al Hoisington – WR – 1960
Hoisington played in nine games for the Raiders before the Buffalo Bills acquired him during the 1960 season. He caught four passes for 96 yards and two touchdowns. He also returned two kickoffs for 25 yards.
Boydston joined the Raiders after four years with the Chicago Cardinals and two with the Dallas Texans (Kansas City Chiefs). He played in 14 games and caught 30 passes for 374 yards.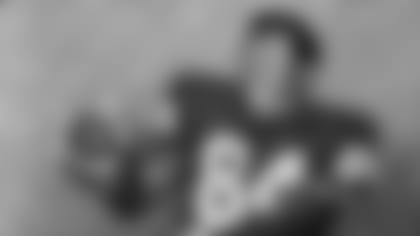 Art Powell – WR – 1963-66
Powell joined the Raiders after a year with the Eagles and three with the New York Titans (Jets). He played in 56 games and caught 254 passes for 4,491 yards and 50 touchdowns. Powell is the 8th leading receiver in Raiders history. He was traded, along with Tom Flores, to Buffalo in the deal that brought QB Daryle Lamonica to Oakland. Powell played one season in Buffalo (1967) and in one game for Minnesota in 1968.
Herock played for the Raiders from 1963-67, and wore jersey No. 86 from 1963-65, missed 1966, and wore No. 84 in 1967. He played in 54 games and caught 58 passes for 849 yards and four touchdowns. His son, Shaun, is the Raiders director of college scouting.
Tony Cline – DE – 1970-75
The Raiders selected Cline in the 4th round of the 1970 NFL Draft out of Miami (Fla.). He played in 72 games with 56 starts and recorded three interceptions and three fumble recoveries. He went on to play two seasons for the 49ers.
Derrick Ramsey – TE – 1978-83
The Raiders selected Ramsey (pictured below) in the 5th round of the 1978 NFL Draft out of Kentucky. He played in 75 games with 15 starts and caught 70 passes for 952 yards and seven TDs. He was acquired by the Patriots during the 1983 season. He was a member of the Raiders Super Bowl XV championship team.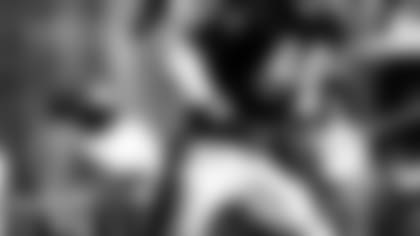 Jessie Hester – WR – 1985-87
The Raiders selected Hester in the 1st round of the 1985 NFL Draft out of Florida State. He played in 39 games with 17 starts and caught 56 passes for 1,327 yards and 10 TDs. He went on to play for the Colts and the Rams.
Perry played in three games with two starts and caught one pass for three yards.
Dyal played in 19 games with 18 starts and caught 30 passes for 550 yards and two TDs. He went on to play for Kansas City and San Diego.
Duff played in five games over the course of two seasons.
Kenny Shedd – WR – 1996-99
Shedd played in 59 games with one starts and caught 16 passes for 252 yards and one TD. The special teams ace returned seven kickoffs for 121 yards, recovered four fumbles and was credited with a safety. He also returned a blocked punt for a touchdown.
Jerry Porter – WR – 2000-07
The Raiders selected Porter in the 2nd round of the 2000 NFL Draft out of West Virginia. He played in 105 games with 62 starts and caught 284 passes for 3,939 yards and 30 TDs. He is the 6th leading receiver in team history. Porter went on to play one season in Jacksonville.
Javon Walker – WR – 2008-09
Walker joined the Raiders after four years in Green Bay and two in Denver. He played in 11 games with seven starts and caught 15 passes for 196 yards and one TD.
T.J. Houshmandzadeh – WR – 2011
Houshmandzadeh joined the Raiders after eight years in Cincinnati, one in Seattle and one in Baltimore. He played in nine games and caught 11 passes for 146 yards and one touchdown.
Juron Criner – WR – 2012-2013
The Raiders selected Criner in the 5th round of the 2012 NFL Draft out of Arizona. He played in 13 games and caught 19 passes for 183 yards and one TD during his time in Silver and Black.