For a total of 100 days, we'll take a look at the men who have played for the Raiders jersey number by jersey number. This series will highlight some of the greatest players in NFL history. In some cases, the player and jersey number are synonymous. In other cases, the jersey number represents sustained greatness at a particular position. Some players are superstitious about their jersey number. Whatever the case may be, jersey numbers are an important part of the fabric of professional football.
Mervyn Fernandez. Raiders.com
Sixteen players have worn jersey No. 86 in Raiders history, including wide receivers who were converted to tight ends and a couple of stout defenders.
The Raiders selected Burch in the 13th round of the 1961 AFL Draft out of Georgia Tech. He played in 14 games and caught 18 passes for 235 yards and one TD.
Ken Herock – TE – 1963-65
Herock played for the Raiders from 1963-67, and wore jersey No. 86 from 1963-65, missed 1966, and wore No. 84 in 1967. He played in 54 games and caught 58 passes for 849 yards and four touchdowns. His son, Shaun, is the Raiders director of college scouting.
Bill Fairband – LB – 1967-68
The Raiders selected Fairband in the 3rd round of the 1967 NFL Draft out of Colorado. He played in nine games over the course of two seasons.
Gerald Irons – LB – 1970-75
The Raiders selected Irons in the 3rd round of the 1970 NFL Draft out of Maryland – Eastern Shore. He played in 77 games for 56 starts and intercepted seven passes for 69 yards and recovered two fumbles. He went on to play four seasons in Cleveland. His son Grant also played for the Raiders.
Cedrick Hardman – DE – 1980-81
Hardman joined the Raiders after 10 years with the San Francisco 49ers. He played in 32 games, recovered two fumbles and returned one for a TD, and was a member of the Raiders Super Bowl XV championship team.
Smith joined the Raiders after playing six seasons in Pittsburgh and not playing from 1983-84. He played in six games for the Silver and Black and caught three passes for 28 yards and one touchdown.
Mervyn Fernandez – WR – 1987-92
"Swervin'" Mervyn joined the Raiders after playing in the Canadian Football League from 1982-86. He played in 86 games with 50 starts and caught 209 passes for 3,764 yards and 19 TDs. He recorded a 1,000-yard receiving season in 1989 (1,069).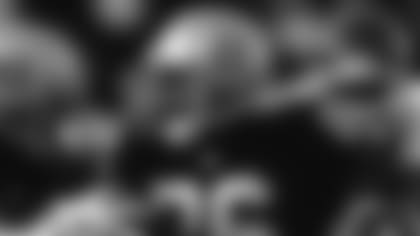 Raghib Ismail – WR – 1993-95
"Rocket" Ismail (pictured) joined the Raiders after playing in the Canadian Football League from 1991-92. He played in 45 games with 15 starts and caught 88 passes for 1,357 yards and nine TDs. He also returned 104 kickoffs for 2,234 yards. He went on to play for Carolina and Dallas.
Brown joined the Raiders after three years with the New York Giants and two with the Jacksonville Jaguars. He played in 16 games with four starts and caught seven passes for 89 yards.  He went on to play one season with Arizona.
Derrick Walker – TE – 1999
Walker joined the Raiders after four years each with San Diego and Kansas City. He played in 11 games with three starts and caught seven passes for 71 yards and one TD.
Roland Williams – TE – 2001-02, 2004
Williams was acquired in a trade with the St. Louis Rams. He played in 44 games with 30 starts in two stints with the Raiders wrapped around a season in Tampa Bay. He caught 60 passes for 511 yards and three TDs.
Stone wore No. 15 in 2004 after wearing No. 86 in 2003. He appeared in a total of 5 games in two years and caught 3 passes for 80 yards (all in No. 15). He also returned 1 kickoff for 20 yards.
Randal Williams – TE – 2005-06
Williams joined the Raiders after playing with Dallas for four seasons. He played in 32 games with 14 starts and caught 41 passes for 457 yards. Williams played wide receiver from 2001-05 and converted to tight end in 2006.
Tony Stewart – TE – 2007-09
Stewart joined the Raiders after one year in Philadelphia and five in Cincinnati. He played in 47 games with eight starts and caught 21 passes for 159 yards.
David Ausberry – TE – 2011-2014
The Raiders selected the former college wide receiver in the 7th round of the 2011 NFL Draft out of USC. He played in 34 games and caught 11 passes for 120 yards during his time in Silver and Black.
*The Raiders signed TE Lee Smith on March 11, and he was assigned number 86.