For a total of 100 days, we'll take a look at the men who have played for the Raiders jersey number by jersey number. This series will highlight some of the greatest players in NFL history. In some cases, the player and jersey number are synonymous. In other cases, the jersey number represents sustained greatness at a particular position. Some players are superstitious about their jersey number. Whatever the case may be, jersey numbers are an important part of the fabric of professional football.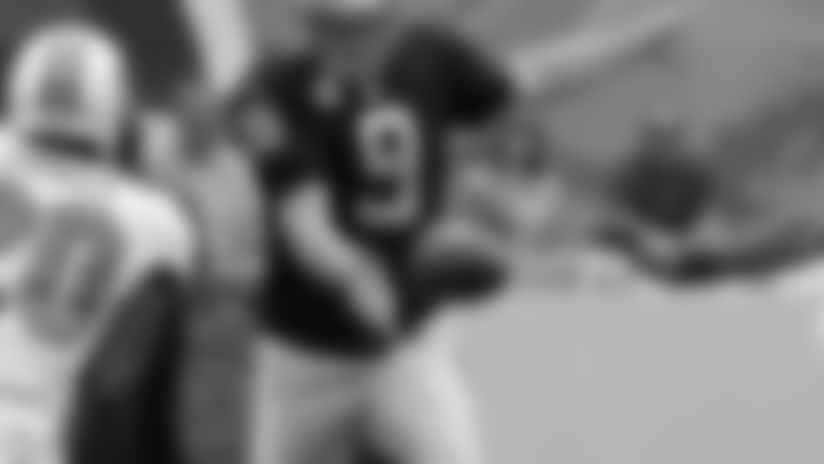 Jersey No. 9 is not often chosen by the men in Silver and Black. Only two players have worn it in team history, but one became the Raiders all-time leading punter.
Billy Joe Hobert – QB – 1995-96
Hobert was selected by the Raiders in the 3rd round in the 1993 NFL Draft out of the University of Washington. He appeared in 12 games with 5 starts from 1995-96 and completed 101 of 184 pass attempts for 1,207 yards, 10 TDs and 9 INTs. He went on to play for New Orleans and Buffalo.
Shane Lechler – P – 2000-12
Lechler (pictured), selected in the 5th round of the 2000 NFL Draft out of Texas A&M, is the Raiders all-time leading punter. As a Raider, he appeared in 206 games and punted 1,014 times for 48,215 yards and averaged an NFL-career-record 47.5 yards per punt. He also holds the Raiders record for longest punt, 80 yards. Lechler was voted to AP All-Pro 1st team 6 times and selected for the Pro Bowl 7 times as a Raider. He signed with the Houston Texans as a free agent prior to the start of the 2013 season.