As the 1990 league season entered the home stretch, the Raiders were battling for another Division Championship and a spot in the postseason. The Raiders had an 8-4-0 record going into Detroit for a Monday night game. This was Art Shell's first full season as head coach since taking over on October 3, 1989 and earned his first win in a Monday night game a few days later. He got his second Monday night win, 13-10, in Miami against the Dolphins on November 19, 1990. Shell had a perfect 2-0-0 record on these prime–time ABC-TV national telecasts.
As a team the Raiders also did well on Monday nights. In fact, the Raiders did better on Monday nights than any of the NFL's 28 teams. The Raiders went into the game in Motor City with an amazing 29-6-1 record in the Monday Night Football series.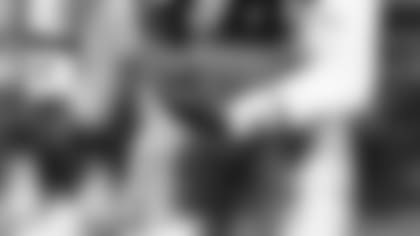 The great Bo Jackson rumbles for a 55-yard touchdown run.
The Detroit Lions presented a number of problems any day or night of the week, especially at home in the Pontiac Silverdome. The Lions were one of the League's few run-and-shoot football offenses, but they could also kill you with the run.
Detroit halfback Barry Sanders was a superb runner and equally threatening as a pass receiver coming out of the backfield. As a rookie in 1989, he had rushed for 1,470 yards, averaged 5.3 yards per carry and rushed for 14 touchdowns. His 1990 stats had him again on a 1,000- yard-rushing pace and he was being utilized more as a receiver than he had been as a rookie.
But the Raiders had an explosive ground gainer in their arsenal as well. Big Bo Jackson, the 230-pounder with sprinter's speed, bruising power and the running moves of an agile halfback, was back from his annual baseball stint and into football full-time.
With all 80,066 seats sold out, the Silverdome was loud. The excitement level- always up for a Monday night game- was extremely high. The press box was filled by prominent national media for extensive coverage.
Fans of offense were not disappointed, as there were five touchdowns scored in the very first 12 minutes of play. The 35 points were the second-most in a first quarter in 71 years of play in the National Football League.
Detroit started with a 48-yard return on the opening kickoff. Four plays later, Sanders, squirted through on a draw play, cut across the traffic flow, and went 35 yards to put the Lions ahead 7-0.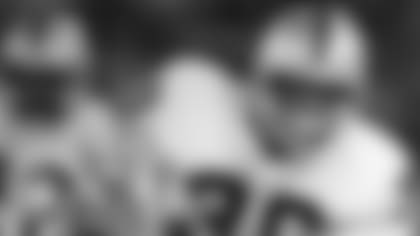 CB Terry McDaniel returns an interception.
On their first play from scrimmage, the Raiders evened the score. Quarterback Jay Schroeder hit speedster Willie Gault deep on the Detroit 15. Gault went to the ground to make the catch, but went down untouched by any Detroit defender. Gault alertly popped right up and, as stunned Detroit defenders stood and watched, went the final 15 yards into the end zone to make the score Lions 7 – Raiders 7.
It only took the Lions two plays form scrimmage to go ahead, 14-7. A 51-yard pass from Rodney Peete to wideout Jeff Campbell set up a five-yard run inside right by Sanders for a touchdown.
A 57-yard punt by the Raiders Jeff Gossett forced Detroit to start their next series deep in their own territory. On the very first play, cornerback Terry McDaniel intercepted a Peete pass on the Lion 21 and returned it 15 yards to the six. Six yards disappeared and seven points appeared as Bo Jackson banged for three yards and Marcus Allen for the rest. Lions 14 – Raiders 14.
Detroit came right back, moving 65 yards in seven plays, scoring on a seven-yard pass from Peete to Campbell. The first quarter ended shortly thereafter with the home team holding a 21-14 lead.
Early in the second quarter of the Monday night scoring madness, the Lions jumped to a 10-point lead with a 47-yard field goal. The Raiders kept the game close, however, when Bo Jackson broke tackles, powered over the left tackle and pulled away from everyone to go 55 yards early in the second quarter. Lions led the Raiders 24-21 at halftime as both offenses slowed down a bit after combining for 473 yards in the first 30 minutes.
"I thought we were both going to get 100 points the way things were going at first," recalled Art Shell.
Shell's defensive staff made some adjustments at halftime to limit the Detroit offense that scored 24 points and gained 290 yards in the first half to scoring only seven points and gaining just 80 more yards. Veteran defenders like Howie Long, Bob Golic, Greg Townsend, Jerry Robinson, Riki Ellison, Mike Harden and Lionel Washington teamed with youngsters like Scott Davis and Terry McDaniel to confine the Lions to their den.
The Monday Night Football trio in the television booth- Al Michaels, Frank Gifford and Dan Dierdorf- were ecstatic over the great visual display the teams were exhibiting.
In the second half, Schroeder passed and Jackson ran to get the Silver and Black headed downfield. The Raiders retook the lead, 28-24, on a 10-yard touchdown pass from Schroeder to wide receiver Mervyn Fernandez. Once ten points down, the Raiders had claimed the lead.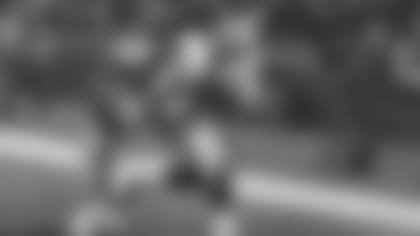 Tim Brown scores a touchdown on a Schroeder pass from three yards out in the 3rd quarter.
Defenders Aaron Wallace and Greg Townsend recorded back-to-back quarterback sacks and the Lions were forced to punt. After an 11-yard punt return by Tim Brown, Schroeder passed to Gault for 18 yards. Jackson ran for 10 and then seven, followed by a Schroeder pass to Brown in the end zone for three yards and the touchdown. Raiders 35 – Lions 24.
On their next possession, the Lions gave up the ball as Townsend stripped it away from Sanders to end the third quarter with Raiders leading Detroit by 11.
The Lions closed to just a four point deficit on an eight-play, 58-yard drive, with Peete scoring on a quarterback draw from six yards out. Raiders 35 – Lions 31.
Detroit got the ball back with 6:08 left to play, but lost the ball on downs on their own 39. Bo Jackson and fullback Steve Smith alternated carries until Jeff Jaeger made good on a 37-yard field goal with 13:05 gone in the final quarter to put the visiting Raiders back up by a touchdown, 38-31.
Detroit tried to move downfield, but a sack by Howie Long and a holding penalty stopped them cold. The Raiders had worked too hard to come from behind in this one to let the Lions tie it up at that point. One comeback was enough for this Monday night in Detroit.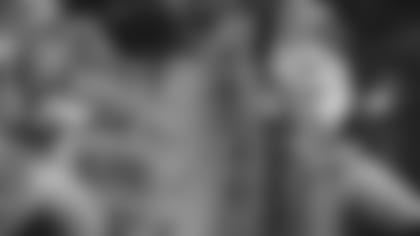 Bo Jackson scores the Raiders third touchdown. Jackson finished with 129 yards.
"This was a very exciting game," said Art Shell after the contest ended. "Everybody got their money's worth tonight. A lot of big plays were made. I told our team before the game it would be a great 60 minutes and that we would have to endure and persevere. We did just that. I said we'd just have to make more big plays than they make and we did just that."
"It was a real shootout," added Gault, "I'm just glad we were able to outshoot them."
When it comes to great comebacks, the Raiders have proven that they can outshoot just about everybody, anywhere, and on any day or night, indoor or out.