All that separates the Oakland-Alameda County Coliseum, where the Oakland Raiders play their home games, and Oracle Arena – home of the Golden State Warriors – is a narrow plaza.
Heading into 2016 – along with their close proximity – there is also a shared excitement about the future of the two teams. The Warriors are coming off another trip to the NBA Finals, and the "Splash Brothers" – Stephen Curry and Klay Thompson – with the addition of Kevin Durant can now be considered the "Splash Triplets" – have their eyes on another NBA title. While the Silver and Black hope to replicate the success their NBA neighbors have found, they're building an excitement of their own, and on the defensive side of the ball it's largely because of defensive end Khalil Mack and linebacker Bruce Irvin, who have become affectionately known as the "Slash Brothers."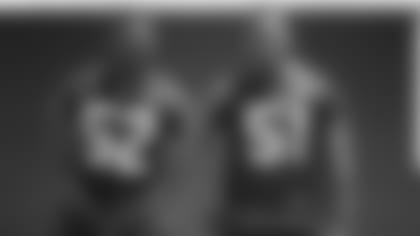 Mack enjoyed a breakout season in 2015, getting after the opposing quarterback in myriad ways, earning him the nickname "Slash" after being named First-Team All-Pro at both defensive end and linebacker, but as versatile and dangerous as he was, the athletic end never enjoyed the benefit of a complementary pass rusher on a consistent basis last season.
The Raiders' front office and coaching staff realized the need to pair Mack with another player who could consistently get after the quarterback, so they signed linebacker Bruce Irvin in the early stages of free agency, and while the Raiders are excited about getting the former Seattle Seahawk in Silver and Black, the feeling is mutual.
Since arriving in Northern California, Irvin has been vocal about his eagerness to join Mack along the defensive front, and when asked about the All-Pro, one word comes to mind.
"Beast, man," said Irvin. "We watched a lot of Oakland film in Seattle, so I would watch Khalil, and the guy's on his way to becoming one of the best rushers in the league – if not already. I think me being on the other side of him, I'm going to benefit a lot and get one-on-one situations, and I have to win those matchups. He's just a freak, man. He can play the run. He can rush. He can do all types of stuff, [he's] the kind of guy you want to play with."
As much as Irvin has gushed about Mack, the signing of the former West Virginia Mountaineer has received a fair amount of praise itself and deservedly so – Irvin has totaled 22 career sacks and has shown versatility along the defensive front.
Seeing where Irvin will be operating from in defensive coordinator Ken Norton's scheme will certainly be something to take note of, so much so, that Albert Breer of *The MMQB*, named him as one of his two players to watch at the start of camp.
"[Khalil] Mack had 15 sacks in 2015 and enters his third season as one of the NFL's most feared players on either side of the ball," wrote Breer. "And so, to make teams pay for throwing the kitchen sink at Mack, Oakland signed Irvin away from Seattle in March. The Raiders are listing him as a linebacker for now, but rival evaluators see something else coming. 'His most productive NFL season came as a rookie, when he rushed from a three-point stance,' said one NFC pro scouting director. 'Playing opposite Khalil Mack, he'd see a lot of one-on-one matchups he can win [if they use him as an end].' And that's why the suspicion here is that Norton, who knows Irvin from having coached him in Seattle, could transition Irvin down like he did Mack last year."
While Week 1 is still a little over two months away, Irvin is looking forward to putting on the Silver and Black for his first regular season game as a Raider and getting to work with his fellow "Slash Brother."
"From what I came from, to what I had to go through to get here and being the league – some people don't get four years in the league – and for me to make it four years, not being injured and having a chance to play for a great organization like Oakland, it'll be an honor and just a surreal moment," Irvin said. "I'm just going to try to take it in and go out there and try to have a five-sack game like Khalil."