FB Rashawn Jackson gets a carry during practice. Photo by Tony Gonzales

The Oakland Raiders took the field in full pads for their 10th practice of Training Camp 2012, powered by Verizon 4G LTE. The team continues to prepare for the season and looks forward to their first preseason game against the Dallas Cowboys on Monday Night Football.
The match up with the Cowboys is the first opportunity for the players to take what they've practiced during training camp and put it into play. "That's why they ask us to practice hard, practice fast, because in the game it's going to be three times as fast," said safety Curtis Taylor. "So you try to get down your assignments real quick and just apply when you get to the game."
FB Manase Tonga uses each camp practice as an opportunity to perfect his skills for the game. "Whatever I want to do in a game, I want to make sure I can do it on the practice field whether it's technique or knowing my assignments, so I feel like if I'm comfortable running the plays or getting into my right gaps or making the right reads, if I'm comfortable doing it in practice, then when the game comes it'll be that much easier for me."
LB Carl Ihenacho trusts that the coaches will put him in the best position to succeed. "We're being coached 24/7, minimizing mistakes and effort to the ball, everything that they're doing they're trying to put me in the best position possible," explained Ihenacho. "So at the end of the day, I'm just trusting my coaches and out there flying around."
Each day during camp, players are competing for a spot on the Raiders 53-man roster. Up until this point, camp has been one of the only ways to evaluate players. The Cowboys game will be another way to show the coaching staff what they're capable of. "That's the nature of the business – we're always competing for a spot," said Tonga. "Coach was telling us this Monday is basically our interview, it's our job interview, so I'm anxious to get out there and show him what I can do and prove to him that I can be here."
Taylor is also looking forward to competing for a roster spot. "You always look forward to moving to the next level as far as battling for a roster spot or a number one job, so it's always competition every day, so that's what you look forward to," said Taylor.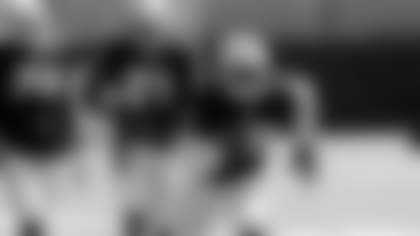 Safety Curtis Taylor runs through position drills. Photo by Tony Gonzales
The guys also look forward to playing against players wearing different color jerseys. "I'm really excited to compete, to be able to compete against another team," said CB Chimdi Chekwa. "It's going to be fun to go out there and go play against somebody else other than DHB [Darrius Heyward-Bey] and all those guys I'm going against now."
Ihenacho echoed Chekwa's excitement. "At the end of the day, I think everyone is excited and I'm excited to play," said Ihenacho. "You kind of get tired of hitting your own guys and you want to hit other people so I think there's excitement about that period and I don't know if it's because of Monday Night or just football. I'm excited to play just because it's football."
Although this will be the first opponent the Raiders will face in the 2012 campaign, the players are determined to execute on their end. "I think right now, in the preseason, we really focus on us to make sure we're executing and getting all the plays down," said Chekwa. "I think probably the day before, we start focusing on the Cowboys, but right now it's all about us."
Tonga is on the same page as Chekwa. "Right now, I'm focusing on what I can do," Tonga said. "As the day gets closer, I'll start looking at what the Cowboys do defensively, but as of right now, my main focus is trying to improve my own technique and improve my knowledge of the offense."
As a quarterback, Terrelle Pryor has to be concerned with what the Cowboys will bring. "You have to focus on the Cowboys," said Pryor. "You have to see the way they run coverages, but at the same time, perfect the offense and go right through my reads and stuff like that. So I just have to stay on page with that. But it's kind of like a two-way street. You have to worry about yourself and also the Cowboys."
Pryor is ready to perform under the lights of ESPN's Monday Night Football. "When the lights come on, I come ready to play," said Pryor. "I'll have the guys I'm in there with, I'll have them amped up and we're going to be ready."
No matter what the focus, the men in Silver and Black are ready to take the field. "It's time, it's time to battle," said WR Duke Calhoun. "I'm excited about it, I can't wait."
They are particularly excited to play in front of Raider Nation again or for the first time. "The fact that we'll be back in the Coliseum playing in front of the fans, whether it's Monday Night, Friday night, preseason, regular season, any time we get a chance to play in front of our fans, it's always a big deal," said Tonga.
The Raiders will take the field at their Napa Valley Training Complex tomorrow morning for their 11th practice of Training Camp 2012. Log on to Raiders.com, the official Facebook page and ! for complete coverage.
Don't forget to come out to the Raider Nation Celebration in B Lot of O.co Coliseum on Sunday, August 12 from 1:00 p.m. to 4:00 p.m. and meet the 2012 Raiders.
The Raiders host the Cowboys at O.co Coliseum on Monday, August 13 at 5:00 p.m.