QB Carson Palmer gets ready to launch a pass. Photo by Tony Gonzales

After today's on-field work, the Raiders have only one practice remaining for Training Camp 2012, powered by Verizon 4G LTE. Three-plus weeks, two preseason games, constant meetings and over 15 practices complete, the players are ready to leave Napa and get back to their homes and a regular season routine.
"It feels good to just get out of the hotel and just get into your normal living environment and get ready for the season," said veteran CB Shawntae Spencer. "The conclusion of camp just means we're that much closer to the real thing."
Rookie LB Nathan Stupar is one day away from completing his first NFL training camp. "It's exciting. I can't believe it's here already. It's come and gone," said Stupar. "It felt like college training camp lasted a lot longer, but DA [Head Coach Dennis Allen] has been great with us, keeping us healthy and we've been really sharp and I can't believe our preseason is almost over."
The team leaves their Napa Valley Training Complex feeling good about what they have accomplished. "It feels pretty good," said T Khalif Barnes. "We got some good work in. I thought we made some strides from OTAs; we're not by any means where we need to be in the future, but for the most part, I'm pretty happy with how the guys worked out here on both sides of the ball."
Both veterans and rookies have noticed personal improvement and improvement with the team as a whole. "It was a learning process," said TE David Ausberry. "Going through a new offense and then actually getting the pads on and getting into the new offense physically was a challenge, but I think we finished up pretty well and I think we got a good grasp of what is expected of us."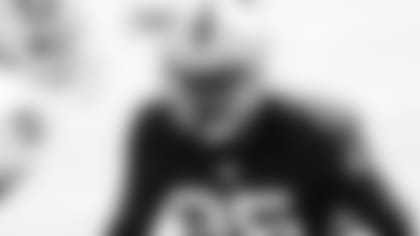 CB Chimdi Chekwa keeps the intensity during practice. Photo by Tony Gonzales
The entire offense had to learn the new zone blocking scheme and Barnes was pleased with the progress made by the offensive line in particular. "It's been good, it's been fun, it's been hard work and when [the offensive line is] on the field, we work hard and we take pride in trying to perfect our craft and the same thing in the locker room or meeting rooms," explained Barnes. "We grade film and we grade every game and we're our own harsh critics and for the most part, we were pleased with a lot of things that we've done. We also know a lot of things we need to work on too. But overall, we're just looking to improve each day that we come out and practice and each game we play. For the most part, we've done that and the good thing is we can get better."
Spencer was able to knock the rust off and get back in the groove on the defensive side of the ball. "I think it went pretty good," said Spencer. "I think coming into camp I had a lot of rust from really not playing much last year because of injuries and things, but as camp went on, I got a lot more comfortable with the new players around me, the scheme and things like that, so I think it was good."
For the rookie Stupar, training camp was crucial for grasping the defense. "I've really calmed down," said Stupar. "The first couple of days I was kind of all over the place, but now, I've calmed down, know what to do and I've been executing really well and just need to fine tune little bit of other stuff. But overall I think I've improved a lot."
As they caught on to the defense, the players became more excited about their potential. "Oh wow, just talking to the guys, they're so happy with this new scheme because there are multiple looks, multiple personnel groupings," said Spencer. "It gives you a lot more opportunities to make plays so I know everyone is excited about that."
The team will play in their third preseason game Saturday against the Detroit Lions and hope to meet that potential and show their continued progress to Raider Nation. The Raiders close out training camp tomorrow with a morning practice. Log on to Raiders.com, the official Facebook page and Twitter for complete coverage. Also, check back on Friday for the Raiders vs. Detroit game preview.