DT Christo Bilukidi during the second practice of Training Camp 2012. Photo by Tony Gonzales

The Oakland Raiders took the field for their second practice of Training Camp 2012, powered by Verizon 4G LTE, at their Napa Valley Training Complex. The team worked hard under the afternoon sun, including the rookies who are experiencing their first NFL training camp. Unlike anything they have experienced before, the rookies are adapting well to the training camp grind.
"I think they're adapting pretty well," said Head Coach Dennis Allen. "Every day is a new challenge for those guys. Every day they learn a little something new. They're understanding that camp in the National Football League is not an easy thing and they got to learn how to push through like everybody else does. But I think our rookies are adapting fairly decent, as it stands right now."
The Raiders 6th round draft pick, DT Christo Bilukidi, who has only played football since his senior year of high school, is feeling good about the start of camp. "It's really good actually," said Bilukidi. "I'm starting to get reps in with the twos, starting to get to know a little bit the speed of the twos, how fast it is, because obviously it's faster with the ones. So I'm slowly, but surely, getting it. Trying to do everything as far as film, meetings, listening to exactly what I need to do just to be successful on this practice field."
Rookie WRs Rod Streater and Brandon Carswell are also finding their groove in training camp. "I think I've been doing pretty good," said Streater. "I just have to stay in the playbook and it's pretty fast in the league. Everything is way faster, the players are faster, so got to continue to work hard and get in the playbook."
Carswell added, "I think I'm doing good. Just trying to take every rep and do it as best as possible. I'm fitting in, I know the plays and I feel good."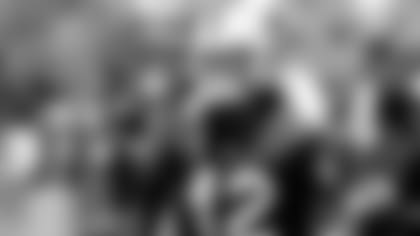 S Aaron Henry. Photo by Tony Gonzales
Safety Aaron Henry is soaking up everything he can from training camp. "It's been a great, great experience," said Henry. "I definitely feel like things are starting to move around faster and I'm starting to get a lot more adapted to it. We put a lot of this stuff in in OTAs so it's kind of time to refresh and get into the groove of actually playing football. We're going to be going against another team here in another week and a half, two weeks or so, so it's just preparing us mentally for us to go out and play football."
The weeks off between the off-season program and training camp helped the rookies regroup and focus.  "From off-season program until now, you had a chance to go home, see families, work out, get yourself ready psychologically, mentally, and physically," said Henry.
Bilukidi used the time off to perfect the techniques taught to him during the off-season program. "It's really good because OTAs and all those mini-camps really got me all the techniques and the fundamentals so that little break I was able to do it all on my own and see exactly where I'm at and then obviously get in shape and do all that training," said Bilukidi. "Coming here, I can apply everything I did during the offseason and the break and do it out here."
Although the rookies have had time to get ready for camp, the veterans have been their best resource in Napa. "You've got guys like [Richard] Seymour in front of me and Tommy Kelly, these guys have been playing for over like eight, nine, 10 years, I don't know how long," explained Bilukidi. "So it's good to see them on the practice field and on film so you can kind of mimic exactly what they do because obviously they've been in the business for so long and they've been so successful. It's been a real blessing just looking at them, asking them questions when I do have a question, and just getting good feedback and good answers from them."
Carswell and Streater look to their wide receiver teammates to guide them through camp. "They're all young also, but they try to help us as much as possible," said Carswell. "Getting in the playbook is really what they stress and that's we've been doing."
Streater not only looks to his position for answers, but he also works closely with the quarterbacks. "Like Denarius and DHB, they're always there with answers," said Streater. "If I have any issues, Carson Palmer and Terrelle Pryor, they're always there to help me."
"I try to do that every day," said Henry on working with the veterans. "I'm constantly around some of the older guys because I want to make sure I feed off of them, make sure the intricate details of this game, I'm trying to learn from them. Whatever I can pick up, whether it's asking Matt [Giordano] or asking Mike Mitchell or [Michael] Huff or asking Tyvon Branch so I can get better. Every day we're in meeting rooms I'm asking coach what I can do to make it better on this play or that play so it's just constantly being a student of the game."
Despite the challenges of a first training camp, the rookies remain excited about their time in Napa and the upcoming season. "Training camp is long and it's grueling, but I'm excited to play football," said Carswell.
"It's football," said Bilukidi. "Always excited to come play some football. So excited because tomorrow we get into the pads; it's going to get a lot more physical than it was today and yesterday. I'm always excited. I'm excited for the future and I'm excited for this organization. I'm here to make this team and win games."