C Stefen Wisniewski gets ready to snap the ball on the line. Photo by Tony Gonzales
The Oakland Raiders held their sixth practice of Training Camp 2012, powered by Verizon 4G LTE, in front of another large group of fans at their Napa Valley Training Complex. A week into camp, position groups are coming together as cohesive units. The offensive line, led by Frank Pollack, is adjusting to a zone blocking scheme and starting to find its groove.
"I think the offensive line is coming together," said Head Coach Dennis Allen. "Just like everybody else, they have got to be more consistent. I have been pleased with Khalif Barnes. Mike Brisiel, obviously. I think Wiz [Stefen Wisniewski] is coming along at the center position. Then Veldheer over on the left side, he is the steady eddy guy. You don't really notice him and then all of a sudden and you say hey, he had a pretty nice day. Cooper has done a nice job. Obviously, he is a little bit older, and he is relying on his veteran savvy."
Much of last year's offensive line, who set a franchise record for fewest sacks allowed with 25, returns this year, helping the unit remain strong and unified.  "It's a lot of guys who have been here for awhile, so there's guys who have all played together, so it's not huge adjustment," said rookie G Tony Bergstrom. "It's always a little easier when guys have been there and you just plug in a few new guys at a time."
The offensive linemen are pleased with the cohesiveness only a week into training camp. "I think it's going well so far," said C Stefen Wisniewski. "We're really communicating well and we're working well together. Still a lot of work to do, but so far so good. We have a nice mix of veteran guys and young guys. We have some guys with experience, we have some younger guys and I think it's a good balance of guys in there."
The linemen are close off the field, helping them work together on the field. "We're gelling pretty good," said T Khalif Barnes. "It's a good group. It's a good mixture of veterans; it's a good mixture of some young guys in there. We all like each other off the field as well so we have some good camaraderie in our room and that goes a long way in building a strong, healthy offensive line."
Second-year T Joe Barksdale likes the progress the offensive line is making. "I think we're doing a good job," said Barksdale. "Our coaches stress a lot about us being judged as a unit so they like us to be together a lot like pre-practice and when we do drills and stuff like that."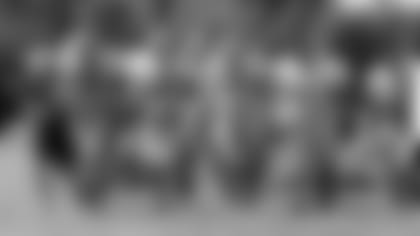 The offensive line runs out to the field. Photo by Tony Gonzales
The front line has a lot to perfect with regard to the new offensive scheme. "[We're] just going and working at it every day in these practices," said T Jared Veldheer. "It's a good opportunity to really work on the things that I need to work on to execute at a high level for all the stuff we have in."
The guys want to iron out all of the wrinkles as the first preseason game approaches. "We have to get better every day and continue to work with these new schemes we've got," said Wisniewski. "There are a lot of precise details that we need to work on, some footwork things here and there that we're kind of sloppy on right now, but we've got time to work on them and we will."
The line knows their job is crucial for the Raiders success. One of their major tasks is opening gaps for running backs Darren McFadden, Taiwan Jones and Mike Goodson. "It's awesome," said Wisniewski. "All those guys are so fast and they really make it easy. We only have to block guys for a little while, give them a little crease, and they can be gone. So it makes our job easier up front."
"It's awesome," said Barnes on the three Raiders backs. "It's like having three corvettes back there. Those are my Sunday, Monday, Tuesday, Wednesday, Thursday, Friday, Saturday cars. Take one out one day, polish it up, put it back in the garage and Friday take another out. Those guys are fast, they know how to hit the hole, they can read good. Marcel [Reece] and [Manase] Tonga are like my hummers. If you have to do some heavy, off-roading terrain, something not on easy road, you need to bring the hummers out, so those are my bruisers. I have a nice little mixture in the backfield."
In order to be successful when they hit the field at O.co Coliseum, the offensive line will need to continue to improve under the watchful eye of Coach Pollack. The offensive linemen are excited about their new coach and the strides they can make as a unit. "Coach Pollack has been great," said Wisniewski. "He really knows this system very well; he worked with it for years in Houston. He does a great job of installing. He's a very detail-oriented guy, very thorough, and he's doing a great job getting everyone on the same page on the O-line."
Bergstrom and Veldheer agree with Wisniewski. "Love him," said Bergstrom. "He's awesome. He's a great teacher, great coach, and he's a guy you want to play hard for."
"It's great," Veldheer added. "He's a very smart coach and breaks it down what you need to do and then breaks it down how you need to do it. So far it's been great."
The line gets tested every day against guys like DTs Richard Seymour and Tommy Kelly and DE Matt Shaughnessy, but they'll get their first test against an opponent when the Raiders face the Cowboys on Monday Night Football. They have one week left to prepare and will return to the field tomorrow morning for the seventh practice of training camp. Log on to Raiders.com, the Raiders official Facebook page, and Twitter for complete coverage.