**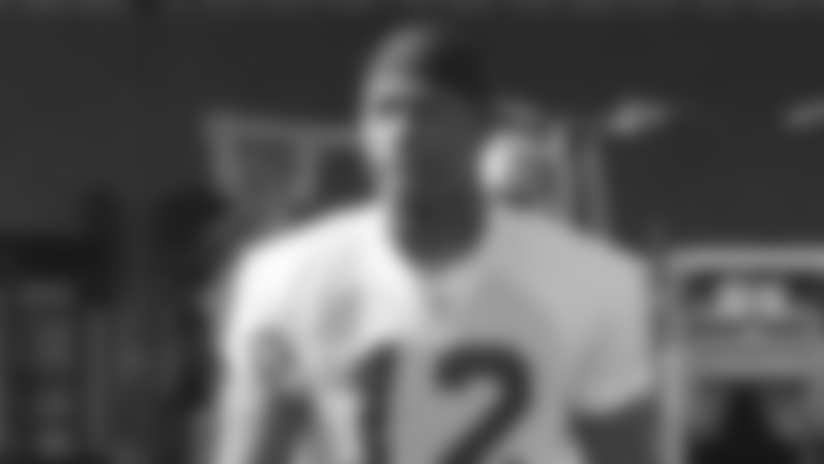 Rookie WR Darrius Heyward-Bey betritt das Feld zu seiner ersten Trainingseinheit als Profi. - *Tony Gonzales*
Die Oakland Raiders absolvierten die ersten beiden Trainingseinheiten auf dem Napa Valley Übungsgelände und eröffneten damit auch offiziell das Trainingscamp 2009.
Die großen Schlagzeilen wurden an diesem Tag aber abseits des Feldes geschrieben. Wide Receiver Darrius Heyward-Bey, Erstrunden-Draftpick der "Silver and Black" im NFL Draft 2009 hat seinen Vertrag unterschrieben. Der 1,88 Meter große und 95 Kilogramm schwere ehemalige Star der University of Maryland unterzeichnete seinen Kontrakt in der Geschäftsstelle der Raiders in Alameda, Kalifornien. Anschließend kehrte er nach Napa zurück und nahm am Nachmittagstraining teil.
Nach dem Training bestieg Raiders Head Coach Tom Cable das Podium, um dort die Vertragsunterschrift Heyward-Beys offiziell zu machen und die Fragen der Medien zu beantworten. "Wir sind froh, dass wir Darrius Heyward-Bey an uns binden konnten. Wie Sie sehen konnten, hat er heute mit uns trainiert. Es ist ihm und seinem Management zuzuschreiben, dass diese Angelegenheit rechtzeitig zum Camp-Start erledigt wurde. So hat er lediglich eine Trainingseinheit verpasst", sagte Cable. "Aufgrund all der Dinge, die er lernen muss, ist dies unheimlich wichtig für uns. Daher sind wir natürlich sehr glücklich darüber."
Nachdem Heyward-Bey sein erstes Training als professioneller Footballspieler absolviert hatte, sprach er zu den Medienvertretern über den Vertragsabschluss und den Auftakt zum Camp.
"Es ist toll, dass die Sache erledigt worden ist. So konnte ich schon am ersten Trainingstag mitmachen. Das erste Training habe ich verpasst, doch ich war schon vor der zweiten Einheit zurück", sagte Heyward-Bey. "Ich fühle mich bereit und bin auf dieses Level vorbereitet. Ich muss nur hart arbeiten, alles unter einen Hut bekommen und es anschließend zeigen."
Weiterhin gab Coach Cable bekannt, dass die Oakland Raiders Quarterback Andrew Walter entlassen wurde.