RB Rock Cartwright (25) blocks a punt for a safety during the Raiders Week 5 win over the San Diego Chargers in Oakland. Photo by Tony Gonzales.


The 2010 Commitment to Excellence Award was presented to Oakland Raiders RB Rock Cartwright before last Sunday's game vs. the Indianapolis Colts. Recipients of the award are chosen by their teammates and are selected based on their hard work, leadership, and excellence on and off the field throughout the season. Previous honorees include Jim Otto, Daryle Lamonica, Fred Biletnikoff, Willie Brown, Jerry Rice, Tim Brown and Nnamdi Asomugha. TE Zach Miller and former Raiders RB Justin Fargas received the award in 2009.

A nine-year veteran out of Kansas State, Cartwright was signed as a free agent by the Raiders in April of 2010. Cartwright's leadership, passion, and skill on special teams had an immediate impact during the season. Pressuring the punter consistently, Cartwright nearly blocked punts on multiple occasions. He blocked a punt for a safety in the victory over the San Diego Chargers at the Oakland-Alameda County Coliseum in Week 5, helping the Raiders break a seven-year winless streak against San Diego.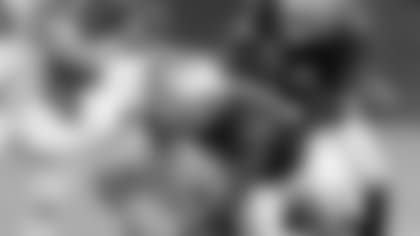 In addition to his blocked punt, Cartwright contributed 17 total tackles, a forced fumble, and five kickoff returns for 89 yards as a special teams mainstay. The Raiders knew the value Cartwright would bring to special teams, as well as his ability to be a key back up running back. However, the Raiders acquired much more than Cartwright's football skills when they added him to the roster. "The leadership, the quality of the man, those intangible things that people don't put a lot of weight in, I think were far more than anyone knew when we got him," said Head Coach Tom Cable. "One thing about Rock, every day is important to him. I think he has helped a bunch of young kids learn how every day is important and why it is important. I think it goes without saying that you have to have that sort of veteran leadership kind of intermixed in your team."
Cartwright was honored to be chosen for the Commitment to Excellence award by his teammates in his first season with the Silver and Black. "I was kind of shocked, but I really appreciate my teammates for rewarding my hard work and dedication to this team and to this organization," said Cartwright. "It's a great feeling to get such a high award and nominated by your teammates. It's a great thing."
Despite receiving an individual reward, Cartwright attributes much of his success to his teammates and hard work of the team as a whole. "I just let the guys know that it's a team effort and it's just about how hard you want to work and what you're going to do to help your team win," said Cartwright. "It's a great award and I'll take it and go with it as a running back group award."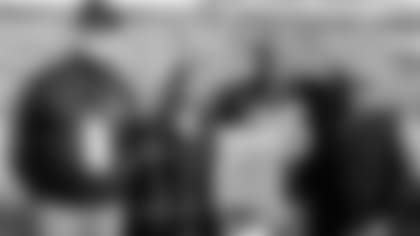 RB Rock Cartwright accepts the 2010 Commitment to Excellence Award from Dave Laughlin, Jenny Hamilton, and Denise Browne. Photo by Tony Gonzales.
On Saturday, March 12, 2011, at the Hilton-Oakland Airport, the Steering Committee for the Booster Clubs of the Oakland Raiders will host the 9th Annual Commitment to Excellence Award Presentation Dinner, honoring this year's recipient, Rock Cartwright.   For more information call 650.428.0810.  JT the Brick will serve as master of ceremonies. The dinner will feature current and former Raiders players, Raiders executives, silent and live auctions, music and dancing. Proceeds from the event will go to the charity of Rock Cartwright's choice.