Opening Statement: **"Lot better practice today. I thought the guys came back and we challenged them a little bit, I thought they responded. That's what you expect out of a group like this with some veteran players. I thought they came out and responded. I think there are still some things where we've got to get some things cleaned up. We've got to be able to finish some plays when we have some opportunities. But, overall I thought both sides of the ball did some good things and I think we got better as a football team."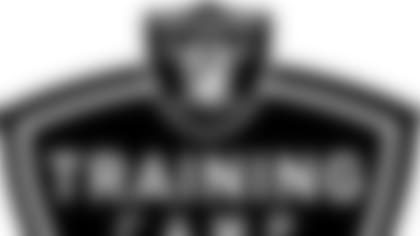 ](http://www.raiders.com/news/training-camp.html)Q: Was it exciting to see Khalil Mack on the play on Mychal Rivera to see the promise in Mack?
Coach Allen:"Well, it's football. You want to try to keep everybody up off the ground, keep everybody healthy. But, sometimes those things are going to happen in football and you just go on and go to the next play. So, was it good to see? I expect him to be able to do that a lot this year."
Q: You've got a lot of bodies in the secondary. Can you talk a little bit about [Carlos] Rogers and [Tarell] Brown?
Coach Allen:"Both of those guys are guys that we liked when we watched them on tape in the offseason. Both of those guys … They've got a pretty good program over there in San Francisco. They've been successful for a few years now and they understand what it takes to win and to win at a high level in this league and they're true professionals. I think one of the things that they bring to the back end of our defense is really a lot of wisdom, a lot of savviness, instincts back there. They understand what's happening to them in the passing game. I think both of those guys are going to help us out a lot."
Q: How hard has it been on you that each year you've been here there has been a new pair of corners?
Coach Allen:"That's not ideally what you want to do, but I think we've improved back there this year at that position. I think the guys that we had and some of those young guys are beginning to develop. Neiko Thorpe is a guy that's developed throughout training camp. Chimdi Chekwa since we got here has continued to get better on a day-in day-out basis. I think having some veteran players like T. [Tarell] Brown, like Carlos Rogers and then adding to the mix some young players that have a chance to develop. TJ Carrie is another guy that's done some good things, and really Keith McGill, you see him flash at times too. I'm excited about some veterans, but I'm excited about these young guys getting better."
Q: What have you seen from Neiko Thorpe that you may not have seen last year?
Coach Allen:"Well, I think the thing that I've seen him do, you know he hasn't played a lot of corner, and I think the thing that I've seen him do is he's really improved when he's up on the line of scrimmage. With the way that the NFL is with the big receivers that we face week in and week out, to have a guy with his type of size, his type of length and he can still run, I think that helps you. So, I've been impressed with what he's done so far and hopefully he'll continue to do that when we get into the preseason games." ](http://www.pntra.com/t/R0BKRkpMSEBKTERGSEBISEtERw)Q: How key is it to have Stefen Wisniewski with all of the new faces on the offensive line?
Coach Allen:"I mean that's a positive to have. We put a lot on the center position from an intelligence standpoint, from a call standpoint, making sure we get everybody on the right page. I think specifically when you're working with a new group, potentially four new starters on the offensive line, I think that's critical that you have somebody in there that can really be the glue that holds that whole thing together."
Q: Did Charles Woodson's two picks today say more about him or more about Matt Schaub?
Coach Allen:"Well, 'Wood' [Woodson] is on scholarship too. I mean he's been a pretty good player in this league. So, that happens. It's football. Nobody's perfect. As a coach, as the head coach, you like to see a little bit of that give and take. We haven't had a lot of takeaways on defense, which has been a good thing for us offensively, but today we were able to take the ball away a few times, so that was a positive. I'm sure we'll go back and we'll look at the tape and we'll make the corrections that we need to make offensively to try to clean up a few of those things. That happens, it's in training camp. Matt Schaub has been outstanding thus far. He had a couple of plays that weren't his best, but what I was happy with and what I was proud of is that he came back and responded as practice went on and he made some plays."
Q: With it happening twice in a row, was Schaub trying to test that area again?
Coach Allen:"Again, I know how this whole thing is going to work. Any time Schaub throws an interception, everybody is going to want to try to hit the panic button and act like the sky is falling. He had a couple of plays that weren't very good and he came back and he responded, so I'll let you guys push the panic button. I'm not going to. In my mind, he's still doing a great for us."
Q: Are you on schedule after one week?
Coach Allen:"Well, yeah, I mean I like where we're at as a football team right now. We're not anywhere near where we need to be as a finished product, but we continue to make improvement on a day-in, day-out basis and that's what it's all about. I said this the first day of training camp – this is a marathon, not a sprint. I'm looking for constant signs of improvement in different areas, each day, and I've seen that as a football team. If we continue to do that, it'll lead to good things in the season."
Q: You've talked a lot about what it means to where the shield, a Raiders uniform. What does it mean to have another Raider going into the Hall of Fame in Ray Guy?
Coach Allen:"Well, it's been a long time coming, and in my opinion, long overdue when you have a guy such as Ray Guy who's clearly the best player at his position for a long time in the National Football League. And really, if you ask all of these young punters in the league who do they try to emulate, one of the first names that you come across is Ray Guy. So I think it's long overdue. I think us as an organization, me as the head coach of this organization, I'm extremely proud and excited for him. I'm glad that he finally got the recognition that he deserves." ](http://www.pntra.com/t/R0BKSkdFREBKTERGSEBISEtERw)Q: Do you have any updates on the status of Antonio Smith?
Coach Allen:"He's got the groin. It sounded like, from the trainers, he was feeling a little bit better. We held him out today. Again, he'll be a day-to-day situation. But hopefully, he won't be out for an extended period of time."
Q: Is there any indication that this groin has any connection to the sports hernia?
Coach Allen:"Not that I'm aware of. I don't think that there's really any connection. Again, it was kind of a football injury that you expect that happens during training camp."
Q: Did anyone not finish practice?
Coach Allen:"Everybody finished practice today."
Q: Has anybody caught your eye as far as kick and punt returners so far?
Coach Allen:"You know, I think TJ Carrie's a guy that's showing some signs as a punt returner. I really think Denarius Moore's done a nice job back there returning punts. He's fielded the ball cleanly. He's made good decisions. But both of those positions, kick returner and punt returner, those are going to be positions that we're going to have to let play out throughout the preseason before we kind of settle into where we're going with those positions."
Q: What are your early impressions of George Atkinson III?
Coach Allen:"Well, I think the guy's explosive. He's got some talent. He's got to do a better job of hanging onto the ball. The last couple days he's put a couple balls on the ground. You know, that's one of the things that … The first thing you've got to be able to do as a returner is you've got to be able to secure the football. So he's got talent, but he's got to do a better job of focusing in and maintaining possession of the ball."
Q: What have you seen from Jonathan Dowling?
Coach Allen:"Well, I've seen some good things. I know he had an interception. I was in a different drill but got a chance to peak down there and saw he made an interception in kind of a half-line skill drill. He's made some good plays in the passing game. He's made some rookie mistakes that we've got to get cleaned up. I think what I'm looking for out of him is just more consistency and a little bit more precision in executing his assignments on a down-in and down-out basis, because this league isn't all about making the flash plays. It's about being able to be consistent."
Q: Are you going to break out the silver jerseys at all this camp? "I don't know. I haven't made that decision yet. We'll see. These guys are both competing. That's a hard call to make at this point in camp."