**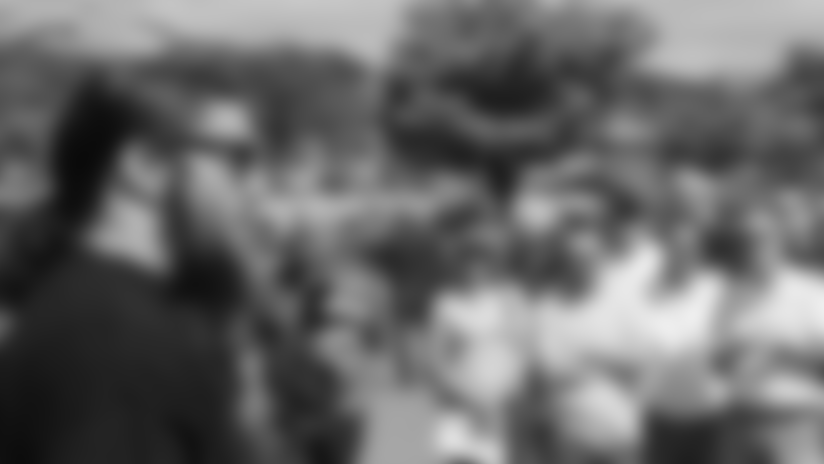 Robert Gallery addresses the crowd at the end of the crusie route. - *Tony Gonzales*
Head over to the Multimedia page and watch the Behind the Shield: Online special
With no previous event to compare last Saturday's Cruisin' for Our Community with, Raiders G Robert Gallery simply left his house with his fingers crossed, hoping for the best.  When he arrived at the old Mervyn's parking lot in Dublin, the start of the vintage car cruise, the number of participants ready to help out for the cause was astonishing.
Robert Gallery organized the event to raise money for the families of the four Oakland police officers who were killed in the line of duty back in March.
"We'd hoped to raise $5,000.  We thought that was a realistic figure to aim towards," said Becca Gallery, Robert's wife.
Before the cars even left the parking lot that figure was eclipsed.
With roughly 300 cars present for the cruise and the money raised from donations beforehand, the Gallery's knew it would be a special day.
**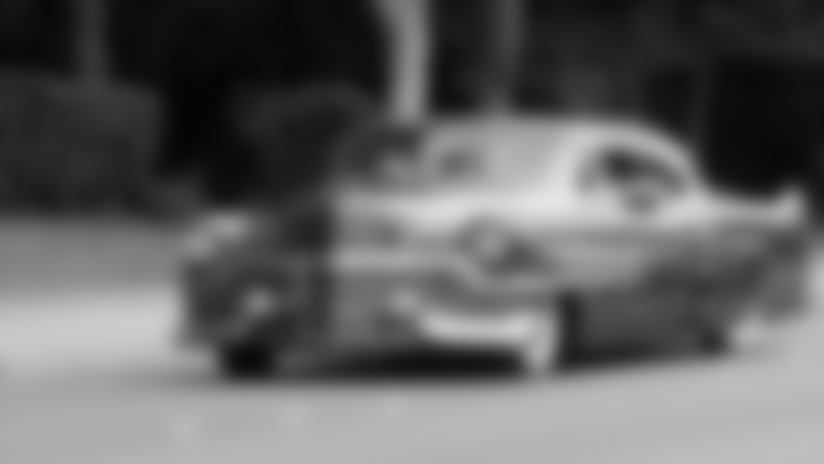 Raiders G Robert Gallery leads the way during the Cruisin' for Our Community fundraiser.* - *Tony Gonzales
"It was an amazing turnout.  We laugh because the only real problem [Saturday] was running out of our registration packets, which was a great problem to have.  It was a great turnout.  We couldn't be happier," said Becca Gallery.
The cars left Dublin at around 10:30 a.m., headed for Los Vaqueros Grill in Livermore, where Raider fans and car enthusiasts had been gathering since approximately 11:00 a.m.  When Robert and his 1954 Cadillac rolled in at 12:45 p.m., most of the other pre-1970 automobiles had already made their way to the restaurant and the festivities began.
Thanks to items donated by The Oakland Raiders, San Francisco Giants, Oakland Athletics, San Francisco 49ers, Golden State Warriors, and numerous other Bay Area organizations, the silent auction helped raise thousands more for the families of the four fallen officers.  According to Robert, the money raised from the auctions, coupled with all the other donations, helped raise over $20,000 all together.
"It was awesome. We had more than 300 cars out here. It was a great way to get the community involved. Those people [police] protect us. It was a no brainer for me to help these families," Robert Gallery said via the team's official Twitter feed.
Aside from Raider fans and car buffs, a number of people from the Raider organization were in attendance.  Players in attendance included quarterback JaMarcus Russell, tight ends Tony Stewart, JP Foschi and Zach Miller, fullback Oren O'Neal, offensive linemen Mario Henderson, Robert Gallery, Cooper Carlisle, Erik Pears, Chris Morris, and John Wade, and defensive end Trevor Scott; many of whom sat down and signed autographs for fans later in the afternoon.  A few from the coaching staff also swung by to show their support including Head Coach Tom Cable, offensive line coach Jim Michalczik, strength and conditioning coach Brad Roll, and offensive assistant coaches Rich Scangarello and Chris Morgan.
"It's a great event, great turnout, the cause is very worthy. We're supporting Robert, a bunch of guys came out," Cooper Carlisle said via the team's official Twitter feed.
Officers from many of the nearby departments showed their support for their fallen comrades, including Sgt. Martinez from the Livermore PD.
"The money they're raising for the families is amazing," Martinez said. "Most of the officers across the Bay Area knew of at least one of the men killed that day.  For these guys to step up and help out the families is awesome."
Tony Ferreira, a Raider fan since 1973, was also blown away by all the day had to offer.
"I don't see other teams doing this kind of thing.  For Robert Gallery to hold an event like this speaks to the kind of players we have on this team," Ferreira said.
Because of the event's success, Gallery hopes Cruisin' for Our Community will become a yearly fixture.  If you were unable to attend the event, but would still like to make a donation, please visit, http://opoa.org/