WR Darrius Heyward-Bey turns back to make the touchdown catch in Miami in 2011. Photo by Tony Gonzales

The Oakland Raiders travel to Miami to face the Dolphins in 2012 Regular Season Week 2 action. This will be the 32nd meeting between the two teams who met for the first time in 1966. The rivalry really took shape in the 1970's when the Dolphins and Raiders met up for some of the most memorable games in NFL history, including the Sea of Hands game. The Raiders lead the all-time series 16-14-1. The Raiders have lost the past three meetings with the Dolphins and look to end the losing streak this Sunday at Sun Life Stadium.
The Silver and Black also want to put Monday night's game against the Chargers behind them and return to Oakland with a 1-1 record. "It's the most important thing right now; it's all we are focused on," said QB Carson Palmer. "To lose a game, the only way you get any satisfaction back from the week before is by a win. By a win you forget about the week before and you move on to the next one. This team is solely focused on getting a win in Miami."
On a short week, the Raiders are traveling across the country to play in a warm and humid climate. "Lots of rest," said FB Owen Schmitt said on how to be prepared. "You've got to try and link up your sleep schedule each night, maybe go an hour earlier to bed to kind of get on the East Coast time. You've also got to hydrate. It's going to be hot down there."
In addition to the challenges related to playing in a different climate and traveling on a short week, the Raiders will have to contend with playing in a hostile environment. "I think the key is to start fast and start strong," said Head Coach Dennis Allen on a road game challenges. "They key is to stay on schedule offensively and then defensively we've got to find a way to take the ball away a couple times."
Offensive coordinator Greg Knapp is confident the offense can overcome playing in a hostile environment. "It'll be a good challenge," said Coach Knapp. "I feel very relaxed because of Carson. I have an experienced quarterback. If it was a young quarterback, inexperienced, it does make for a little more challenging play calling, but with Carson and his ability to see the defense, handle crowd noise, handle the group on the field, it's not as big an issue for us."
Palmer and the offense will have to face a Miami defense known for their ability to stop the run. "Their front seven is very good," said Coach Allen. "They're very stout against the run. They've been in the top five in run defense for the last three years, so that's something that they do exceptionally well. They've got a little bit of a pressure package that makes it difficult on us."
Coach Knapp knows his offense will need to execute in order to have a chance against Miami's defense. "Even the last three years with different staffs they've been in the top five, I believe, in rush defense," said Coach Knapp. "We do have our work cut out this week with the run game. We certainly believe in what we do in the run game. It's going to be a tough challenge; there's no doubt about it. Those guys they have up front, Cameron Wake, [Paul Soliai], very tough inside. They've always been very stout in the run game."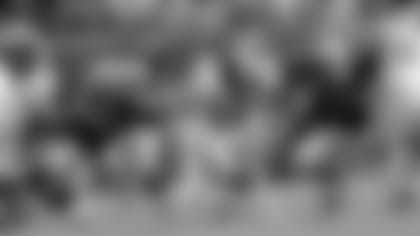 The defense gets off their blocks to get to RB Reggie Bush. Photo by Tony Gonzales
Coach Allen wants to attack the Miami defense with the run early. "That's part of what we do in our offense is the running game and it sets up a lot of the other stuff that we do in our play-action passes and that type of stuff," said Coach Allen. "We've got to get the running game going and I feel confident that we'll be able to do it. It's obviously a tough challenge this week against a very good run defense, so we've got to be on our game."
Schmitt has fully bought into Coach Allen's plan. "They're big, and they're physical, and it's going to be a tough thing," said Schmitt. "We need to get the ball rolling, obviously, to keep our offense going. That's going to be a big thing we focus on this week."
As the Raiders offense wants to get their run game going, the Raiders defense will have to contend with RB Reggie Bush and the Miami running game. "They did some nice things in the game the other day," said Coach Allen. "They've got talent on their offensive team. Reggie Bush is obviously an explosive player coming out of the backfield, and they're able to run the ball pretty well so it will be a challenge just like everybody you play."
The defense is expecting a tough matchup against Bush and rookie QB Ryan Tannehill. "They do a nice job of trying to control the ball," said defensive coordinator Jason Tarver. "In the run game, their offensive line is getting better at moving people. They did a good job against Houston early in that game moving their defensive line around, which is a good challenge. They have a good mix of backs with Reggie [Bush] and everybody to bring in; of course he's very good. The young quarterback has improved. They do a good job of getting the ball out of his hands fast. They're still learning their pass game, but you can see the improvements as they're starting to get to know each other."
In the Dolphins Week 1 match up, Tannehill had a number of tipped passes, something the Raiders took note of and worked on during practice. "Yeah, he's had a lot of tipped balls. That's one thing you've got to emphasize, because one, it's on film, and two, it's obviously worked for the Texans," said Coach Tarver. "One of the biggest ways you get interceptions in the NFL is tipped balls and overthrows. If they're a lot bigger than you, you don't really want to run down the middle of them, so you've got to get on edges and that allows you to get your hands up and make plays. Or get off those blocks and get the quarterback. That's one of the things we've emphasized this week."
"Any way we can find an advantage, that's what we're going to do," said DT Richard Seymour.
Although the defense has some film of Tannehill, including last week's game against the Texans, there isn't a lot of film to use to scout a rookie. "The tough thing about playing a rookie quarterback is there's not a lot of film," said DE Dave Tollefson. "That's really to his advantage so you have to make sure you play the game as you know it, not try to do too much because it is football still."
DE Lamarr Houston has seen the tipped passes and the limited film and is ready to face Tannehill. "You just have to see what makes him uncomfortable as a quarterback," said Houston. "This is a big stage and it's not the easiest thing to play on and it's not the easiest thing to get used to, but if you see the guy who's young and experienced uncomfortable you can use that to attack him with."
Although the Raiders had some mishaps in their Week 1 game, they've spent the week correcting mistakes and preparing for the Dolphins. The team will be headed into a hostile environment and has a lot to prove. "We've got a lot of respect for the Dolphins," said Seymour. "They've got a lot of explosive players. They play well, they play tough and so we have our work cut out for us. Being in a hostile environment, their home opener, and I'm sure they'll be ready to go. We have to be ready to go as well."
The Raiders take on the Dolphins Sunday at 10:00 a.m. PT at Sun Life Stadium in Miami. Watch the game CBS (KPIX CBS-5 local) or follow along on Raiders.com, the official Raiders Facebook page or Twitter.