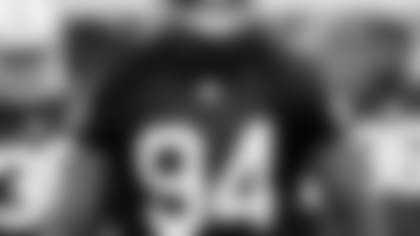 Photo by Tony Gonzales
LB Kevin Burnett joined the Oakland Raiders this off-season after four seasons with Dallas, two seasons in San Diego and most recently, two years in Miami. The eight-year NFL veteran has played in 120 games and has totaled 525 career tackles, 17.5 sacks, 21 passes defensed, seven forced fumbles and four interceptions. Burnett brings experience to the Raiders linebacker corps with his 59 career starts.
Burnett is a family man, whether you are talking about his kids, his brother or his University of Tennessee family. Burnett arrived at the Raiders facility for the off-season and joined several former Volunteers -  General Manager Reggie McKenzie, Director of Player Personnel Joey Clinkscales, WR Denarius Moore, TE Mychal Rivera and a member of the Raiders PR staff. "We have a bunch. The family grows," said Burnett. "It's good to have alumni around. It's good to have people that you know that have a similar interest. Guys have actually run out of the tunnel, run out of the 'T.'"
The Tennessee-product also re-united with his younger brother, Raiders LB Kaelin Burnett. "It's been good. He's really trying to learn the game," said Burnett. "He's trying to make it something that's important to him and he's really trying to become a professional about what he does. And not so much a professional that you come to work, you learn your assignment, but more of how become a student of the game and make it not only what you do, but what you live by."
And the older Burnett brother is committed to his kids. "I love playing with my kids," said Burnett. "I love teaching my kids everything I know about whether it's football, basketball, baseball, life, flying kites, shooting pool, reading, whatever the case may be. I love being around my kids, being around my family."
Burnett traveled back to Florida almost every weekend during the off-season to spend time with his family. But he also stayed committed to learning the Raiders defense and preparing himself for training camp.
Many familiar faces around the Raiders facility helped Burnett make the transition to his new environment and the new defense. "Everybody has been real receptive. It's made for an easy transition," said Burnett. "[The off-season] was just so fast. Everything happened at a lightning speed."
Burnett has become a resource for some of the younger guys on the squad, particularly rookie LB Sio Moore. "What they don't know is I learn so much from them as well," said Burnett. "It's more about relating to the audience that you have and being able to be able to relate to the guys because if you don't relate to them, they won't listen to you. As much as they learn from me, I learn from them, so I'm happy to be a resource for them and I want to keep learning with them. I want to keep growing and let's go out here and be the best we can be."
As training camp kicks off this week, Burnett will once again unite with his football family. For complete coverage of Raiders Training Camp 2013, log on each day to Raiders.com.