| | |
| --- | --- |
| | |
| | RB Latavius Murray.Photo by Tony Gonzales |
RB Latavius Murray joined the Oakland Raiders in the sixth round of the 2013 NFL Draft out of the University of Central Florida. The 6'3", 230-pound running back recorded 2,424 rushing yards and 37 touchdowns in 45 games. He added 50 receptions for 524 yards and six touchdowns. As a senior, Murray was named All-C-USA First Team and was named Outstanding Offensive Back at the UCF Football Awards Banquet.
Originally from central New York and spending his college career in Florida, Murray wants to continue his college success out on the West Coast. "Just to be able to put that uniform on and making the transition from college is just a dream come true," said Murray. "Just going out there every day and knowing that you have the opportunity you have. It's a great feeling. I'm trying to make the most of it."
The big back is learning from veterans RB Darren McFadden and FB Marcel Reece to help him succeed. "It's definitely a great group of guys. You've got guys like Marcel and Dmac in there who are both leaders and been around for awhile," said Murray. "I get the luxury of having them in the running back room. And then as a whole offense, you've got Matt Flynn out there, who's very vocal on the field and guys like him that you can just learn from and has the offense clicking."
Murray is soaking everything up as he prepares for his first NFL training camp. "All the vets here are pretty cool and just group of fun guys, but at the same time, you can learn a lot from them," said Murray. "Definitely they have a lot of coaching tips to give me and I take it all in."
As the rookie learns from those around him, he also wants to showcase his own unique talent. "For me, with my size, I just try to use everything I have as far as my size, take it to my advantage," explained Murray. "My strength and my power, just try to be downhill, try to be a physical runner. I think that can only help me, playing to my strengths."
Murray is planning to take full advantage of his opportunity with the Raiders. "I'm just somebody that's going to go out and work hard every day in practice, try to get better every day, and try to bring what I can bring to the table and play to the best of my ability," said Murray. "I think everything else will fall in place. I'm ready to go out there and prove that I can play at this next level and prove to everyone who's on my side and everyone who's not."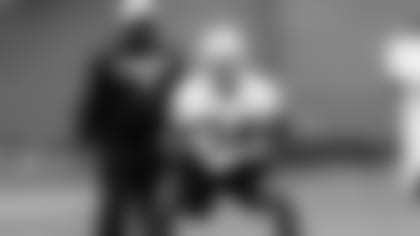 RB Latavius Murray works with running backs coach Kelly Skipper. Photo by Tony Gonzales
He hopes to show Raider Nation what he can offer when he takes the field. "Just the history, those fans, the Black Hole, and now, just being a part of it, it's a great feeling knowing those fans are all on your side now," said Murray. "I'm ready to go out there and do my part so I can keep them in my corner."
Off the field, Murray is a more laid back guy. "I like to have fun but at the same time, I just hang out, maybe watch a movie, watch sports if something is on. I'm a very broad kind of guy so I do a little bit of everything."
He knows, however, that come game day, there's nothing laid back about it. Murray is looking forward to experiencing the excitement and energy of O.co Coliseum. "I think it'll be a dream come true. "Me and Brice [Butler] were talking about that, because he's my roommate, it's just going to be amazing," said Murray. "I know I'm just going to have to take a deep breath before I run out of that tunnel and just take it all in."
With training camp only a few weeks away and the first home preseason game on August 9, Murray won't have to wait much longer for the chance to step on the field and try to earn a spot on the Raiders 53-man roster. Make sure to follow Murray's journey through training camp and the preseason on Raiders.com.