Originally published October 4, 2013
*"To those saying to me now you'll never make it, all I have to say is this, watch me. You're damn right I live my life and play with a chip on my shoulder because there is honor and worthy achievement in proving wrong the myth of impossibility." *
That is the last passionate paragraph recently promoted Raiders back-up quarterback Matt McGloin pleads to NFL teams in a video he stars in and voices. It is his open letter to front office executives around the league before the 2013 draft. In one sense he is desperately imploring teams for a chance, in another the piece seems to be foreshadowing - draft me or else.
Why would McGloin, who led the Big Ten in passing as a senior and set the all-time passing touchdowns record at tradition rich Penn State need to beg for a chance to play professional football? That has always been the unpaved path for the uninvited red head from a blue collar town.
"I was always an under the table, overlooked guy", McGloin told me this week. "I was a preferred walk on at Penn State, so I had to fight for everything I had. When you get to that level, four- or five-star guys felt entitled, I never had that. It's kind of where I am today. I've never lost that passion."
He was an all-state quarterback who also starred in baseball and basketball out of high school in working class Scranton, Pa. McGloin describes it as a place where, "We have to live with a chip on our shoulder because anything else guarantees failure." He was a non-rated prospect with no major college scholarship offers. He walked on at Penn State, but storied former head coach Joe Paterno was always trying to upgrade the position with big press-clipping, highly-rated recruits. Paterno would mispronounce his name, finally simply calling him "Mac."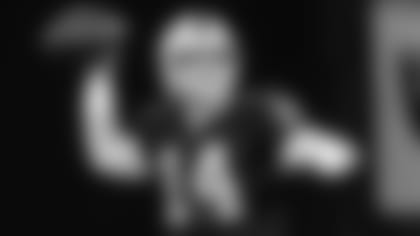 Mac's opening at Penn State came in 2010. He was as an anonymous third-string sophomore inserted into a game against Minnesota, forced in after starter and four-star recruit Robert Bolden suffered a concussion and highly regarded back-up Kevin Newsome was afflicted by the flu. McGloin completed 6 of 13 passes for 76 yards with two touchdowns and an interception in a 33-21 Penn State win. He would lead the Nittany Lions to wins in four of their final six games after a 3-3 start to secure a berth in the Outback Bowl. Penn State lost to Florida where McGloin threw an unwanted school-record five interceptions in the game.
McGloin's junior season in 2011 would be the most challenging in the history of the decorated Penn State program and one of the toughest seasons any program could ever endure. A nationally known, high-profile scandal exploded during the season.  Former assistant coach Jerry Sandusky was accused, indicted and later found guilty of over 40 counts of sexual assault against children. University Park Pennsylvania was rocked by riots and demonstrations, national news coverage was nonstop and the aftermath took down Joe Paterno after more than 45 years as the head football coach. Paterno would later pass away in January of 2012.
On the field, the more decorated Bolden earned the starting job and started the first seven games of the season. McGloin would get the starting nod for the final five games and the feisty leader would guide Penn State to a 3-2 record down the stretch and an appearance in the Ticket City Bowl.
In December 2011, as the scandal was in full effect and the team was preparing for the bowl game, McGloin and a wide receiver on the team got into an altercation after practice. The quarterback was suspended for the game by interim head coach Tom Bradley, the timing couldn't have worse for the program. McGloin knew he was in the wrong and quickly stepped up and took responsibility for his actions on Twitter:
"I let my emotions get the best of me. I made a mistake, and I feel awful. I'd like to apologize to Coach Bradley, my teammates, other coaches, and all the young fans that look up to me. This behavior should not be tolerated, and I will accept any punishment handed down to me. All I ask is for privacy when talked about any injuries I may or may not have suffered.
Going into McGloin's senior year in the fall of 2012, the Penn State football program was in need of leadership. There were the deep scars from the scandal, the Paterno firing and his death. To top things off, the NCAA had come down with an unprecedented combination of financial hits, bowl bans and scholarship reductions which left the program just short of the "death penalty." In addition the NCAA announced any current Penn State player or recruit could transfer without penalty and play immediately somewhere else. Other college football coaches swarmed and took advantage.
Penn State hired well-respected New England Patriots offensive coordinator Bill O'Brien to permanently replace Paterno and McGloin became a pillar in the rebuilding process. He stood up on a national stage as the initial player to proclaim he was staying on to captain the badly damaged Nittany Lions ship:
"If I have learned anything from this game, it is: 'tough times don't last, tough people do.' This program has been through some hard times. I, and many others, have stayed here out of love for this university; its academic programs, teammates, our wonderful fans and tremendous student body. We, as student-athletes, are being punished for going to class, graduating, being involved in the community and playing football. Even though these penalties are extremely harsh, I am a Nittany Lion and will remain one. I believe in the core values I have learned in this program. It is not Nittany Lion Football. It is Nittany Lion family. I encourage all players, recruits, and supporters to stay committed to the greatest football program in America. Scholarships and bowl games cannot destroy the fabric of our family. Coach O'Brien and his staff will lead us through this difficult time. All I ask is for the fans to continue to believe in us. WE ARE!"
I asked McGloin this week, why stay?
"I bought into what coach O'Brien was trying to do." McGloin said. "He was taking a big risk replacing coach Paterno. When everything tumbled and came down and collapsed I felt someone needed to step up and say 'I'm going to stay here and fight this thing' and I'm glad I did because everything worked out pretty well for us."
Everything did work out pretty well. McGloin finished the season with 24 touchdown passes and only five interceptions. Penn State lost their first two games, rattled off five straight wins and finished his senior season 8-4. Remarkable given the circumstances of the last two seasons on and off the field.
Surely some NFL personnel people could see beyond his physical shortcomings. They would easily surmise after he showed leadership, poise and his trademark toughness in addition to record setting skills, Mac had the "it" factor.
Sixteen quarterbacks were invited to the 2013 NFL combine in February. There were quarterbacks from Southern Utah, Central Florida, Louisiana Tech and Miami of Ohio. Yet the record-setting quarterback from one of the traditional powerhouses in college football history who had shown what he was all about by not only surviving the Penn State distractions but thriving during and after them, wasn't deemed good enough for a spot in the Combine to show he belonged at the next level.
"It was a tough pill to swallow," McGloin said. "I led the Big Ten in every passing category, set 10 or 12 passing records at Penn State and to not even get a look was frustrating. I'm a big fan of the mental game though, it's always in my head control what you can control. I can only play the hand I was dealt."
At that point, McGloin decided to produce the video, his 3-minute plea to NFL front office types that not all quarterbacks fit one mold. Not one took the bait and he would have to go the free agent route if he wanted to keep playing football.
He settled in as the fourth-string quarterback in Oakland in a league where teams carry at the most three and some are only carrying two. The rookie free agent was behind Matt Flynn, Terrelle Pryor and rookie fourth-round pick Tyler Wilson. Mac was seen as nothing more than a camp arm by many outsiders to keep the other quarterbacks from overtaxing their arms during training camp.
A funny thing happened on the way to waiver wire, McGloin impressed the Raiders coaches with his football knowledge and arm along with his Keystone State inspired toughness and attitude.
"I like what he brings to the table as far as his competitiveness," Head Coach Dennis Allen said this week. "He's got some moxie to him. He just understands how to play the game and I don't think it will be too big for him. So I like what this kid has to work with."
NFL scouts have told me figuring out physically whether a player can make the jump from college football to the NFL is the easy part. You can see height, weight, athletic ability, speed or a rocket arm. The hard part is deciphering the mental side of an athlete making the ultimate leap. Is he playing for the right reasons?  Does he love the game? Does he have heart? Is he tough? Can he pick things up quickly? They don't have tangible measurements or stop watches for internal traits.
"At Penn State we were playing for something bigger than football", McGloin told me. "Anything I can face at this level won't mentally be as difficult. They can't ask me to do something I haven't done like play on a big stage, under pressure or in front of a large crowd."
After being named the back-up to Terrelle Pryor this week, the unrated, undrafted but undaunted rookie with the chip on his shoulder is one step closer to proving everybody wrong yet again.