RB Rock Cartwright and CB DeMarcus Van Dyke at Garfield Elementary School. Photo by Allan Yuan.

NFL coaches, players, and executives helped members of their community to 'play 60' this week during the 13th annual NFL-United Way Hometown Huddle league-wide day of service. Teams built fitness zones and playgrounds, hosted youth football clinics, and helped kids get active for 60 minutes a day as part of NFL PLAY 60, the league's youth health and wellness campaign.
Raiders RB Rock Cartwright and CB DeMarcus Van Dyke participated in this year's Hometown Huddle at Garfield Elementary School in Oakland, Calif. Cartwright and Van Dyke spent the afternoon promoting active and healthy living among students and led the children in a series of exercises and games. Each student received a backpack filled with nutritious food. In addition, a team of 20 UPS drivers and employees from the Bay Area lent a hand.
Jamie Lopez, Managing Director of the Garfield Family Learning Center, was very excited the Raiders were able to continue to participate in the event.
"This is our 4th year running and having this partnership with the NFL, and having the Raiders players coming out, I have to say it is one of the biggest highlights of our year both for our staff as well as our students. And I think the message that it sends to our students is that people care," Lopez said. "So it's not only the Raiders, but it's UPS, United Way and all these folks coming together for this day, because they care about the kids. I think that's the biggest message the kids take away. Secondly, the whole thing around healthy eating, and active living is something we're definitely pushing as a school. So if we get some high profile players saying the same thing it really drives that message home for them. I would say for the next two weeks we won't hear about anything else but the Hometown Huddle."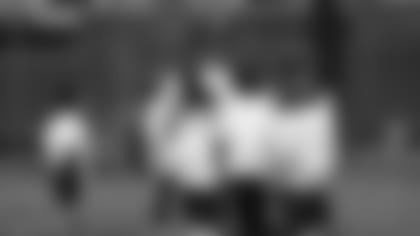 RB Rock Cartwright coaches the students in flag football. Photo by Allan Yuan.
"This was a great event," said Cartwright. "United Way did an excellent job with putting it together along with the school. I had a great time. The kids were a lot of fun. We just enjoyed ourselves. It was good to come out and do some great community work."
The East Bay Asian Youth Center, which coordinates programs at Garfield Elementary School, was also involved with this year's Hometown Huddle.
"I feel this is a great opportunity for our students and the community that we live in. We have a high rate of crime so it's great to always have someone positive to come out to support our students," said Nikita Williams, Director of East Bay Asian Youth Center. "United Way has always been great. They've been coming out the last five to six years supporting and helping our students. This is our 4th year working with the Raiders and having a partnership with them. I think it's a great opportunity to have them come out and support our kids."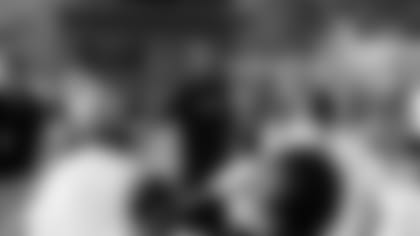 CB DeMarcus Van Dyke leads the students in stretching. Photo by Allan Yuan.
Now in its 38th year, the United Way-NFL partnership connects NFL PLAY 60 with United Way's 2018 goal to get 1.9 million more young people healthy and active. Across the country, United Way is working to improve peoples' health by ensuring that individuals and families have safe homes and communities, access to health care services, affordable and healthful food, and opportunities for regular physical activity.
"As a part of our partnership with the NFL and the Raiders we look for opportunities to engage with the local community and specifically a community with children in mind," explained Stephen Pippen, Director of Volunteer Engagement at United Way. "We stress for the kids to succeed in school and life. They have to eat right and stay active. So the Raiders and the players that come out here are perfect people to help us get that message out to the kids."
Designed to tackle childhood obesity, NFL PLAY 60 brings together the NFL's long-standing commitment to health and wellness with partner organizations like United Way. PLAY 60 also is implemented locally, as part of the NFL's in-school, after-school and team-based programs. Since the program was launched in 2007, the NFL has committed more than $250 million to youth health and fitness through programming, grants, and media time for public service announcements. The NFL and its teams have built more than 100 NFL Youth Fitness Zones and organized more than 1,500 PLAY 60 youth events since the campaign launched. 
"NFL PLAY 60 inspires our youngest fans stay active and understand the importance of a healthy lifestyle," said Commissioner ROGER GOODELL, who will*join Jets punterTJ CONLEY* and NFL employees in volunteering at a school in Brooklyn, NY today. "We are honored to be working with United Way to celebrate youth health today and throughout the year."