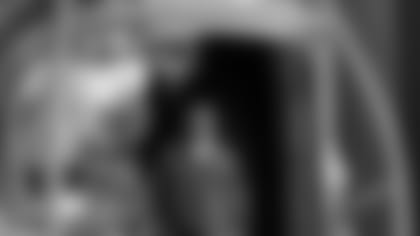 Armando Cano outside the Raider Image Store.
Hi Raider Nation, my name is Armando. I'm from Mexico City, Mexico and I am addicted to Silver & Black!!
I'm sure that I'm the Raiders biggest fan. My life turns around them. I remember when I was six years old watching the Raiders games with my father, and since that day, I have to see all their games (unfortunately for my wife). Even though my wife hates football, she knows who Tim Brown, Charles Woodson, Darren McFadden, Rich Gannon, Jon Gruden, or legends like Jim Plunkett or Bo Jackson are.
I proudly wear my Raiders jerseys. To be part of the Raider Nation, for me, is more than being a fan or following an NFL football team. It is a way of life. I mean it. I've had the opportunity to travel to several Raiders games in Oakland and the atmosphere is incredible. It is like being part of a big and great family. Listening the Ice Cube's Raider Nation song and Autumn Wind theme is exciting!
I hope to come back this year to the Coliseum.  I'm sure that this year the Raiders will shock and rule the NFL! I can't wait for another NFL season.
I'm sure that I always be a Raider no matter what. I'm Armando Cano and I'm Addicted to Silver & Black!