The sports broadcasting landscape has many unique personalities, from radio to television, but one that has stood out over the past two decades is John Tournour. Tournour is regarded by many as the voice of Raider Nation, the Oakland Raiders sideline reporter was inducted into the Nevada Broadcasters Association's Hall of Fame recently and was honored at a ceremony in Las Vegas. As a man who prides himself on being defined as a loving husband and father of two teenagers, Tournour has had an undeniable impact on the sports world.
The Las Vegas local notes the Oakland Raiders as a vital piece of his growth, and attributes much of his success to the opportunity the franchise has provided and continues to provide. "The Raiders are critical in the success that I've had in radio and the success that I'm having in broadcasting," said Tournour. "If it wasn't for the Raiders I don't think I'd be where I am today. The Raiders are a family, and they treat me like family."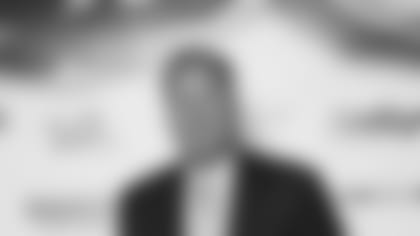 Tournour has been involved with the Raiders for 19 years, first starting in 1998 when former Head Coach and Owner Al Davis gave him a chance. "I never hosted a pre- and postgame radio show before that, I had no experience and Al Davis and Bruce Allen, who was the [General Manager], gave me that chance and I ran with it," Tournour said. He also credits his opportunity with the Raiders as the reason he's remained a part of the industry for over two decades.
"If it wasn't for the Raiders I don't think I could've stayed at the level of syndication on radio for the last 20 years," Tournour said. "I don't think that I would have the contacts that I would have in the NFL."
In an industry known for lacking longevity, Tournour's grinder mentality and work ethic have enabled him to remain successful. Similar to professional athletes, J.T.'s relentless attitude to continue working hard and developing as an individual is clear. "If you show up every day and give everything you got, and you have the ability to stay and go through ups and downs you'll have a better chance than the average person who might be a little more volatile," said Tournour.
He's certainly an appreciated member of the Silver and Black, and a deserving recipient of the Nevada Broadcasters Association's Hall of Fame. J.T. The Brick has let his voice be heard, but he's determined to continue getting better and isn't finished by any means.
"My goal is to stay on the radio and continue hosting the national show for FOX. To continue growing my platform with the Raiders, at any level that they want me to. My number one goal before anything is my family, my wife, and two sons. I'm very focused on my family."