The Oakland Raiders had several former players watch their first 2014 Mandatory Mini-Camp practice. Legends Tom Flores, Jim Plunkett, Mickey Marvin, Morris Bradshaw and Raymond Chester, along with Hall of Famer Howie Long and Willie Brown, visited with the team and took in the hard work of the 2014 squad. Coach Allen introduced the Legends and described how those former Raiders exemplify what it means to wear the Silver and Black.
"We had some of the former players out," said Head Coach Dennis Allen. "I think that's one of the great things that we have within this organization, is there have been a lot of great players that have come through this organization and made this place what it is. That's one of the standards that we want to hold ourselves accountable to and we don't only represent ourselves, we represent those that went before us. So, I think that was great to have those guys out. I think it added to a little bit of tempo of practice and I thought today was a good practice."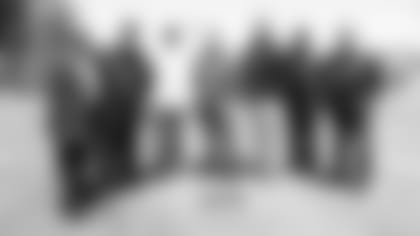 The current players get a better understanding of what being a Raider is all about when the Raiders Legends come to visit. "It's awesome, just the tradition and winning nature of this organization and the history behind it," said QB Matt Schaub. "Having been some other places that don't have the tradition that stretches this far back, it's just so impressive, and it really shows you the close-knit group that is the Raiders and the Raider Nation and how much those former players feel connected to the organization and the franchise. For them to come out and spend a little bit of time out at practice and visit with us here, it's a neat experience, and we want to go out there and try to get back to that type of football."
RB Maurice Jones-Drew knows the names of the Legends better than most and hopes to create the same atmosphere players like Flores, Plunkett and Long brought to the field. "Growing up being a Raiders fan, it's always nice to see Hall of Famers come back, and hopefully one day we can have a couple on our team come back in the next couple of years," said Jones-Drew.