Monday, August 4, 2014 By Marquette King
Punter
Twitter: @marquetteking
I'm just really looking forward to getting some live reps in a preseason game and get a chance to work out all the glitches and get ready to get everyone on the same page so we can perform this season.
The preseason came a lot quicker than I thought it would come. Seabass [Sebastian Janikowski] told me about it before and he was right; it came fast. I'm excited to play, but it's more of a calm excitement where I'm not anxious like I was last year. I'm calmer and I know what to expect a little bit and I just want to perform and make quality plays and make good-quality punts.
I know what to expect, compared to a year ago.  I know I put in a lot of work in the offseason. I get up early in the morning and stay up late under the lights and just do a lot of running and a lot of working out. I know what to expect. I don't worry about making any mistakes just because I know I put in that much work and I just know things are going to turn out well.
Thanks for following along Raider Nation! Turn up!
---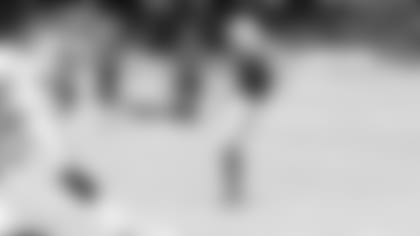 Getting a chance to see a live rush was pretty good. We have to focus on staying in protection a little bit more, but I feel like I punted pretty well. I felt like I adjusted to the wind pretty well, so I thought today was really productive. The holes were nice.
I feel all right going into the off day. Even though I did well, I could have done better, no matter how good I do. I'm always focused on just getting better and better every day.
I liked how I kept my punts directional today. I placed them where they were supposed to go, and inside the twenties were pretty nice. I had to take off more power than I thought because it was so windy the higher the ball went. Basically, I had to pretty much kick it straight up in the air and it would have dropped inside the ten. I was impressed with my whole day.
---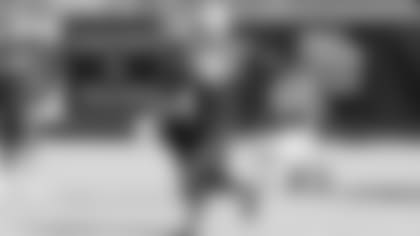 Today I ate breakfast and went back to my room and put on the TV and watched a little SpongeBob SquarePants. SpongeBob is a big time stress reliever. I like watching silly shows like that and just cartoons in general.
I play games like Madden and 2K, but I left it at my house. I did bring up my keyboard to use in my spare time so I can do something productive. I play a couple of songs and there are a couple of songs I'm trying to learn like "I Remember," by Deadmau5 and Kascade.
The keyboarding doesn't bother Rod [Streater] (Marquette's camp roommate), because I have headphones I plug into the keyboard and he can't hear it. He tries to play a little bit too. He can play pretty good also, but I think I've gotten better. He started off a little bit better since he bought the keyboard first. I used to hang out at his house all the time and play his keyboard and he was like, "Why don't you just get a keyboard and we'll have a competition and we'll see who can play better?" We haven't had the competition yet, but every day I go to his house and I'm getting better and better at the songs.
Rod and me just chill, looking at YouTube videos, Instagram videos. We just watch a bunch of funny stuff, man. We like looking at videos of voiceovers of different cartoons from YouTube. Everything is on YouTube; we just try to find something silly.
I'm not a big fan of watching ESPN or NFL Network or anything like that because I like to just get away from the real world and stay in my own lane and watch silly stuff and relax.
---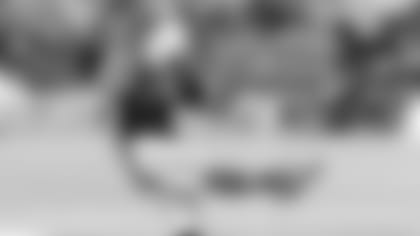 Today was more of recover and get my legs back type of day. I didn't do too much today because I want to make sure that I have my legs for our scrimmage Saturday.
I'm looking forward to the scrimmage, man. I'm ready to get some game-situation punts in and just get some good punts off during our team period.
I try to make sure I do everything close to what the other players do on the team to recover. There are only about three specialists and I see everyone else out there running routes and doing drills so I try to do a lot of drills. I try to do something similar to what they're doing just to make sure I'm working, but then I get more stretching in. I try not to kick as much. Punting is a little more taxing on the body the more you do it, especially when you've done it back-to-back.
I just keep punting until I'm satisfied; sometimes I can go all day, man. Sometimes I can punt so much that I don't have any pop in my leg, but then you have to focus in on whatever you're doing, whether it's focusing on if you have your drop correct or whether you're swinging your leg straight. I just try to find anything I can to make sure I finish my day strong.
My focus this year has been being able to control the ball inside the 20's. Just trying to make the ball drop and not roll too fast forward and just focusing on trying to have a better touch on the ball. I know how to punt already so I spend less time on directional and more time getting the ball inside the 20's; getting the ball inside the 20's is going to help the team win and when I do get a chance, I work on going directionally. Directional is just the angle that you take on the field to get the ball and place it in a certain spot on the field.
---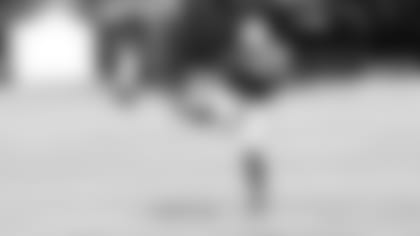 Raiders P Marquette King will check in during Training Camp 2014, presented by the California National Guard, and update the Raider Nation on his and the team's happenings. Here is his first blog entry.
On my off day yesterday I went to my house. I got a chance to play with my dog, Joker, for a little while. I think playing with my dog is a big time stress reliever and it gets my mind away from the rest of the world. I just took it easy.
On my normal day I eat breakfast and try to fill my stomach up and get some good food in my system. I go to the special teams meeting and just try to relax and stay off my feet and if I find some energy I get up and roll on the foam roller or roll on a lacrosse ball to try to get my muscles a little relaxed. I just try to roll out all those muscles and loosen them up and then just lie back down and try to stay off my legs, as if I'm getting ready for a game.
I love having the fans up here, man. I've always put all my heart into my work. Some days like today, I don't have a whole team period to work with everybody because they're working other special teams, but when I'm out there by myself and they acknowledge me putting my work in, and all my punts inside the 20, and they applaud, it's cool. It shows that they respect all parts of the game and that's something that I really appreciate from the fans.
I loved that 84-yard punt (Marquette on his long punt during a previous practice). It came off my foot really nice. I just want to make sure I stay focused on my directional [punts]. I think that's the main part of it. I do like to rip a couple of them, and I'm sure that would have gotten away from the guy in the game and it would have been a great play in the game. It did feel good when they were cheering. I just turned around and I was laughing really hard. You can't really tell because I have my facemask on, but it was really funny. It was just funny that they were applauding. They were applauding for me punting a bomb and it felt really nice to have them support me like that. It was really cool.